North West Strikes a Pose
In case you missed them, here are the best style news stories of the week.
---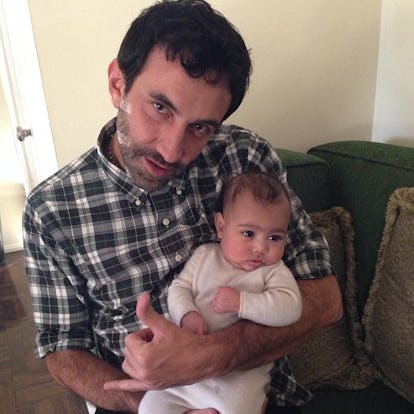 Adele Reportedly declined L'Oreal's offer. Not ready for her close-up.
Anderson, Wes Made yet another short film in collaboration with Prada.
Avery, Sean Is now engaged to model Hilary Rhoda. (Deciding which fashionable half to categorize here was a tough one.)
Beckham, Victoria The crown she wore to marry David will be sold at auction. Reminds everyone she was married in a crown.
Gevinson, Tavi Gets her model on for Cole Haan; reminds everyone that she's not just some twelve-year-old blogger anymore. She's a serious seventeen.
Gunn, Tim Will have his own competition show on Lifetime. Puts the final stone on Project Runway's coffin.
Jacobs, Marc Reveals that he is really, really happy post-Louis Vuitton, you guys. Really.
Jones, Rashida Has collaborated with Dannijo on a new collection. Wishlist ready.
Kloss, Karlie Managed to overshadow the entire Victoria's Secret fashion show by showing underboob at the after party.
Lady Gaga Wore a flying dress, landed Versace's spring campaign. No news here.
Marant, Isabel Finally hits stores. Sells out instantly. Duh.
Moss, Kate May be joining Naomi Campbell on The Face. Those who model together, stay together. Even on reality TV.
Perry, Katy Wears an engagement ring, while reassures fans she is not engaged in a search for post-Prism press.
Testino, Mario Joins Instagram. The gang's all here!
West, North Strikes a pose with Riccardo Tisci. Unfortunately, not in a custom Givenchy onesie.
Westwood, Vivienne Will be releasing a memoir in October 2014. Rock on.
Zoe, Rachel "Accidentally" reveals the gender of her second child. With balloons. Oopsies!