North West Rapped the Soundtrack of Yeezy Season 8
The 6-year-old freestyled lyrics like "cool, cute, cool, yeah!"
---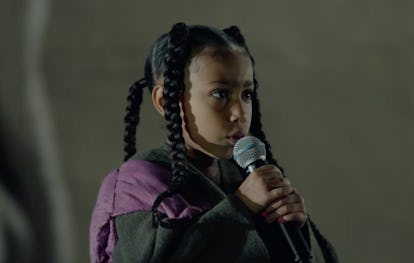 As far as Kanye West productions go, the Yeezy Season 8 show during Paris Fashion Week on Monday, March 2, started relatively on time. That might have something to do with the fact that for the night's headliner, 10 p.m. was already well past her bedtime. At first, there was no soundtrack for the models who walked on the makeshift stage set up outside the Oscar Niemeyer–designed French Communist Party headquarters. Though that's not to say it was silent—the traffic forced to stop in the name of Yeezy made for an ear-splitting chorus of car horns.
But eventually, they faded. The evening's real entertainment emerged in the form of none other than North West. Clutching a microphone, Kanye and Kim Kardashian West's 6-year-old daughter set about freestyling about the collection, which she essentially rendered invisible the moment she took the stage. "What are those?" North asked the crowd, not even bothering to turn and look at the models. Other lyrics included "this is my style" and "cool, cute, cool, yeah!"
The 6-year-old has been romping around Paris Fashion Week wearing leather suits and faux fur Dries Van Noten. Her look on Monday night—a gray fleece with a puffy purple vest—was much more laid-back, though it was still impossible for the crowd to keep its eyes off of her. In a show of maturity, the music video director, runway model, creative director, designer, magazine cover star, and budding conceptual artist went out of her way to briefly share the spotlight with the slightly less famous among her scion fam. "Hey, Penelope, I love you!" she shouted out at one point, guiding the crowd's attention toward her 7-year-old cousin Penelope Disick.
As the models lined up for the finale, Kanye came out to join his protégée, who might be the only person he'd let steal the spotlight. A masterful performer, North brought things to a close by issuing a guttural scream—also known as a tantrum.
Related: North West Joined Kim Kardashian on a Visit to the White House
North West Has Officially Been Chicer Than You for Five Years
North West, the day before her fifth birthday, and Kim Kardashian in New York City, June 2018.

Getty Images
North West in Wyoming, May 2018.

Courtesy of @kimkardashian
North West at Universal Studios Hollywood, May 2017.

Courtesy of @kimkardashian
North West wearing a $240 silk jacket, the most expensive item from Kim Kardashian and Kanye West's clothing line, May 2017.

Courtesy of @kimkardashian
Kim Kardashian, North West, Saint West, and Kanye West celebrating Easter, April 2017.

Courtesy of @kimkardashian
Saint West, Kim Kardashian, and North West in New York City, February 2017.

Getty Images
North West and Kim Kardashian in Miami Beach, September 2016.

Courtesy of @kimkardashian
Kim Kardashian and North West in New York City, September 2016.

Getty Images
Kim Kardashian and North West in New York City, September 2016.

Getty Images
North West and Kim Kardashian in New York City, August 2016.

Getty Images
North West and Kanye West in New York City, June 2016.

Getty Images
Kim Kardashian and North West in Los Angeles, June 2016.

Getty Images
Kim Kardashian and North West in Miami Beach, April 2016.

Getty Images
Kim Kardashian and North West in New York City, February 2016.

Getty Images
Kim Kardashian and North West at the Yeezy Season 3 show in New York City, February 2016.

Getty Images
Kanye West and North West in Los Angeles, November 2015.

Getty Images
North West's shoe spotted in New York City, September 2015.

Getty Images
North West and Kim Kardashian in New York City, September 2015.

Getty Images
North West and Kendall Jenner at the Yeezy Season 2 show in New York, September 2015.

Getty Images
North West and Kim Kardashian in Los Angeles, May 2015.

Getty Images
North West in New York City, February 2015.

Getty Images
Kim Kardashian and North West at the fall 2015 Alexander Wang show in New York City, February 2015.

Getty Images
Kim Kardashian and North West in Los Angeles, September 2014.

Getty Images
Kim Kardashian and North West backstage at the spring 2015 Givenchy show in Paris, September 2014.

Pascal Le Segretain/Getty Images