Novak Djokovic Tests Positive for COVID-19 After Controversial Tour
The world's #1 tennis player was spotted partying in a nightclub.
---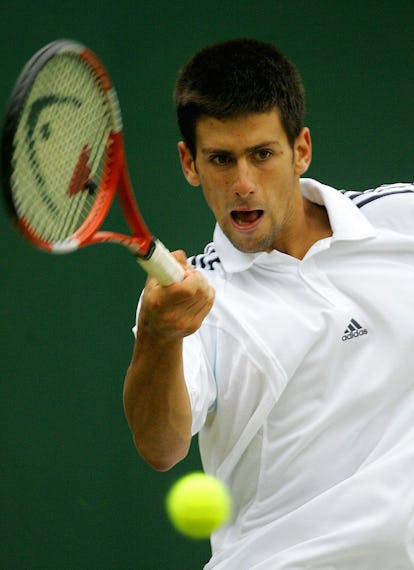 Novak Djokovic, the world's number one ranked male tennis player, thought he could organize a near month-long exhibition tour in the middle of a pandemic. A day after Djokovic faced intense criticism after two players, a coach, and a fitness trainer tested positive for COVID-19, Djokovic announced that he and his wife have now also contracted the coronavirus. The tour has now been called off.
"My result is positive, just as Jelena's, while the results of our children are negative," wrote Djokovic in a statement. "Everything we did in the past month, we did with a pure heart and sincere intentions."
"We organized the tournament at the moment when the virus has weakened, believing that the conditions for hosting the Tour had been met.Unfortunately, this virus is still present, and it is a new reality that we are still learning to cope and live with."
The Adria Tour, which began on June 12th and was scheduled to conclude on July 5th, had scheduled matches throughout Serbia and Croatia with tennis professionals from the region and had already been the subject of criticism before the positive results.
"The summary of that for me is 'freak Show,'" said Brazilian pro Bruno Soares, who shared one of the more blunt criticisms of the tour while guesting on a podcast. "In a worldwide situation that, no matter how good you are, even if it's in the North Pole, with no case, you won't go out partying, music show, crowding, and posting on Instagram."
Single tennis matches would seem to be one of the safer sports to resume play during the pandemic. Professional matches are almost always played outdoors, and players rarely, if ever, come in direct contact with each other (there's the net separating them and all). Balls are already changed out frequently during professional play, a process that could be sped up for extra precaution.
But it seems the Adria Tour did not take the strictest of precautions or or off the court. Audiences were allowed in the stands, and many were spotted without masks. Not only did some players hug after games, but the tour was also celebrated with a few questionable parties.
When video emerges of Djokovic and other players partying at a crowded Serbian night club, numerous other players aired out public criticism.
"Boneheaded decision to go ahead with the 'exhibition' speedy recovery fellas, but that's what happens when you disregard all protocols," Australian pro Nick Kyrgios wrote on Twitter. "This IS NOT A JOKE."
"Put it this way, I don't think you should be having a players' party and then dancing all over each other," British pro Dan Evans told the BBC. "He should feel some responsibility in his event and how it's transpired."
While neither Croatia or Serbia have emerged as globally notable hotspots for COVID-19 infections, the disease is present in both countries.
The fallout has now cast doubt on the return of live sports, even under safer conditions.
In related news, Serena Williams has spent her lockdown hanging out at home with her family and playing dress up with her daughter Alexis Olympia.