September Release: Linda Evangelista
W Magazine's Annual November "Art" Issue, Supermodel Linda Evangelista's Politically and Religiously Charged Portfolio, Exclusive First Look into Ingmar Bergman's Private World, Stella McCartney's Limited-Editions Children's Collection
---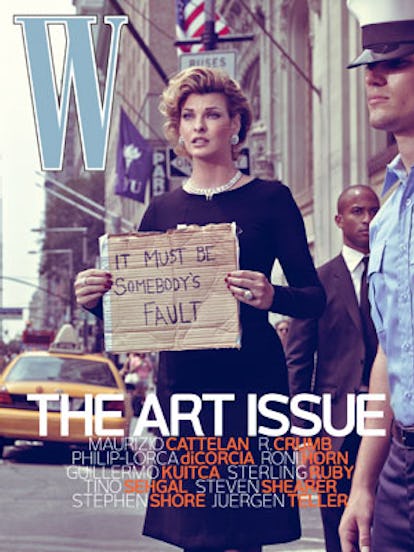 Highlights from the November issue of W magazine are below:
LINDA EVANGELISTA, Supermodel – page 110
Originally commissioned for W's Art Issue, Italian artist Maurizio Cattelan, who is best known for his subversive, hyper-realistic sculptures, conceived a politically and religiously charged portfolio starring supermodel Linda Evangelista as saint and sinner.
INGMAR BERGMAN, First Look into the Swedish Director, Writer and Producer's Home – page 176
For 40 years Ingmar Bergman lived, worked and found inspiration on the windswept Swedish Island of Fårö…For Bergman, of course, Fårö provided more than the setting for his home movies. It was his haven, his creative wellspring and a central character in a number of his films…Unforgiving and elemental, with its rocky beaches and weather-beaten forests of gnarled pine, Fårö epitomized Bergman's unsparing and unsettled internal world. – Diane Solway, Senior Editor
The house also served as a kind of diary. Bergman often wrote on the walls and furniture, scribbling the dates and times of radio programs he wanted to listen to or phone calls he was to make. On the back of his workroom door, he and Liv [Ullmann] made drawings daily about their feelings for each other. Red hearts and faces meant good days; black O's, sometimes a string of them, signaled darker times. At the end of one line, Liv drew a simple heart, with the words "Liv leaves." – Diane Solway
STELLA MCCARTNEY, Fashion Designer – page 66
In November, in collaboration with Gap Kids and Baby Gap, McCartney is unveiling a one-time-only stash of children's clothes, a product category grown up clients of the ultracool designer have been demanding for years. – Nina Jones, London Correspondent
"Everyone I know was like, 'When are you going to do kids? When are you going to do kids?' It was just a question that was wearing me out." – Stella McCartney
SEEING STARS: Six Emerging Artists – page 100
With buzz behind them and talent to spare, these six up-and-comers may be the art world's next big names:
JESSICA RANKIN: ON REAPPROPRIATING NEEDLEWORK – OFTEN DENIGRATED AS A WOMEN'S PURSUIT…"Certainly there's a craft to it, but the things I'm thinking about are 95 percent to do with philosophy and language."
THOMAS HOUSEAGO & AARON CURRY: ON THEIR CREATIVE INSPIRATION…"Tom and I were more interested in taking Picasso's route. It felt really radical."
HAEGUE YANG: ON HER WORK "STORAGE PIECE" (A PILE OF SEALED CRATES HOUSING HER ARTWORK)…"It is completely absurd that it gets so much attention. Its attitude is that of artists who wear shabby outfits but still go to the penthouse."
EDGAR ARCENEAUX: ON HIS INVOLVEMENT IN THE WATTS HOUSE PROJECT, A NEIGHBORHOOD-REVITALIZATION PROGRAM…"The idea is that art has the power to change things. Artists, you know, are amazing problem solvers."
STERLING RUBY: ON HIS 'STALAGMITE' SCULPTURES…"I want to allow people to say, 'Wow that's f—ed up,' and place their own kind of read on them."
Please credit the November issue of W for the above. For additional information or to schedule an interview with a W editor, please contact Engelman & Co. at 212.645.9222. Thank you.