The Naked Truth About Denim
The secret to perfect-fitting denim according to Nudie Jeans founder Maria Erixon? Stop washing them, and increase the waist size.
---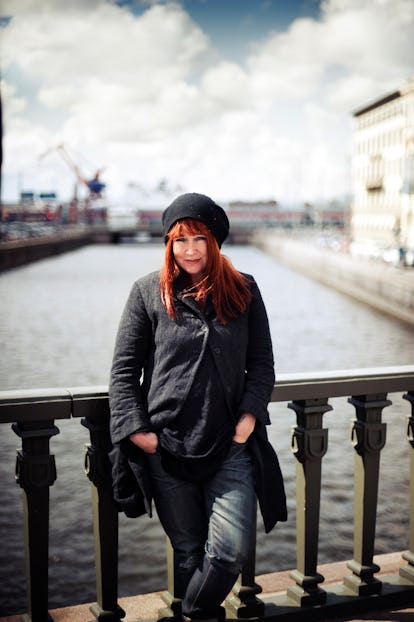 Maria Erixon, the co-founder and creative director of Nudie Jeans, has always focused on quality product and fair-trade. Her jeans are meant to be worn, beaten up, repaired, reused, recycled–and lived in. For years.
Why do you love designing denim? Fashion in general is looking for newness and short trends. Denim is the opposite of that. The more you wear and repair jeans, the more character they have. Denim is a living fabric that changes over time–and they are for everyone, of all ages and genders.
What is your favorite pair of jeans ever? My favorite jeans are my own-made Japanese Kaihara selvage denim, which have never been washed (it's been six years now). These are in a fit that was configured and made personally for me that I don't think is a commercial fit at all.
What is your secret to perfect jeans? My own personal trick is to increase the waist measurements.
Which denim trend do you wish you could resurrect from the grave? My first ever shrink-to-fit 501 from 1973.
What styles are you most excited about now? I'm excited for the latest fit we are launching now in the Spring 2016 collection, an anti-fit called 'Brute Knut.' The fit is baggier, to be worn loose as a relaxed boyfriend jean, low and slightly bigger with a cut-off hem. I am also excited for the next fit under development which has a slanted silhouette – extremely high at back and slants lower at front.
Who is your denim style icon? I love the old images of David Bowie in jeans.
What cities most inspires your designs? That would be Los Angeles, the Hot Rods flea markets, the small vintage fair My Freedamn. Or Tokyo.
Photos: The Naked Truth About Denim
Maria Erixon. Photo by Samuel Unéus.