Obama Foundation's New Playlist Is Curated by Obama's Famous Friends
May Obama never stop dropping playlists.
---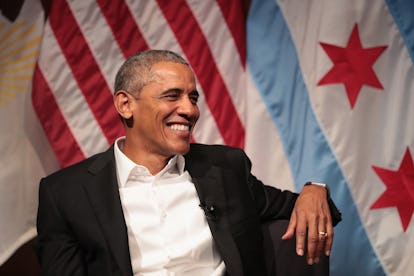 Scott Olson/Getty Images
Barack Obama maintained his reputation as a "cool president" for eight years by making endless dad jokes, doing videos with Zach Galifianakis, hanging out with Justin Timberlake, and dropping multiple awesome Spotify playlists. Even though he's not in office anymore, Obama is still determined to maintain those cool vibes. The Obama Foundation, the foundation that Michelle and Barack Obama started at the end of his administration, dropped its first playlist on its website.
The 18-song playlist, "Hometown: A Collaborative Playlist," was curated with the help of a slew of Obama's notable pals, including Chance the Rapper, Bobbi Brown, Jennifer Hudson, Nick Offerman, and Dan Aykroyd. Each song is dedicated to the city of Chicago, and each guest curator submitted a blurb about why he or she chose the song. Songs on the playlist include "Homecoming" by Kanye West, "Chicago" by Frank Sinatra, "Blessings" by Chance the Rapper, "And I Am Telling You I'm Not Going" by Jennifer Hudson, "Get Behind the Mule" and "Come on Up to the House" by Tom Waits, and "Go, Cubs, Go!" by Steve Goodman.
"We asked you to share songs that remind you of home and inspire you to be involved in your communities. From India to Indiana, you delivered," reads the description on the Obama Foundation's website. "Our first batch features Chicago, but over the next few weeks, we'll add more and more songs that remind you of your hometown." The foundation then invites people to submit their own suggestions for its next playlist. "Tell us the name of a song that reminds you of your hometown," the website says. "Even better, tell us how it has inspired you to be active in your community."
The Obamas unveiled the Obama Foundation on Inauguration Day earlier this year in a video, where they expressed their desire for citizens to send them ideas and goals about what America can achieve together. Although the foundation hasn't been too active yet (the Obamas have been busy detoxing on a few vacations), this playlist project seems like the beginning of an inspiring, collaborative journey with the former POTUS and FLOTUS.
Listen to the playlist below.
See What's Trending in W Video:
How to Jet Set Like Barack Obama
For one of his most high-profile, post White House appearances, the former president went kitesurfing in the Caribbean with Sir Richard Branson. Sure beats watching a James Comey hearing.

Photo by Jack Brockway/Getty Images
Obama is reportedly staying at Marlon Brando's private resort at the Tetiaroa atoll in French Polynesia. Brando fell in love with Tahiti while filming his 1962 movie Mutiny on the Bounty and then bought the resort. The 35-villa resort is known for its celebrity clientele, breathtaking white sand beaches, and its commitment to sustainability. Not a bad spot to work on those memoirs.

Photo: @thebrando
Villas at The Brando resort, where Obama is reportedly staying, start at around $2,000 a night. Each villa has its own private beach area and plunge pool, making it perfect for couples, like the former president and the stylish former First Lady Michelle Obama.

Photo: @thebrando
Right after President Trump's inauguration (and a quick trip to Palm Springs), the Obamas flew off to Sir Richard Branson's private Caribbean retreat, Necker Island. They went kitesurfing and yachting with Branson, and enjoyed some well-deserved vacation time here. Typically, you need to book out the whole island (up to 34 people for $80,000 per night) to stay here, but, you know, he's the former leader of the free world. Check the website to find one of the individual rooms that occasionally become available.

Photo: @virginlimitededition
Between the water sports (sailing, paddleboarding, stand up paddle polo), spa treatments, and daytime excursions, Necker Island is a lifetime removed from Washington D.C.

Photo by Jack Brockway/Getty Images
Doesn't Obama look happy? Doesn't he look ecstatic to no longer have to hear the phrases filibustering or congressional hearing on a regular basis? What's that noise? Sorry, it's hard to hear all the way up here as you're kitesurfing above the Caribbean, which just happens to be one of the must-do activities on Necker Island.

Photo by Jack Brockway/Getty Images
Obama played a round of golf at Mid-Pacific Country Club in Kailua, Hawaii recently. Though his trip was brief, he was spotted dining at Noi Thai Cuisine with his sister and one of his other go-to favorite spots, Buzz's Steakhouse in Kailua. He has a vacation home in Kailua, which is just over the Ko'olau Mountains toward the Windward side of Oahu. He typically likes to dine at local restaurants and play golf while he's on island, and that's exactly what he did this time around. This side trip to his home state was a stopover on his way to French Polynesia.

Photo by Jack Brockway/Getty Images
Obama knows Hawaii well, having been born in Honolulu, and throughout his presidency the 50th state offered a comfortable refuge far removed from the Washington scrum. Here, Obama enjoys a traditional "shave ice" from the popular Island Snow at Kailua Beach Center in Kailua, Hawaii.

Photo by Jewel Samad/Getty Images
In January, the Obamas retreated to the Palm Springs home of Michael S. Smith, who redecorated the White House when the Obamas lived there, and James Costos, ambassador to Spain and Angora during Obama's presidency. The 11,000-square-foot home, designed by architect Howard Lapham, overlooks Sunnylands, which was once owned by Walter and Leonore Annenberg and played host to many past presidents. The kept a relatively low profile during their trip to Palm Springs, but we're guessing Obama played a few rounds of golf while he was there (hopefully with his hat backwards). You can't rent out this specific Thunderbird Heights home, but you can find other sprawling estates for rent nearby on Airbnb.

Photo: @michaelsmithinc
According to the latest reports, Barack and Michelle Obama, along with close personal friends like Bruce Springsteen, Oprah, and Tom Hanks, are all hanging out together and sailing around French Polynesia on the yacht of billionaire entrepreneur Larry Ellison.

AGF/Getty Images
In early April, they all met up and ventured to Vanilla Island for lunch, making their way to Taha'a (pictured here) later in the day.

DEA / C.DANI / I.JESKE/Getty Images
And if they stick to their current trajectory, they'll make landfall in Bora Bora before returning to The Brando, where the former president will likely resume work on his memoirs while staying as far away from the White House as possible.

DEA / W. BUSS/Getty Images