Obama vs. McCain: The Pants Edition
It's been a little over a month since the guys behind the menswear line Bonobos started promoting two new styles of cotton twill pants, one called the "Obama," the other one the "McCain." While they...
---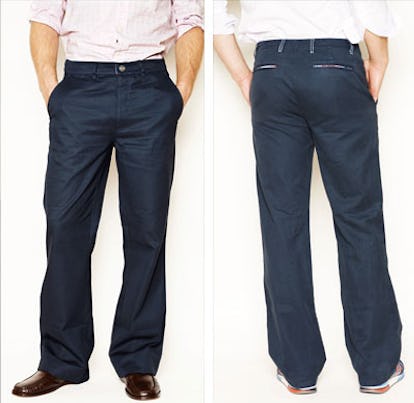 According to Bonobos's Dave Eisenberg (full disclosure, he's a friend of mine), sales for both trousers have been about even. Earlier in October, apparently, the Obamas had pulled ahead, until the company sold out and had to reorder, during which time the McCains gained an advantage. Now the trousers are neck and neck, with about 150 pairs of each sold. "The race has tightened dramatically," says Eisenberg, who explains that their ultimate goal is to get the Democratic nominee to actually wear the $120 trousers. "Obama's bodyman is a guy named Reggie Love, who went to Duke with one of the guys at our company, so we're hoping to get them to Obama via him."
Above McCains (left) and Obamas (right).