October 2015 Editor's Letter: Women Who Rule
W's editor-in-chief talks powerful ladies in art, fashion, and film.
---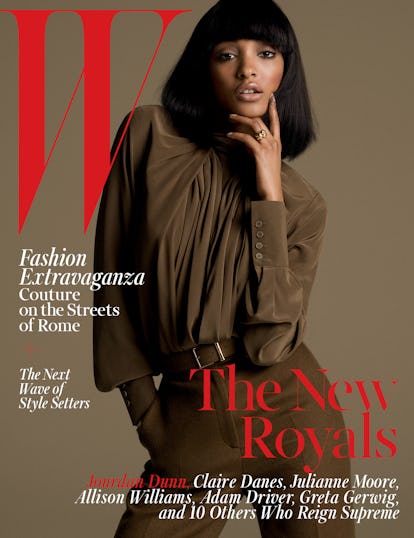 As Hillary Rodham Clinton makes her bid to become ____the first female president of the United States, the status of women is getting people increasingly fired up, not only in small liberal circles but also nationwide. And while politics may not exactly be W's bailiwick, the conversation is just as heated in Hollywood and the art world, where the inequality between women and their male counterparts can be readily gauged in compensation figures and auction results.
So, not incidentally, our October issue is a celebration of fantastic women—women who have carved out positions of influence for themselves in an array of fields. Risk-taking, adventurous, aristocratic, challenging, unapologetic…these are just some of the ways to describe them.
Take the Honorable Daphne Guinness, the descendent of one of the most prestigious British aristocratic families. In "We Are Such Stuff. As Dreams Are Made On…", the photographer Nick Knight casts Guinness as a latter-day Prospero, melding epic Shakespearean drama with the over-the-top glamour of the New Romantics and London's famed Blitz club. Needless to say, ­Guinness parties up quite a storm. After serving as muse to countless British designers, she is now, at 47, throwing herself into a career as a musician.
The model Edie Campbell, another posh Brit who is making waves, traveled to Rome with the photographers Inez van ­Lamsweerde and Vinoodh Matadin to play the heroine in our haute couture story, "When in Rome". Campbell channels fellow eccentric Veruschka to re-create the magic of 1960s Italian alta moda. (It's a topic that's very close to my heart. "Bellissima: Italy and High Fashion, 1945–1968," the show I curated last December for the MAXXI Museum, in Rome, is currently on view at Milan's Royal Villa of Monza and will travel to the United States in February.)
Elsewhere in the issue, W's Arts and Culture Director, Diane Solway, meets another woman possessed of great family lineage: Diana Widmaier-Picasso, Pablo's granddaughter. Having earned her scholarly chops as an art historian, Widmaier-­Picasso is working on an exhibition that explores the 20th-century ­master's legacy in contemporary art—not that we need to be reminded about just how influential Picasso's work remains today ("Picasso Baby," page 194). As ­Widmaier-Picasso's co-curator, Didier Ottinger, points out in the profile, "Diana could ride on the name in her passport—but she doesn't."
Which brings us to our cover story. "The New Royals" is W's annual survey of women whom we believe represent a standard of excellence in film, fashion, society, music, and more. (This year we decided to include a couple of men in our lineup—how's that for tokenism?!) As Editor at Large Lynn Hirschberg notes, our definition of "royal" is self-created in every sense. Royalty is not about class or breeding but about talent, drive, and strength of character. This year's list includes the actress Julianne Moore and the supermodel Iman, as well as new contenders, like the indie darling Greta Gerwig and the social powerhouse Indre Rockefeller.
For me, this story conjures the spirit that I admired so much in my days in London in the '80s, when provocateurs like designers Vivienne Westwood and Stephen Jones and performance star Leigh Bowery dressed up as royals, crowns and all, but lived the most transgressive and provocative lives imaginable. The only rules they followed were their own.