October Release: Uma Thurman
Actress Uma Thurman on Being Engaged and Future Wedding Planns, Comedian Mo'Nique on Personal Tragedy Inspiring New Role, and Actress/Director Liv Ullmann Remakes A Streetcar Named Desire
---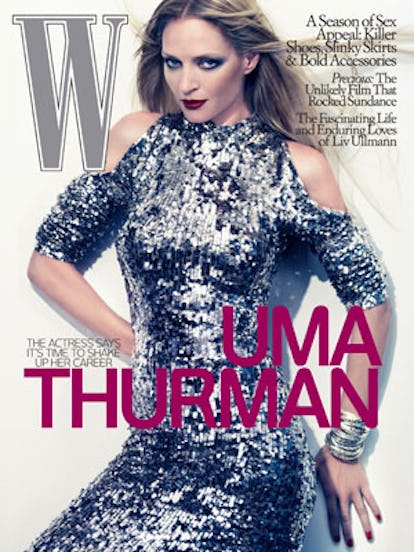 Highlights from the October issue of W magazine are below:
UMA THURMAN, ACTRESS:
ON PLANS TO WED FIANCEE ARPAD "ARKI" BUSSON AND WHETHER THEY PLAN TO LIVE IN NEW YORK OR HIS HOME BASE OF LONDON…"I'm happily engaged, but we haven't set a wedding up. I'm not in a rush to do anything. One day we'll do it, when we're ready…We can't live anywhere else because my children's' father lives here. We'll figure that out."
ON RECENT PERSONAL ISSUES, INCLUDING DIVORCING ACTOR ETHAN HAWKE IN 2005 AFTER HIS ALLEGED INFIDELITY, HAWKE'S RECENT MARRIAGE TO THEIR KIDS' FORMER NANNY, AND HAVING A THREATENING STALKER FROM 2005-2007…"I don't really want to get into that…As someone once said, no new damage, that's all you can do. Be positive and move forward. You kind of owe it to your children to not leave a lot of mess. They didn't ask for it, and they don't need to hear about it."
LIV ULLMANN, ACTRESS AND DIRECTOR:
Native Norwegian Liv Ullmann, once lover and muse to famous Swedish auteur Ingmar Bergman, begins work on her revival of A Streetcar Named Desire, which stars Cate Blanchett as Blanche DuBois, marking Ullmann's American stage directorial debut – at 70.
ON INTRODUCING COMIC GENIUS WOODY ALLEN TO HIS IDOL, INGMAR BERGMAN, OVER DINNER IN 1975 AND RECALLING THAT THEY BARELY SPOKE…"Seriously! They did not talk. Ingrid [Bergman's fifth wife] and I kind of talked about food or whatever, and they looked at each other, eating and smiling…And then the moment I got home, the phone rang and it was Ingmar, saying, 'Oh, Liv. Thank you. That was really great!'"
ON HOW AGING HAS AFFECTED HER CAREER CHOICES TO TURN DOWN ROLES, SUCH AS MIKHAIL BARYSHNIKOV'S EX-WIFE ON SEX AND THE CITY AND GEORGE CLOONEY'S EX IN ONE OF THE OCEAN'S FILMS…"I didn't want to get off the plane and see the shock on the directors' faces, thinking, My God!"
ACTRESS AND COMEDIAN MO'NIQUE STARS IN NEW DRAMATIC FILM, PRECIOUS:
ON HOW BEING SEXUALLY ABUSED BY HER OLDER BROTHER HELPED PREPARE HER FOR THE ROLE OF THE MONSTROUS MOTHER IN PRECIOUS …"Lee [Daniels, director] said, 'When I say action, I need you to be a monster.' I was molested by my oldest brother, who was a monster to me. So to get into the mind of that woman, I remembered that monster."
ON RECENTLY CONFRONTING HER BROTHER AND FORGIVING HIM, DESPITE HIS NEVER FULLY ACKNOWLEDGING HIS GUILT…"I've got to. I can't walk around with that. If I don't forgive him, I'll be the victim for the rest of my life, and I don't choose to be that."
ON WHAT IT MEANS TO THE FILM THAT OPRAH WINFREY SIGNED ON AS EXECUTIVE PRODUCER…"What do you think it means when the person under God says the movie is good? Oprah might be right there with the Lord! She done gave the whole world free chicken! That's godly, baby. That's called a miracle. So what does it mean when Oprah Winfrey says, 'This is good'? Then the world – not just America, the world – says, 'It's good.'"
ON WATCHING A SCREENING OF PRECIOUS ALONGSIDE THE "TINSELTOWN ELITE" AT THE SUNDANCE FILM FESTIVAL…"None of those people looked like us. And it was mind-blowing when it was over, to have white men in their 60s coming up to us, crying. It killed the myth. It killed the myth that a white man couldn't possibly enjoy two big black women onscreen."
Please credit the October issue of W for the above. For additional information or to schedule an interview with a W editor, please contact Engelman & Co. at 212.645.9222. Thank you.