Five Minutes with Odile Gilbert
The French hairstylist takes a break from backstage primping to share her favorite products and more.
---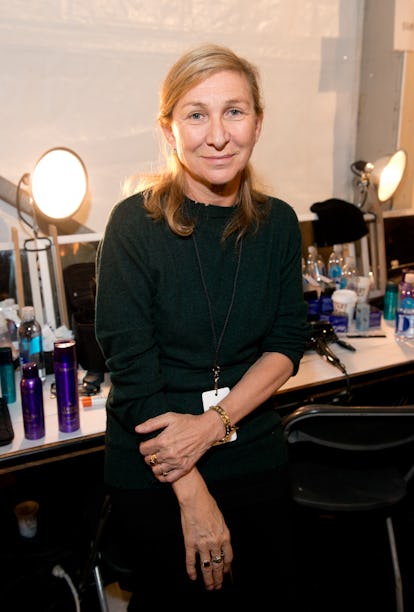 What's in your purse? Caudalie lip balm and Alaia perfume. I love it. It's very powdery.
What's your earliest beauty memory? Taking baths. When I was a kid, I had to have everything in the bathroom with me: music (the Beatles, of course), books, my pets, food, and chocolate. It was very Marie Antoinette.
What was your worst beauty mistake? Getting a body wave when I was about 16 or 17. They used the tiniest rollers on my baby fine hair—it was awful. My hair looked like a duster and there was nothing I could do.
What is your beauty pet peeve? Too much plastic surgery. My friends and I go for drinks at the Beverly Hills Hotel and watch all the people walk through. Everyone looks so fake, and it's so weird to me that they don't see it! I don't mind plastic surgery, but it has to be good. It can't be obvious.
What are you currently obsessed with? Spas. It could be Ayurvedic, could be in Brittany. I love going to spas and getting great massages. I usually go in winter, when it's dark, and I stay one week minimum. And food. Good food. I love Japanese. My favorite Japanese restaurant in New York is Ayana on Thompson Street, but I also love Balthazar, Saint Ambroes, Petite Cocotte, and The Mercer. The Mercer has the best truffle pizza. Food is very important to me. I'm French!
Backstage at Rodarte Spring 2016