Five Minutes With: Oh Land's Nanna Øland Fabricius
Nanna Øland Fabricius, better known as the crystalline pop darling Oh Land, explains "Wolf And I," a track off her two-week-old, major-label debut: "It's sort of a dream, and I'm the wolf," she says, tucking...
---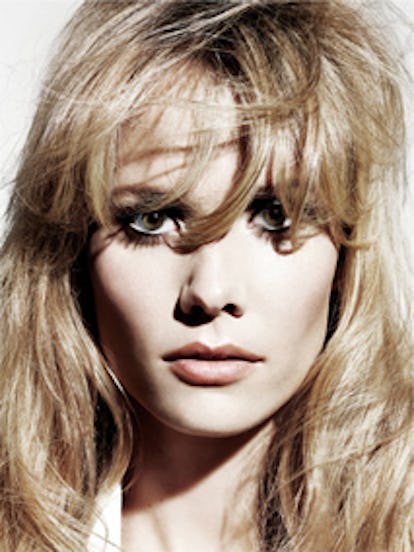 It's a surprise statement coming from the Danish gamine: sparkling in a rhinestone and feathered epaulette over a Christopher Kane galaxy dress, she strikes you as a modern day fairy, hardly a wolf. But despite her delicate appearances, this Copenhagen-born, classically trained ballerina-cum-singer-songwriter possesses a passion and nocturnal intensity that belies her 25 years — just one of which has been spent in the stateside music scene. And her songs — which Pharrell has played a part in producing — are characterized by otherworldly vocals (oft-compared to Björk) and lush soundscapes (likened to La Roux and Lykke Li).
Comparisons aside, Oh Land is emerging as a singular new artist, toggling with rare fluidity between trip-hop dance beats, jungle drumming, orchestral vocals and multi-sensory performances. The net effect? Shimmering, shimmy shaking music that's hard to resist. W spoke with the chanteuse on the close of her four-night showcase at the Charles Bank Gallery in New York.
Eske Kath [the artist] created such a dreamy visual stage for your set tonight. It seems like these visual and artistic elements are really organic to your performances. I don't ever question it because I think in a very cinematic way. I write about stories and experiences from my own life and, in the process, I start making a lot of characters and seeing little films of how all these things went down. Instead of always writing about myself, I make myself be another character. And that inspires me to make all those visuals.
You mentioned this cinematic aspect. Is that influenced from those years performing in the Danish Royal Ballet Academy? I think it's influenced by growing up in a very theatrical environment. I was used to seeing my mom [a professional opera singer] dressed up in costumes, wigs, and crazy makeup for all these different roles. I was always playing with the costumes backstage while she was performing. I grew up with fantasy and imagination to be reality for me.
What was your favorite movie as a child? Alice in Wonderland, and it's still one of my favorites. I can really relate to Alice; I'm a daydreamer and when I let myself into something, I live in it so strongly that I become it. I sometimes get to a state where I don't really know if it really happened or it was just in my head.
And your favorite musician? As a child, I was obsessed with John Lennon and The Beatles. I was obsessed with "I Am the Walrus." It had an anger and temperament that really appealed to me, because I was used to listening to a lot of classical, beautiful, organic music. I just loved that rawness.
When do you feel most inspired? If I feel very strong and confident and in my right place, I don't get as inspired as when I'm vulnerable and throw myself into situations I can't manage. So I throw myself into situations I can't manage quite a lot.
You've once said that singing is as natural to you as breathing, that you have your own place in music you can fill out. Describe what that place looks like. It would be the inside of a tiny little snow globe, but once you got inside of it, it would go on forever. It would be very silent, this little city with little houses set in the middle of a snowy landscape—but it wouldn't be cold, it would be warm despite the snow. And there would be mountains and a lot of animals. And if you were thinking about something, it would appear. Like candy. [laughs]
Who would be your dream collaboration? I would love to do a trio with Dolly Parton and James Blake. We would write new material, or maybe we could do "Redemption Song" or "Imagination."
I heard that you would love to open for Radiohead. When I watched their "Lotus Flower" music video, I couldn't help but think you and Thom Yorke have some similar moves. Who do you think would win in a dance-off? I think it's quite funny because when I do my videos, I have my own way of dancing. When the Radiohead video came out, my friends were like, 'Thom Yorke is dancing like you!' I don't think he's seen my video, but it was really funny. The way he dances is quite like modern contemporary dance, almost like he's trained in it. Maybe we could do a pas de deux, and we would win together.
What is your definition of beauty? Birds. They are so free; they could do whatever they want. They could float on the water. They are so free and not restrained.
Even pigeons? Yes, even pigeons! Well not the dirty ones. But all birds. I think beauty comes with freedom. When people feel free to be themselves and find their element, that's when they shine and are beautiful.
"Wolf and I" (live) by Oh Land
Photos: portrait: Epic Records; performance: Sony Music.