Oh Right, There's Another "Fifty Shades" Movie and Here's the Trailer
Whether we're ready or not, Fifty Shades is back with a sequel, and the trailer features Christian Grey grabbing Anastasia Steele by the, well, you know.
---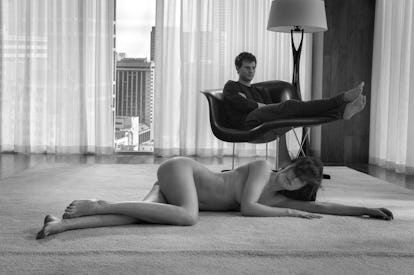 Remember when you used to hear roughly fifty Fifty Shades jokes a week? How many have you heard lately? Exactly. But remember when the franchise was all we could talk about? First we were all aflutter with the notion that everyone, including more than a few soccer moms, were suddenly fascinated by light S&M erotica. Then the long tale of the casting and supposed behind-the-scenes drama of the film adaptation (not to mention our exclusive behind-the-scenes pictures) kept us all transfixed until the film debuted on Valentine's Day 2015.
Then, suddenly, it seems Fifty Shades dropped far out of the zeitgeist. What could have happened? Perhaps it was because a few months after the film was released presidential candidates started announcing their ambitions, and we've been dealing with this particularly unsexy election ever since.
Of course, the film did gross an astounding $571 million at the box office, so there are at least two more sequels on the way whether we're ready for them or not. The first, Fifty Shades Darker, is scheduled for release next Valentine's Day, and with its new trailer we get a closer look at the narrative.
Last we saw Dakota Johnson's Ana Steele, she had decided that Jamie Dornan's Christian Grey was all wrong for her. Though anyone who has read the books knows that the sequel won't be about Ana finding a nice, down-to-earth guy with a steady job who really seems like he might be a good dad. No, her affair with the troubled Grey rears its head again, of course.
Because what the world wants to see now is rich businessmen blurring lines of sexual consent, the trailer features an extended look at a scene of Grey seducing Steele in a restaurant until they wind up in an elevator and he grabs her right by the, well, you know. Interesting choice, all post-Trump things considered.
Though the sequel focuses on the couple trying to forge a relationship that's a bit more normal, with Ana taking more assertive control, as we're clued into by the trailer, the main theme continues to be, "Can Christian really change?"
"Do you think you're the first woman who's tried to save him?" asks Kim Basinger's character.
While the sexual politics of the plot are as complicated as ever, at least the trailer presents an equal-opportunity objectification of both Johnson and Dornan. That's something, we guess. It's also an excuse to listen to Miguel's cover of "Crazy in Love."
The main cast are all back, but there have been some behind-the-scenes shake-ups with the creative team. Sam Taylor-Wood, who directed the first film, opted not to return. She's replaced by James Foley, a veteran director of various thrillers and perhaps best known for Glengarry Glen Ross. Lately, he's been directing television, including episodes of House of Cards. Darker is his first big screen credit since 2007's Halle Berry-starring Perfect Stranger.
The team filmed both Darker and the third film, Fifty Shades Freed, back to back. Though you never quite know when Hollywood is truly done trying to squeeze money out of a franchise, the final film in the planned trilogy is scheduled for release around the following Valentine's Day in 2018.