Tilda Swinton and Jake Gyllenhaal's New Film Okja Looks Like a Vegan's Fever Dream
Tilda Swinton stars in Okja, a film from director Bong Joon Ho that's not only in the middle of Netflix's controversy at Cannes, but also a vegan's dream.
---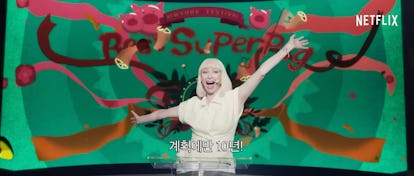 We've seen little teaser and hints of Netflix's buzzed about film Okja. It's a big deal for the streaming service. It's packed with stars like Tilda Swinton, Jake Gyllenhaal, Paul Dano, Giancarlo Esposito, and Lily Collins. It's also director Bong Joon Ho's followup to his acclaimed Snowpiercer. Oh, right, then there's the matter that it's currently in the middle of a bit of a controversy at the Cannes Film Festival this year.
Still, we weren't quite sure what exactly the film had in store, and the final trailer–released today ahead of the film's official premiere at Cannes– is somehow a bit more crazy and wondrous than even the preview clip of Swinton talking about the types of nightmares a pig might have would suggest.
It also gives us our first look at the mysterious beast at the center of the film, and as it turns out, he's absolutely adorable. We also learn that human are also supposed to eat this adorable creature as it was created as little more than a GMO food crop. Yes, something tells us this might end up being your vegan friend's favorite film of the summer.
Swinton stars as Lucy Mirando, the public face and CEO of conglomerate Mirando Corp., who as it turns out, has spent a decade creating a genetically modified "super pig," which could end up feeding the entire world and, most importantly, "taste[s] f—ing delicious." Somehow though the original super-pig escapes and bonds with a young girl.
The trailer doesn't address our biggest question: why would someone engineer an animal meant for food that also happens to be not only adorable (seriously, he somehow looks like the offspring Eeyore, Piglet and Winnie the Pooh) but a perfect companion for humans?
Along the way we also meet Paul Dano who plays the leader of some sort of "animal lovers" activist group, and glimpses of the other stars, though their roles aren't entirely clear.
The film will make its world premier at Cannes tomorrow, but you can slid it into your Netflix queue staring on June 28th.
Related: Dakota Fanning's New TV Show Looks Dark, Just Like She Likes It Looks Dark, Just Like She Likes It
For More Tilda Swinton-related Whimsy, Take a Visit to Planet Tilda:
Bella Hadid, Jessica Chastain, and Elle Fanning Lead the Charge at the 2017 Cannes Film Festival
Bella Hadid in Alexandre Vauthier and Bulgari at the premiere of Ismael's Ghosts opening the Cannes Film Festival in Cannes, France, May 2017.

George Pimentel/Getty Images
Jessica Chastain in Alexander McQueen at the premiere of Ismael's Ghosts opening the Cannes Film Festival in Cannes, France, May 2017.

George Pimentel/Getty Images
Marion Cotillard at the premiere of Ismael's Ghosts opening the Cannes Film Festival in Cannes, France, May 2017.

Anthony Harvey/Getty Images
Robin Wright in Saint Laurent by Anthony Vaccarello at the premiere of Ismael's Ghosts opening the Cannes Film Festival in Cannes, France, May 2017.

Anthony Harvey/Getty Images
Julianne Moore in Givenchy couture at the premiere of Ismael's Ghosts opening the Cannes Film Festival in Cannes, France, May 2017.

George Pimentel/Getty Images
Lily-Rose Depp in Chanel at the premiere of Ismael's Ghosts opening the Cannes Film Festival in Cannes, France, May 2017.

George Pimentel/Getty Images
Uma Thurman in Atelier Versace and Bulgari at the premiere of Ismael's Ghosts opening the Cannes Film Festival in Cannes, France, May 2017.

Ki Price/Getty Images
Marion Cotillard in Y/Project at the photocall for Ismael's Ghost at the Cannes Film Festival in Cannes, France, May 2017.

Anthony Harvey/Getty Images
Elle Fanning in custom Vivienne Westwood at the premiere of Ismael's Ghosts opening the Cannes Film Festival in Cannes, France, May 2017.

George Pimentel/Getty Images
Aymeline Valade in Pallas at the premiere of Ismael's Ghosts opening the Cannes Film Festival in Cannes, France, May 2017.

ALBERTO PIZZOLI/Getty Images
Susan Sarandon in Alberta Ferretti at the premiere of Ismael's Ghosts opening the Cannes Film Festival in Cannes, France, May 2017.

Gisela Schober/Getty Images
Naomie Harris in Gucci at the premiere of Ismael's Ghosts opening the Cannes Film Festival in Cannes, France, May 2017.

George Pimentel/Getty Images
Jessica Chastain in Roksanda at the jury photocall at the Cannes Film Festival in Cannes, France, May 2017.

Anthony Harvey/Getty Images
Fan Bingbing in Elie Saab couture at the premiere of Ismael's Ghosts opening the Cannes Film Festival in Cannes, France, May 2017.

Pascal Le Segretain/Getty Images
Director Maren Ade at the premiere of Ismael's Ghosts opening the Cannes Film Festival in Cannes, France, May 2017.

Pascal Le Segretain/Getty Images
Charlotte Gainsbourg, center, in Saint Laurent at the premiere of Ismael's Ghosts opening the Cannes Film Festival in Cannes, France, May 2017.

Andreas Rentz/Getty Images
Hailey Baldwin in custom Twinset at the premiere of Ismael's Ghosts opening the Cannes Film Festival in Cannes, France, May 2017.

Venturelli/Getty Images
Daria Strokous in Dior at the premiere of Ismael's Ghosts opening the Cannes Film Festival in Cannes, France, May 2017.

Gisela Schober/Getty Images
Emily Ratajkowski in custom Twinset and Bulgari at the premiere of Ismael's Ghosts opening the Cannes Film Festival in Cannes, France, May 2017.

Ki Price/Getty Images
Sara Sampaio in Zuhair Murad couture at the premiere of Ismael's Ghosts opening the Cannes Film Festival in Cannes, France, May 2017.

Ki Price/Getty Images
Eva Herzigova in custom Roberto Cavalli at the premiere of Ismael's Ghosts opening the Cannes Film Festival in Cannes, France, May 2017.

Epsilon/Getty Images
Uma Thurman in Giuseppe Zanotti ready-to-wear and Tod's at the premiere of Loveless at the Cannes Film Festival in Cannes, France, May 2017.

Venturelli/Getty Images
Julianne Moore in Chanel couture at the premiere of Wonderstruck at the Cannes Film Festival in Cannes, France, May 2017.

Antonio de Moraes Barros Filho/Getty Images
Amber Valletta in Mulberry at the premiere of Wonderstruck at the Cannes Film Festival in Cannes, France, May 2017.

Pascal Le Segretain/Getty Images
Elle Fanning in Temperley London at the Cannes Film Festival in Cannes, France, May 2017.

Jacopo Raule/Getty Images
Adriana Lima in Naeem Khan bridal at the premiere of Loveless at the Cannes Film Festival in Cannes, France, May 2017.

George Pimentel/Getty Images
Emily Ratajkowski in Brock Collection at the Cannes Film Festival in Cannes, France, May 2017.

Jacopo Raule/Getty Images
Michelle Williams in Louis Vuitton at the premiere of Wonderstruck at the Cannes Film Festival in Cannes, France, May 2017.

Epsilon/Getty Images
Thylane Blondeau in Michael Kors Collection at the Cannes Film Festival in Cannes, France, May 2017.

Marc Piasecki/Getty Images
Sara Sampaio at the Cannes Film Festival in Cannes, France, May 2017.

Marc Piasecki/Getty Images