From the Archives: Olafur Twist
With his monumental conceptual pieces—reverse waterfalls, indoor sunsets, rivers dyed green—Olafur Eliasson is creating art that mesmerizes critics and crowds alike.
---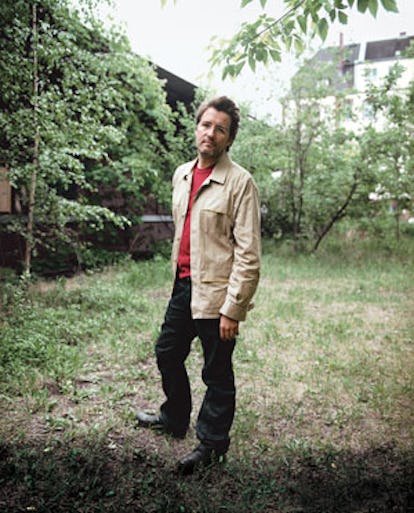 By all objective measures, it's raining on this spring day in Berlin: Massive drops of water are pelting the metal ceiling of Olafur Eliasson's studio, a three-story workshop in a former train depot. But whenever Eliasson is around, one is hesitant to come to any hasty conclusions about the weather. In the course of his relatively brief career, the 40-year-old installation artist has become a master at manipulating natural phenomena. He has made waterfalls go uphill, dyed rivers bright green and created entire microclimates indoors. For his biggest commission to date, The Weather Project, (2003), Eliasson transformed the massive Turbine Hall at London's Tate Modern into a seductively misty, futuristic environment, complete with manmade fog and a fake sun. Many visitors spontaneously lay down on the museum's cold concrete floor, basking in the pseudo-radiance of the golden orb, which, upon inspection, revealed itself as a simple assemblage of 200 monofilament bulbs (the kind used in street lamps), arranged in a half circle and reflected in the mirrored ceiling.
Today's precipitation, it turns out, is plain old rain, from plain old clouds. Still, as Eliasson meanders around his studio (or "laboratory," as he calls it) while his staff of about 15 engineers, architects and technicians build plastic models and assemble walls of prismatic mirrors, it's clear he has dozens more experiments in the works.
Eliasson, who's been likened to everyone from Isaac Newton to P.T. Barnum, has a singular place in the pantheon of contemporary artists: He's recognized simultaneously for his intellectual rigor and his ability to connect with the masses. That combination makes him a museum curator's dream, which is why his name is ubiquitous on arts listings pages around the world these days. His first major U.S. retrospective opens in September at the San Francisco Museum of Modern Art before heading to the Museum of Modern Art in New York and the Dallas Museum of Art. "The questions Olafur is asking about art, and about art's intersection with the larger world, are the ones that need to be asked right now," says the show's curator, Madeleine Grynsztejn. "At the same time, he's making works that are drop-dead beautiful."
But the bespectacled, unfailingly mild-mannered Eliasson, who is of Icelandic ancestry and grew up in Denmark, is a good Scandinavian who finds the whole idea of success, not to mention celebrity, vaguely embarrassing. When The Weather Project drew more than one million visitors and the Tate asked him to extend the installation for a few extra months, he politely declined, fearful that the piece would become a kind of grotesque commercial for the museum, or for himself. "It was very important for me that the piece maintain some decency and dignity and some kind of distinct relationship with the content which was initially behind it," he says.
Eliasson's work typically concerns itself with sensory perception and spectral phenomena. Like one of his early influences, Robert Irwin, Eliasson wants to make viewers aware of their own role in the process of experiencing art. And by using a range of media from the natural world—wind, ice, arctic moss—he often appeals to one's senses of smell, sound and touch as well as sight. "In this increasingly technological, digital era," says Grynsztejn, "art often separates us from our bodies, from our senses, from the world. Here is somebody who constantly refuses that, and who constantly returns us to a visceral, present-tense experience."
One of Eliasson's first mature pieces, which is being reassembled for the SFMOMA show, was a 1993 installation that he titled, with more earnestness than irony, Beauty. It consists of a single spotlight trained on a section of perforated tubing. When water is pumped through the tube, minuscule droplets descend from it, producing a curtain of mist and, when viewed from certain angles, a rainbow. It's an archetypal Eliasson piece because it both exalts and demystifies an environmental cliché, while encouraging the viewer to move around it and engage with it in a fresh, dynamic way.
For a later piece, Room for One Colour (1997), Eliasson lit an enclosed space with monochromatic bulbs, creating an ambient light that makes every color look like some shade of yellow or gray. "Of course, that starts various processes in the brain, because we start to compensate for the things that we know," says Eliasson. "The brain tells the eye that it's supposed to be seeing certain things—the shirt is blue, or the sweater is red—even though they're yellow."
In 1998 Eliasson began stealthily changing the color of the rivers in various cities, for just a few hours, by treating them with a harmless, slime-colored dye. For him, Green River was a chance to introduce an element of "temporality" to downtown areas, which he finds increasingly static and museumlike. "It was something very turbulent, organic, active," he says. In Southern California, where the Los Angeles River is largely hidden from view by concrete viaducts, hardly anybody noticed the difference. (This was before September 11, when it was still possible to try such a stunt without provoking fear.) In Stockholm, Sweden, pedestrians were mesmerized, and the downtown area came to a standstill.
Despite the almost biblical theatricality of some of Eliasson's projects, nobody has ever accused the artist of playing God—perhaps because there's a fundamental modesty and openness to the way he conceives and presents his work. By relying so heavily on a viewer's active involvement, his projects turn spectators into participants (many of his titles, such as Your Sun Machine and Your Compound Eye, emphasize the point). And though Eliasson is constantly engaging in visual trickery, he never attempts to conceal the mechanisms behind the illusions. With Reversed Waterfall (1998) the viewer sees not only the jets that propel the water upstream but also the tubes through which it flows back down. Somehow, instead of destroying the magic, these revelations actually enhance it. "You always see the man behind the curtain in Olafur's work," says Grynsztejn. "He shows you something that moves you to the core, and then he shows you how that happened. So you are a participant both ways—intellectually and just in terms of wonder."
Eliasson speaks four languages and can philosophize fluently in any of them, though he says he has trouble explaining his work, or even understanding it, as it nears completion. "I guess some artists have that moment when they say, 'Yes! Now I can see this is going to be great!'" he says. "I actually never have that feeling. The closer I get to opening a show, the more blind I get. While I'm installing it, it would be emotionally too disturbing to have to re-evaluate the nature of it. I've actually forgotten what it's about, which is why it's always a paradox to have a press opening the day before an exhibition, because that particular moment, after working on a show for years, is when I have the least to say about it. So I normally memorize a few phrases from a year earlier and try to appear convincing."
Eliasson also prefers not to share too much about his own background, believing that biography is often overemphasized in writings about an artist's work. But a few significant details bear mentioning. First, there's the astonishing fact that Eliasson was the break-dancing champion of Scandinavia as a teenager. He initially picked up some moves from a friend's elder brother, who'd just been to America, and he started to practice all day long.
"We lived in the countryside at the time, on a little farm, and I remember that for months and months I just moved around like a robot," Eliasson says. "In the beginning I was really bad at it. It must've been funny to see me moving around the cows and horses." Eliasson started a group with two friends, and they began competing internationally. "I was really crappy-looking, with white gloves and sunglasses," he recalls, "and hair like Limahl from Kajagoogoo. I'm sure I was the only robotic electric boogie dancer with eyeliner."
Told with Eliasson's usual deadpan delivery, the anecdote seems like a joke, but the artist believes the experience genuinely helped teach him to experience the world through his body. "I think it enhanced my ability to sense something as simple as a hike through a landscape," he says.
When he wasn't spinning in circles on the floor, Eliasson was often drawing, with the encouragement of his mother, a dressmaker, and his father, a cook and amateur painter. In the early Nineties he attended the Royal Danish Academy of Fine Arts in Copenhagen and spent an extended period in Williamsburg, Brooklyn, working as a studio assistant for Christian Eckhart and reading texts on phenomenology and Gestalt psychology. "I guess the one thing I was pretty clear about is that I was determined to be non-normative," he says. "I was determined to at least try to be generous in the way one could address what happens when a person looks at a work of art."
Eventually he settled in Berlin, partly for the cheap studio space and partly for the artistic community that was developing there. Today he keeps as many as 30 young artists, assistants and mathematicians on his payroll, and he finds the city's free-form, collaborative arts scene to be invaluable. "What you see in Berlin has not been seen before on the planet," he says. "You have a community of 10,000 artists. Compare this to what you had in Montmartre in the Thirties—maybe 150 artists. The East Village in New York was 200 people." Eliasson believes most of the world remains oblivious to the richness of Berlin's artistic output, since only a small fraction of it has been colonialized and commodified by international galleries. "For some unexplainable reason, somebody has chosen to put the responsibility of art history in the hands of the market," he says. "Everybody writing our history, they go to Miami, they go to [Basel], so everybody thinks that's where the action is."
Eliasson himself is no stranger to the art world's commercial side. During the holiday season last year, those were his sculptures in the windows at Louis Vuitton stores around the world. The pieces, part of a series called Eye See You, were large-scale metal lamps shaped like the pupil of an eye; at the center, viewers could see their own reflections. Eliasson used his proceeds to establish 121Ethiopia.org, a foundation that funds African orphanages. He and his wife, Danish art historian Marianne Krogh Jensen, have adopted a son and a daughter from Ethiopia, now ages three and one. (The family lives in Copenhagen; Eliasson commutes to Berlin.) "I gave every penny from that project to this foundation, and that created sort of the beginning," Eliasson says, adding that it was a way of connecting high capitalism with a state orphanage program that is "the worst-run, least efficient system in the world."
This year Eliasson is working as a man for hire on a wide range of projects. At London's Serpentine Gallery, with architect Kjetil Thorsen, he has designed a dramatic spiral-shaped outdoor pavilion that's part of his ongoing exploration of the synergy between art and architecture. At the Hirshhorn in Washington, D.C., he's been asked to completely reconceive the museum's exhibition spaces. There's also a commission for BMW. Beyond the works he already has under way, he says, he's "trying to do a lot more laboratory work, just experimenting, just not necessarily focusing on the output."
At a time when the concept of artistic integrity has never been more slippery, Eliasson seems to see his relationship to the overly commercialized art market as a kind of dance with the devil in which he takes the lead. Francesca von Habsburg, who has purchased several of Eliasson's works for her foundation, Thyssen-Bornemisza Art Contemporary, says the artist has "a very clever, very realistic concept of where the art world is and where it's heading. He knows how to stay ahead of the game. Because it is a game." Eliasson seems almost proud of the fact that his works don't sell for high prices at auction, in part because they're not suited to living room walls or even basements. "This is of little interest, but I don't have a very good resale value," he says. His auction record is $268,679, for a set of 42 color photographs, at Christie's last fall—not pocket change, exactly, but a small sum next to the prices that his peers' work sometimes commands.
Whatever the economical or philosophical considerations behind a work of Eliasson's, they're often overshadowed by the gut response it provokes. For the upcoming U.S. survey, the artist is creating several new pieces, including a large, mirror-lined tunnel that resembles a walk-in kaleidoscope. During our interview, he mentions that he has made a last-minute adjustment to it: Entered from one direction, the tunnel will appear all black, but from the other it will look like an explosion of colors. Later, when I mention these changes to Grynsztejn, the show's curator, who is hearing about them for the first time, she says excitedly, "Really? That is so cool. That is so cool!"
Eliasson says it's fine with him if a museumgoer is moved by his work without knowing, or even caring, about the theories behind it. At the heart of his philosophy is a belief in the subjectivity of art, and of just about everything. "I think people are treated slightly patronizingly by the art world," he says. "And this is often exposed with things like guided audio tours. Museums put so much effort into interpreting and experiencing on behalf of the spectator." Ever the relativist, he's quick to offer a defense of elitist art too. "This discussion is dangerous because the next step would be to [denigrate] work that's very inaccessible. But art can take on so many different forms and languages. Yes, I think it is important to be able to address everyone, but I also think it is important to have art that doesn't do that."
Much has been written about Eliasson's aesthetic roots in Iceland, where he returns most summers to work on photographic series—often topographical images of rivers and fjords. The artist shies away from interpretations of his work that overemphasize what he calls his "romantic Scandinavian" bent. "It's probably not wrong," he says, but it promotes a misleadingly traditionalist, "essentialist" view. "I have tried to avoid that, since essentialism is what religion promotes. I am an atheist, even though I am a social Protestant from Scandinavia and I cannot escape my history."
That includes his past as a Nordic hip-hop champ. In the course of our interview Eliasson has not shown the slightest sign of an inclination to bust a move; the closest he comes to emoting (or even to smiling) is when he raises one corner of his mouth an eighth of an inch or so. Generally he keeps any overt dynamism confined to his art. But not always.
"Once in a while," Grynsztejn says, "at an opening, if he's feeling happy and loose, Olafur might move his body in a certain way where you'll see a ghostly remembrance of a break-dancing teenager. He'll break out of character just for one minute. It's a delightful thing to see."