Ready Player One Rebel Olivia Cooke Does Not Care For Sexy Gamer Avatars
Even as a sci-fi heroine, actress Olivia Cooke keeps it real.
---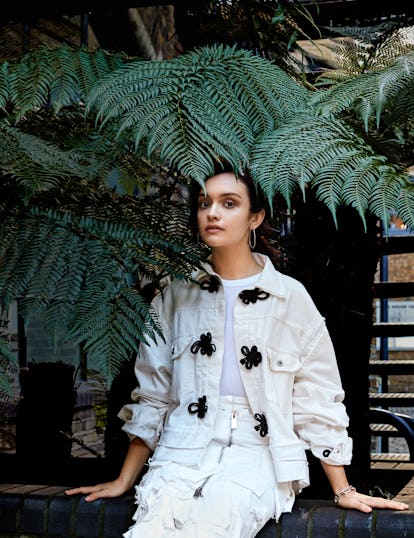 Photograph by Paul Wetherell; Styled by Victoria Young; Hair by Kei Terada at Julian Watson Agency; Makeup by Kirstin Pigott at Julian Watson Agency; retouching by tablet retouch; Digital Technician: Glen Travis at raw capture; Photography Assistants: Chris Miller, Sam Wilson; Fashion Assistant: Fainche Burke
Olivia Cooke was at home in Brooklyn doing her laundry when she heard the news: The actress had just landed the role likely to make her a household name, as Samantha Cook, aka Art3mis, the heroine in Steven Spielberg's dystopian blockbuster Ready Player One, out March 29. The audition process had been highly secretive, involving a series of screen tests for chemistry with potential leading men. "I had to do this dance scene with them, and I could feel their hearts absolutely pounding," the 24-year-old British actress recalled. "It's such a strange situation… a lot of us were into our 20s, so we're not little bitty babies. We're adults and now and we're being put in such a vulnerable, awe-inspiring situation." Eventually, Tye Sheridan, who began his career in Terrence Malick's 2011 film The Tree of Life, was cast opposite her. "Everyone was really confident when Tye came in," she says. "Nothing fazed him."
On set, Spielberg was a "completely collaborative" director, Cooke said. "I was quite shocked in the best possible way. He's the master of pace and tempo. It's almost like he's working with a score already in his mind as he's directing you."
Over the weekend, Ready Player One premiered at South by Southwest in Austin to a raucous reaction from the audience, according to Deadline. Set in 2045, much of the action in the film takes place in the OASIS, an expansive virtual reality landscape in which every player is represented by a self-designed avatar. Art3mis, Samantha's avatar, is pretty understated as far as female gamer avatars go. "She's one of the only people who tries to stay as true to her core as possible," Cooke said. "She doesn't come out with these crazy porn star tits, or try to adhere to what a man's fantasy of a woman would be. It's just purely herself."
As in Ernest Cline's original novel, the OASIS is filled with 1980's pop culture references, including nods to The Shining, Back to the Future, Beetlejuice, and John Hughes. It was something Cooke, born in 1993, had to work to relate to. "I had hardly any knowledge of any of these films. I don't think I watched Sabrina the Teenage Witch until I was 12," she said with a laugh.
Raised in Oldham, a town near Manchester, England, Cooke grew up doing local theater. At 18, she made her professional debut in the BBC miniseries Blackout; since then, she's been an indie film festival darling, with roles in the bittersweet 2015 coming-of-age story Me and Earl and the Dying Girl and alongside Anya Taylor-Joy and Anton Yelchin, in one of his final roles, in the Heathers-esque dark comedy Thoroughbreds, which came out in theaters this past weekend. "She is a sociopath," said Cooke of her Thoroughbreds character, a teen involved in a plot to murder a friend's stepfather, "but my mum saw the film and loved it. She said, 'It's like you're playing yourself, Olivia. The way you deliver your lines, it's just you.' I was like, 'Mum, you can't say that!'"
A particularly significant role for Cooke was in 2016's Katie Says Goodbye, in which she stars as a wide-eyed, small-town waitress and prostitute with a persistent, Pollyanna-ish disposition. Though much of the film is hard to watch—life does not treat the optimistic Katie kindly—for Cooke, it was a "truly transcendent" experience. While on set, the actress had her own coming-of-age, falling in love and deciding to move to New York. "It sounds wanky," she confided. "But I don't know if I've ever been that open to an experience or character or story before."
Currently, Cooke is filming an ITV and Amazon Studios miniseries adaptation of William Makepeace Thackeray's Vanity Fair, in which she stars as the sharp-eyed opportunist Becky Sharp. She's also attached to play Alice Marble in a biopic of the American tennis player turned World War II spy. "She's an incredible woman," Cooke said. "But the thought of me being a tennis pro is laughable."