Olivia Kim Is Bringing Cult-Favorite Korean Beauty and Fashion Brands to a Nordstrom Near You
Kim is set to launch a Korean-themed Pop-In series for the Seattle-based brand, starting with Gigi Hadid and Miranda Kerr's favorite eyewear label Gentle Monster.
---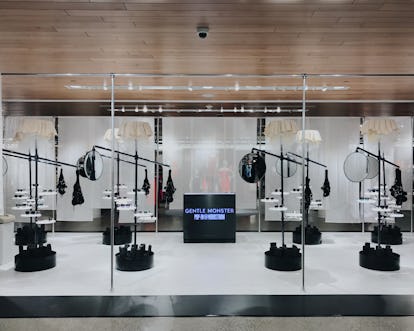 Copyright 2017 Gathigi Gishuru. All rights reserved.
South Korea has long been a mecca for all things beauty, from snail face masks to leading-edge treatments. In recent years, it's also become a hot bed for fashion, thanks to a rising crop of designers creating uber cool streetwear and edgy accessories that are often hard to get your hands on in the United States. Luckily, Nordstrom is bringing some of Korea's best fashion and beauty brands to North America with a new Korean-themed Pop-In series, which launched last week. (Olivia Kim, Vice President of Creative Projects for Nordstrom, first launched its ongoing Pop-In series, which rotates every four to six weeks, in 2013 as a way to bring new brands and specially curated products to its stores. Past partnerships have included Alexander Wang, Danish home goods brand Hay, Topshop/Topman, and more.) The first of the three-part Kpop-in at Nordstrom series will be Gentle Monster, a Korean sunglass brand with a cult following.
The Gentle Monster space will feature a collection of 40 men's and women's styles by the eyewear label, including six frames that will be available exclusively through the Pop-In. There's a mix of bold, avant-garde styles like the 'Cuba' with pink-black nacre acetate and black lenses, and the 'Lovesome' frame with pink nacre acetate and metal detailing and gold-mirrored lenses, as well as more classic styles like the 'Mooncut' semi-rimless sunglasses with black and gold metal.
Gentle Monster is the brainchild of Hankook Kim, a former curator and professor at an English academy, who launched the conceptual eyewear brand in 2011 with no prior fashion experience on his resume. Trusting his keen eye for design, he went to work on Gentle Monster with just four employees out of a showroom in Seoul. Since then, he's opened 12 stores globally and collaborated with some of fashion's coolest names, like Opening Ceremony and Hood by Air. Today, Gentle Monster is one of the fastest growing eyewear brands in Asia, thanks to its big K-Pop star and celebrity fan base like Gigi Hadid, Miranda Kerr and Jessica Alba, and numerous editorial placements in top fashion magazines around the globe.
The design of the store space is just as important to Kim as the look of the frames themselves, which is reflected in Gentle Monster's Pop-In at Nordstrom. (Walk into any one of the Gentle Monster dramatic stores and you could easily mistake it for an art gallery. That's not entirely wrong—they have gallery spaces with rotating exhibits at the stores.)
For the Pop-In, the Gentle Monster and Nordstrom teams worked together on creating a transporting, tranquil space inspired by the concept of a Korean requiem, a music piece to celebrate the dead and their posthumous response, using traditional Korean linens and all-natural charcoal as a symbol of purification and cleansing. (The ramie fabric for the linens is a made through painstaking, age-old traditional Korean sewing methods.) There's also virtual reality and 360 video content components that allows customers to experience Gentle Monster flagship boutiques in Seoul, Shanghai and the downtown Seattle Nordstrom Pop-In shop.
"Gentle Monster is excited to be a part of Pop-In@Nordstrom," said Taye Yun, VP Gentle Monster USA. "This amazing opportunity allows us to reach out to Nordstrom customers through space and design. Although we have been present in select Nordstrom stores, Pop-In provides us with the platform to creatively connect directly with customers and introduce our brand in a new and exciting way."
When Gentle Monster closes up shop at select Nordstrom stores on February 5th, it will be followed by a Pop-In dedicated to the world of K-Beauty on February 10th, and the final shop in the series will feature some of Korea's coolest fashion labels, curated by Kim, kicks off on March 31st.
The mix Eyewear for everyone, from lovers of edgy, avant-garde styles, to those who prefer to play it a little safe(r).
Fans of the brand Gigi Hadid, Miranda Kerr and Jessica Alba are amongst the stylish women who have been spotted in Gentle Monster's designs.
Best sellers Styles Absente, Big Bully, Cuba, Didi, Lovesome and Moon Cut.
Prices Start at $215 and go up to $305.
Location In select Nordstrom stores – downtown Seattle, Bellevue Square, Los Angeles, Chicago, Dallas, Vancouver and Toronto.
For those who prefer to shop from home Nordstrom.com/pop
Nordstrom Pop-In 'Gentle Monster'
Nordstrom Pop-In 'Gentle Monster'