Olivia Kim's Seattle
Nordstrom's hippest executive on the best yoga in Queen Anne to the city's best date night spot.
---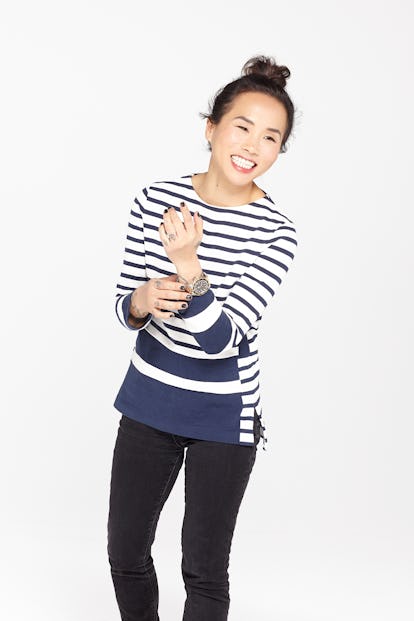 For queries regarding all things cool, Olivia Kim is always a good source. With travel season in full swing, we picked the brain of Nordstrom's hippest executive about the town she calls home, Seattle.
Tell us about your neighborhood: I live in a 1916-built craftsman home in Queen Anne, which sits on top of the highest hill in Seattle. The neighborhood is one of the oldest parts of the city so there are a ton of historic homes, buildings and landmarks.
Describe Seattle in three words: Honest, conscious, polite.
Your top 5 places in the city: 1) Brunch at Café Flora in Madison Park. 2) The Space Needle at dusk, just as the sun is setting. 3) Olympic Sculpture Park. 4) Pike Place Market. 5) Japanese gardens inside the Washington Park Arboretum.
Favorite clothing stores: Nordstrom, obvs, for any and all your retail therapy fixes; The Palm Room in Ballard for unique and rare succulents; Atlas Vintage in Fremont for awesome dress finds; Pike Street Press for personalized notecards and stationary; Frye Museum's gift shop for one of a kind objects from artists based in the Pacific Northwest.
Best coffee in the city: Coffeeshops and cafes rule the roost in Seattle. My newest fave is Mr. West, tucked inside an office building in downtown. Not only do they have great coffee and lattes, they have coffee soda, coffee egg cream, and a great selection of tea drinks including an out of this world chai tea with fresh ginger—and they are open late!
Local delicacy you can't live without: The salted rice krispy treats at the Anchored Ship in Ballard—so simple and addicting. It's the best RKT I've ever had.
Best place for a date night: Canlis. It was built inside a mid-century home overlooking Lake Washington. All of the tables face the lake so there isn't a bad seat in the house, and they have a crow's nest on the roof—it's a table for two all alone outside. There is an incredible piano player who plays classical versions of everything from Katy Perry to Depeche Mode and the truffle french fries by fireside are a dream come true.
Perfect place for a (late) night out: Monday night, go to Shadowland Pub in West Seattle for quiz and trivia night. Tuesday night karaoke (since no one karaokes on a random tuesday) at rock box in Capitol Hill. Wednesday night is my favorite yoga night at Yoga Life on Queen Anne. Thursday night, have authentic thai food at Tom Thai, a local fave that only has bar seating, and Friday night, get on a seaplane from Lake Union and head up to the San Juan islands for the weekend. Hopefully you'll see some whales and orcas and at the very least you'll have a fun adventure.
And to recover the next day: Take an easy relaxing drive up to Bow Edison, Washington for incredible gorditas and watermelon juice at mariposa taqueria and the cutest antique and object store, Hedgerow Edison.
Favorite local gallery or artist: Seattle has quite a few established museums and collections including the SAM and the Henry Art Gallery, which is one of my favorites. There is also the Olympic Sculpture Park, which is a public outdoor space along the waterfront with permanent pieces from Richard Serra, Claes Oldenburg, and Alexander Calder, amongst others.
Best place to find inspiration: Outdoors! Seattle is such a natural and beautifully green city filled with parks and open spaces, surrounded by mountains and water all around. It's hard not to be inspired by that all the time!
Best hotel to recommend to friends: Come and stay with me! I have an extra bedroom and I'm a great tour guide!
Photos: Olivia Kim's Seattle
Olivia Kim. Courtesy of Nordstrom.
The current Pop-In @ Nordsrom x Opening Ceremony. Courtesy of Nordstrom.
Café Flora. Courtesy of the restaurant.
Olivia Kim. Courtesy of Nordstrom.
Pop-In @ Nordsrom x Opening Ceremony. Courtesy of Nordstrom.
Café Flora. Courtesy of the restaurant.