The New Guard: Olivia Thirlby
Olivia Thirlby leads W's handpicked pack of up-and-comers.
---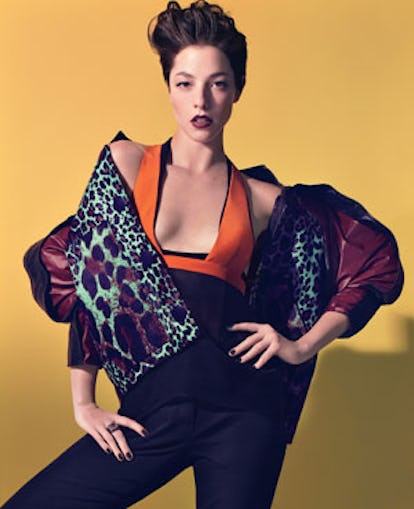 An observant viewer could track actress Olivia Thirlby's roles in 2012 via her hairstyles. The 25-year-old went bobbed and banged for this spring's Being Flynn; short and blonde for September's sci-fi flick Dredd; and cropped and pixieish as an artist who wreaks sexual havoc on a Los Angeles couple (Rosemarie DeWitt and John Krasinski) in Nobody Walks, which comes to the big screen this fall. Naturally, Thirlby is experiencing some growing pains.
"My friends and family joke that I look like a 12-year-old boy slash Justin Bieber," she says of her current tomboyish tresses.
Theatergoers can judge for themselves this month, when Thirlby stars in Lonely, I'm Not, a new production by Paul Weitz at New York's ­Second Stage Theatre. She plays a corporate analyst who has been blind since childhood. Topher Grace is a businessman-turned-ne'er-do-nothing she meets on a date; charmingly clumsy romance ensues.
In addition to the challenge of playing someone without sight, Thirlby saw a grand metaphor in her latest role. "I find it very poetic playing a blind person. I think we all suffer from acute blindness at times," she says. "Life is a constant journey of trying to open your eyes. I'm just beginning my journey, and my eyes aren't fully open yet."
Actress Olivia Thirlby leads W's handpicked pack of up-and-comers.

Photographer: Santiago & Mauricio Styled: Felicia Garcia-Rivera
The New York–based furniture designer's often fashion-inspired pieces—a languid nickel chain chandelier takes cues from an Alexander McQueen dress; a bronze, lacquer, wood, and Plexiglas console table recalls a vintage Chanel lipstick case—have made fans of Tom Ford, Kanye West, and Gwyneth Paltrow.

Stylist: Edward Enninful
The Chinese-born designer honed his skills in Dior's couture atelier after being handpicked from Central Saint Martins by LVMH Moët Hennessy Louis Vuitton director Delphine Arnault. Zhang's own debut collection was immediately bought by Browns in London. For fall, he has upped the luxe factor with tailored silk-brocade pieces and plenty of fur.

Stylist: Edward Enninful
The immediate appeal of the Los Angeles–based, Israeli-born artist's photographs (like Chilean Flamingo, 90028, left) comes from his cool, direct gaze and wonderfully vibrant way with color. These qualities, combined with a playful conceptualism, led to his inclusion in MoMA's 2010 New Photography exhibition. Lassry (left), whose foray into performance art is on view at David Kordansky Gallery in L.A., displays all those talents in a dynamic package.

Stylist: Edward Enninful
The brothers (from left, Mauricio and Santiago) initially pursued separate careers spanning photo, film, and visual effects before finally collaborating on still photography and hypnotic slow-motion films for Dior, Calvin Klein, and W. (Among others, they photographed Olivia Thirlby).

Stylist: Edward Enninful
Queen bee Nicki needs to watch the throne: There's a line of ladies ready to take her place, including the statuesque Dominique Young Unique (left), an occasional model and Kanye favorite; the bratty provocateur Kreayshawn, she of the implacable "Gucci Gucci"; and the Aussie bombshell Iggy Azalea, whose debut album, The New Classic, is due next month.

Stylist: Edward Enninful
Some dancers devour space; others hold you rapt with their ethereal beauty. This 26-year-old New York City Ballet principal moves with the kind of abandon that defies you to look away. Tall, expressive, and glamorous, Mearns (above, with Robert Fairchild, rehearsing for last year's Ocean's Kingdom) makes every step she takes seem a natural extension of her being.

Stylist: Edward Enninful
The 34-year-old newbie director earned critical raves for a recent string of Off Broadway hits, including Zoe Kazan's We Live Here. Theresa Rebeck's Seminar, starring Alan Rickman, marked Gold's stellar Broadway debut in November, followed by John Osborne's Look Back In Anger this spring. Next up: Chekhov's Uncle Vanya and William Inge's Picnic.

Stylist: Edward Enninful
The British painter (left) has re-created such iconic works as Turner's The Shipwreck and Caravaggio's David With the Head of Goliath by making collages and models from found paper and foil, photographing them, and then translating them to canvas. Daniels's most recent oil paintings (including his Untitled, far left), though, are abstract wonders of light, color, and form.

Stylist: Edward Enninful
This handsome six-foot-five Frenchman could easily be mistaken for a model, rather than the hairstylist prodigy that he is. Once an assistant to big names like Julien D'Ys and Orlando Pita, Charles has stepped out on his own to collaborate with photographers like Mario Testino and Patrick Demarchelier.

Stylist: Edward Enninful
The 32-year-old artist makes photo sculptures—pictures of assemblages from magazine cutouts and printed images found online that he shapes into crude figures, portrait busts, and still lifes that call to mind the more lurid works of Cindy Sherman and Hannah Höch.

Stylist: Edward Enninful
Hit female-driven comedies like Bridesmaids have paved the way for a new generation of humorous gals. The actress Lizzy Caplan (left) earned her stripes on the cult TV show Party Down and stars in two films later this year: Save the Date and Bachelorette. The writer-director of Bachelorette, Leslye Headland, based the film on her 2010 play of the same name. Meanwhile, Hilary Winston—the unsung writers'-room darling of shows like Community—is behind one of the most talked-about TV pilots of the fall, which doesn't have a title yet but features Mena Suvari. And Ari Graynor—scene-stealer in movies like Nick and Norah's Infinite Playlist—turns up the heat in the upcoming phone-sex raunchfest For a Good Time, Call…

Stylist: Edward Enninful
Anna Gerber and Britt Iversen (from left), the pair behind this London publishing house, are transforming old titles like Tristram Shandy into conceptual art. Their books come with pages full of die-cut holes—or as a box of loose pages that can be pored over in any order.

Stylist: Edward Enninful
Este, Alana, and Danielle Haim—the sisters behind this L.A. band—grew up performing Eagles and Fleetwood Mac songs alongside their musician parents. Now, with their debut EP, Forever, and an opening slot on Julian Casablancas's tour, the bewitching trio are making their own Stevie Nicks–inflected songs, albeit with a modern, synth-pop twist.

Stylist: Edward Enninful
After catching the eye of stylists Camilla Nickerson and Joe McKenna when Bender first walked at Copenhagen Fashion Week last August, the nearly six-foot-tall Danish model seduced the rest of the world this season when she sported the opening looks for Balmain, Nina Ricci, and Alexander Wang.

Stylist: Edward Enninful
The current map of the New York art scene has one power couple's prints all over it. As the top curator at the New Museum, Gioni, with his love of the fringe and the far-flung, has brought a global vision to the downtown institution. It's a perfect sensibility for his next major undertaking: heading the 2013 Venice Biennale. Meanwhile, Gioni's wife, Alemani, director of the High Line Art program, is curator of Frieze Projects, part of this month's inaugural Frieze New York festival.

Stylist: Edward Enninful
This Japanese design team has turned out projects such as an alloy lamp that "blooms" when turned on, earbuds that look like jellyfish, a chair made from Issey Miyake's pleated-paper castoffs, and a free-form glass table (above, left). The work is produced at an astonishing rate and is always infused with an exuberant, playful spirit.

Stylist: Edward Enninful
The London bricoleur's short films—whimsical mash-ups of pop iconography, stop-motion photography, and her quirky illustrations—have charmed the peplums off clients ranging from Chanel to Victoria Beckham. (Of course, it doesn't hurt that Jones is a former model with a philosophy degree.)

Stylist: Edward Enninful
Not only was the playwright's first full-length drama "After the Revolution" one of the best reviewed plays of 2010, but she quickly followed up with the acclaimed "4000 Miles," based on her extended Marxist family. A welcome new voice, Herzog (who is married to theater wunderkind Sam Gold) writes plays rich in ideas and keenly-observed, complex relationships.

Styled: Felicia Garcia-Rivera
Heightened by howls, chants, and stirring guitar, the atmospheric anthems of the Brit rock foursome—whose debut album Go Tell Fire to the Mountain won them a 2011 Q award for Best New Act in the UK—register as the indelible sound of youths in revolt.
With the wildly feral yet sensitive aspect of a Tom Hardy, the rising actor, an alum of the hit TV series 24, steps up to the mantel of new Hollywood leading man in Ridley Scott's blockbuster Alien prequel Prometheus, out later his month.

Styled: Felicia Garcia-Rivera
A Paolo Roversi protégé who shoots for magazines like Vogue Gioiello and Pop, the 26-year old London image-maker is a one woman creative force—she designs the costumes, constructs the beautifully kitschy sets and captures it all in her enthralling, surreal photographs.
For her catwalk debut last season, the Russian-born, German-raised stunner closed the Marc Jacobs show and then subsequently stormed the runways in Milan and Paris. What's even most remarkable is that she began her career at the age of 27, a virtual dinosaur in model years.

Styled: Felicia Garcia-Rivera
Hair by Rutger for Bumble and Bumble at Streeters; makeup by Francelle for Nars Cosmetics; manicure by Maki Sakamoto for Dior Vernis at B Agency; digital technician: Christopher Rosales; photography assistants: Alessandro Zoppis, Enrico Brunetti; fashion assistant: Isabella Isbiroglu.