Olivier Rousteing's Balmain Launches Accessories for Fall 2017
There's something for everyone in the Kardashian-approved brand's newest offerings.
---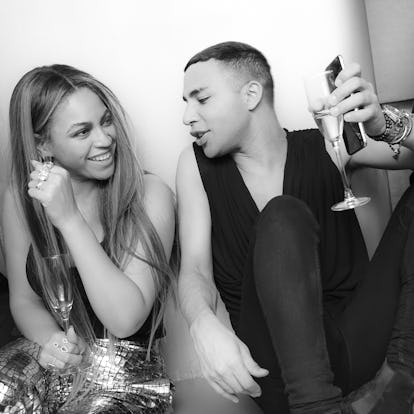 Balmain Launching accessories with the Fall 2017 menswear show. The bags, shoes, and other accessories will range from decadent, embellished offerings to subtler pieces. (But on the Balmain scale of subtlety, what does that really mean?)
Casablancas, John The founder of Elite Models basically invented supermodels by launching the careers of Linda Evangelista, Cindy Crawford, and Naomi Campbell. But he also notoriously took advantage of them. A new Netflix documentary charts his life and career, and doesn't shy away from the more unpleasant scenes.
Chiuri, Maria Grazia Dior's new artistic director has been appointed to the jury for the LVMH prize, whose fourth installment kicked off Friday. She joins an all-star jury that also includes Jonathan Anderson, Nicolas Ghesquière, Marc Jacobs, Karl Lagerfeld, and others.
DeHaan, Dane The tortured star of The Place Beyond the Pines and a handful of Prada campaigns also loves to golf.
Grimes Loves her fans. Loves her fan art.
Mara, Rooney Spotted at a spa specializing in colonics with one Phoenix, Joaquin. Romantic or…?
March on Washington, Women's With just a week till the march, poised to be of historic scale and inclusivity, #WhyWeMarch gets a four-page manifesto.
Rubchinskiy, Gosha Armed with Adidas, the Russian menswear designer is back in the USSR. Again.
Saunders, Jonathan Giving Diane Von Furstenberg a bit of a face-lift, first unveiling a new logo that he told WWD is just the beginning of a rebrand for the American label that includes an emphasis on visuals, but doesn't include a new Karlie Kloss campaign.
See W's most popular videos: