Olympia Le-Tan, Fashion's Chicest Bookworm, Is No Ink-Stained Wretch
Fresh from authoring a book of her own, the Paris-based designer shares her taste for erotic Japanese art and more from her culture diet.
---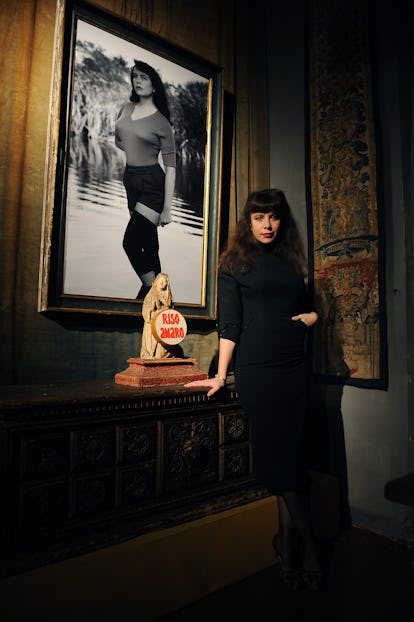 Tullio Puglia/Getty Images
Though she's primarily a designer, Olympia Le-Tan's long made it clear that she also has a passion for words. After stamping the message "Balmain Bitch" on a t-shirt while working for the French house that was worn by Claudia Schiffer — and promptly getting herself fired — she built out her namesake label with a series of slightly more literary, embroidered clutches in the shape of novels, which soon had everyone from Tilda Swinton to Natalie Portman carrying classics like The Catcher in the Rye on the red carpet. Now, just weeks after showing her spring 2017 collection at Paris Fashion Week, Le-Tan's authoring a title of her own: The Story of O.L.T., out on November 1 (Rizzoli), chronicles the London-born, Paris-based designer's life in 300 illustrations and photos, from getting her start at Chanel to forcing her way into a monastic library deep in the Austrian mountains. Find out what else she's been up to lately with her culture diet, here.
First thing you read in the morning: I look at Twitter where I follow W of course, the BBC, Le Monde, and the New York Times, as well as the Daily Mail and a few other more gossip type things… That way I can select what news I want to read about rather than going straight to each site. I am a bit weird about reading actual newspapers as I really hate it when my hands get all black from them.
Books on your bedside table right now: Hippie by Barry Miles; Electrical Banana: Masters of Psychedelic Art by Norman Hathaway and Dan Nadel; and Joan Didion's biography, The Last Love Song.
Most prized titles in your collection: Visit with a Mermaid, a children's book my father [the illustrator Pierre Le-Tan] wrote for me when I was little; and the Allen Jones book, Waitress. (And more recently, The Story of O.L.T., of course.)
The TV shows keeping you up at night: I watch everything, but at the moment there aren't that many good shows except for "Empire," which isn't really my favorite. I am desperately waiting for "Game of Thrones" to come back, or for something as good as "Mad Men" or "Homeland."
Last movie you saw in theaters: I haven't been for ages as I've been working on my collection quite intensely for the past few months… I think it was The BFG which I went to see with all the children in my family.
Last thing you saw at the theater: I usually hate going to the theater, but I did go and see my friend Joana Preiss in Derrière les montagnes at the Théâtre du Marais [in Paris] a few months ago and she was amazing.
Last piece of art you bought, or ogled: A Namio Harukawa drawing of a woman with a very large bottom I found at the Richardson shop in New York.
Last museum exhibition that you loved: "You Say You Want a Revolution?" at the V&A in London.
Release you're most eagerly anticipating: Bridget Jones' Baby! I mean, I am eagerly anticipating its release on airplanes. I love watching romantic comedies on the plane. As for books and albums, I am more into things of the past.
Last song you had on repeat: Primal Scream, "Don't Fight It, Feel It." We used it for the finale of my last show.
Last concert you saw live: The Stone Roses' homecoming show at the Etihad Stadium in Manchester.
Go-to spot in Paris: The Hemingway Bar at the newly renovated Ritz.
Favorite places to shop: I love going to Shakespeare & Co and Galignani for books in Paris, and I love getting little jars of chocolate or honey from Fouquet's. I like looking at the vintage clothing at Portobello Market or the Rose Bowl in Los Angeles. And if I've just received a large paycheck, I love shopping at Marlene Wetherell or Resurrection in New York. But my favorite city for shopping for anything anywhere is Tokyo.
Favorite social media accounts to follow: My sister Cleo (so I can regularly see pictures of my little nephew Otto) and Camille Bidault-Waddington, who always posts beautiful images. And then there are all sorts of rainbow cake baking instagrams that I don't follow because it's embarrassing, but love to look at.
Last thing you do before you go to bed: Brush my teeth… Isn't that the last thing everybody does ?