Online Collecting
Online art sites allow collectors to lick for their next acquisition.
---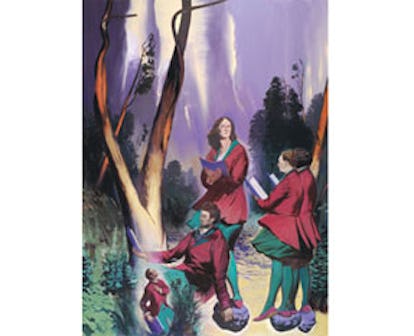 Will art buyers click for a Warhol as readily as they'll raise a paddle for one? That's the million-dollar question being batted around these days. As it worked out some kinks, the Internet-only VIP Art Fair crashed the day it went live in January, but a number of high-profile ventures have still entered the online fray. They're eager to reach a growing generation whose lives are lived online, as well as collectors in cities without access to a robust gallery scene.
Neo Rauch's Chor, 2011, from Art.sy
Art.sy—designed to introduce collectors to new works based on their personal preferences, and modeled on music sites like Pandora—has drawn such investor-advisers as Google chairman Eric Schmidt, Twitter cofounder Jack Dorsey, and gallerist Larry Gagosian. With Wendi Murdoch on the board and collector Dasha Zhukova the site's creative director, it had a splashy preview at Art Basel in June and plans to include works at a wide range of prices, including $1 million–plus. More than 160 galleries have signed on.
Carter Cleveland and Sebastian Cwilich of Art.sy
Paddle8, which launched in May, was conceived when former Phillips de Pury marketing director Alexander Gilkes noticed that friends who had the means to collect were frustrated by their lack of access to galleries and fairs. He teamed with curator Hikari Yokoyama and Delhi-born entrepreneur Aditya Julka to create a series of virtual group exhibitions. Every five weeks they ask a tastemaker to guest-curate an online show of about 20 works culled from various dealers, and then they create Web interviews and offer virtual studio visits to help newbies navigate the art world. Its roster of galleries includes both established names—Metro Pictures, Marianne Boesky, White Cube—and such up-and-comers as Museum 52 and James Fuentes.
AJ Fosik's Reason Is the Oracle (Redux), 2011, from Paddle8
Other art sites drawing a new generation of collectors focus on carefully curated selections of specialty items. Gallerist Bill Powers's Exhibition A offers contemporary prints, while 20X200—created in 2007 by New York gallerist Jen Bekman—features photographers such as William Wegman. Grey Area, a new website by Kyle DeWoody (daughter of collector Beth Rudin DeWoody) and Web entrepreneur Manish Vora, sells functional objects designed by artists. Then there's the 24-hour auction platform Blacklots, cofounded by Phillips de Pury's former London chairman, Rodman Primack, which offers pieces by such artists as Elad Lassry, Takashi Murakami, and Thomas Ruff.
Alexander Gilkes and Aditya Julka of Paddle8
Of course for some, the kind of social networking that comes from visiting galleries and seeing works firsthand can not be duplicated—virtually or otherwise. "My clients stare at computers all day, and for them, art is a different kind of experience," says consultant Rachel Greene, author of Internet Art. "For them, the real privileged, luxury space is actually offline."
Ori Gersht's Blow Up 8, 2007, from Paddle8