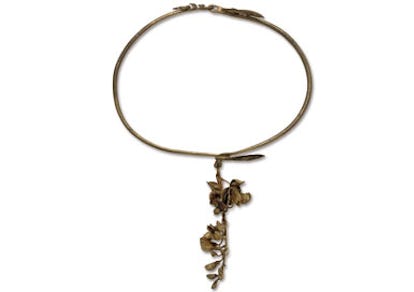 Designer-sculptors Francois-Xavier and Claude Lalanne believed that "the supreme art is the art of living," and created highly collectible pieces that doubled as everyday objects.
The Lalanne cachet has skyrocketed since Christie's record-breaking Yves Saint Laurent estate sale in 2009. At that sale, Francois-Xavier's silver and nickel "YSL bar" sold for $3.5 million and Claude's copper mirrors and moldings (from the late designer's music room) sold for $2.2 million—far above estimates. Reed Krakoff also scooped up a 1968 set up sheep chairs for a cool $380,000 at the auction.
On Thursday Lalanne fans will have an opportunity to bid on some of the duo's rare jewelry at Christie's. Highlights include Claude's intricate gilt jewelry like the bronze 'Bouche' necklace (above), designed circa 1970. Also of note: Francois-Xavier's 1968 "Chat Polymorphe" bar (below), which combines a cat's head and body with a fish tail and bird's wings, and is expected to fetch record prices. Click HERE to see the complete auction catalogue.