Official Secrets Trailer: Behold, Keira Knightley in a Non–Period Piece
It takes place in the early aughts, and there isn't a corset in sight.
---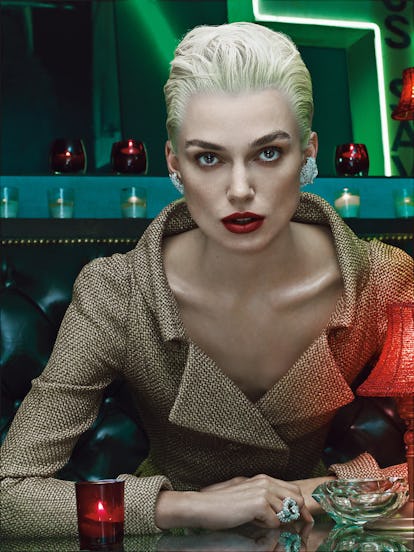 Chances are, if you've seen Keira Knightley onscreen since her breakout in 2005, you've watched her star in a costume drama or period piece. (Between two of her most famous films, Pride & Prejudice and Atonement, alone, she's covered practically the entire 19th century.) And yet, judging from the trailer released on Wednesday, her latest film, Official Secrets, doesn't feature a single corset; having jumped the action forward a century or two, the film has her dressed in an entirely different British dress code—and a rather drab one, at that.
Based on a true story, Official Secrets stars Knightley as Katharine Gun, the whistleblower who helped expose the U.S. and U.K. governments' apparent plans to sway the United Nations into supporting an invasion of Iraq by leaking a key email to the press. As it did in real life, that all goes down in 2003, which is also essentially when the government and public ceased to care about the matter. (As director Gavin Hood noted to the Guardian, Gun wasn't even asked to testify in the U.K.'s recent Iraq Inquiry.)
For those who've since forgotten about Gun—or members of Gen Z, who might argue that the a film set in the early aughts still falls under the umbrella of a period piece—a quick recap: Gun, then 28, was working as a Mandarin translator for the Government Communications Headquarters (GCHQ) when she came across a letter from the NSA, asking the British to help with their efforts to get a U.N. resolution for war. Ignoring a warning that doing so could qualify as treason, she passed it along to a journalist, played in the film by Matt Smith, who in turn passed it along to the public via the front page of the Observer, under the headline "Revealed: U.S. Dirty Tricks to Win Vote on Iraq War."
Naturally, that didn't go over too well with the authorities. "Someone has betrayed the government and their country," the GCHQ tells its employees in the trailer. Before long, cops are escorting Knightley into a cell, and accusing her, during an interrogation, of both being a spy and working for the British government. "No, I work for the British people," she retorts. "I do not gather intelligence so that the government can lie to the British people."
Gun is soon charged with violating the Official Secrets Act, but from there, she only grows more fiery—particularly when the government insists on also investigating her husband (Adam Bakri), suspecting that he was involved simply because "he's a Muslim." Luckily, a lawyer, played by Ralph Fiennes, seems to come to Gun's rescue. If you can't wait until August to determine whether or not he succeeds, well, it's time to make like Gun and start digging.
Related: Keira Knightley Speaks Out About Her Mental Breakdown and the "Violence" of Early-2000s Paparazzi
Keira Knightley's Style Evolution As the Ultimate It-Brit
Young Keira Knightley stuns at the Bend It Like Beckham movie premiere in patterned trousers and a plunging neckline. 2002.

Getty Images
Wearing a gold dress and shawl that matches her golden tan, Knightley attends the 11th Annual Elton John AIDS Foundation Oscar party. 2003.

Getty Images
Never afraid to show some skin, Knightley strikes a pose in a white crop top and jeans at the premiere of Pirates of The Caribbean. 2003.

Getty Images
Knightley keeps it classic in this embellished little black dress and peep-toed shoes at a movie premiere in New York. 2004.

Getty Images
In a sparkling dress with a handkerchief hemline, Knightley shows off her Hollywood Film Festival award at the Beverly Hills Hotel. 2004.

Getty Images
In one of Knightley's most iconic looks, she wears a beautiful white dress on the 63rd Golden Globes red carpet. 2006.

Getty Images
Oscar-nominated Knightley glows in a one-shoulder mermaid Vera Wang dress at the Academy Awards. She accents the look with a bold necklace and gold clutch. 2006.

Getty Images
Knightley showed up for the London Premiere of Atonement looking like a Greek goddess in a silver cut-out gown. 2007.

Getty Images
Knightley changes it up with a pink deconstructed dress and funku black and silver shoes at her Atonement premiere in LA. 2007.

Getty Images
Knightley attends a Chanel Beaute x Vogue event wearing a beautiful black dress with gold embellished details at the waist and shoulders. 2008.

Getty Images
For the film's press conference the next day during the Toronto Film Festival, Knightley looked pretty in polka dots in a long-sleeved lace Dolce & Gabbana dress and simple black pumps.

Photo by Getty Images

Getty Images
For the TIFF premiere of "The Imitation Game," the actress turned to her go-to designer (Chanel, bien sur) for an off-white neoprene and tulle frock from Fall 2014. Dainty blush-hued heels and Knightley's signature waves were the only accessories needed.

Getty Images
An eccentric midnight blue gown by Michael Van Der Ham was just the ticket for the premiere of Knightley's other new film, Laggies. A red lip, a simple diamond bracelet, and black pointy pumps pulled everything together.

Getty Images
Knightley looked radiant in red at the London Film Festival in a scarf-print pleated dress from the Valentino Spring 2015 collection. Charlotte Olympia gold and black pumps added a regal accent to the crimson look.

Getty Images
Later that evening, the star changed into a sheer gold Valentino Couture dress from the Fall 2014 collection. Though David Morris diamond earrings and red suede Charlotte Olympia pumps added sparkle, they weren't quite enough to amp up the dress's ill fit and muted hue.

Getty Images
At the Governor's Awards, Knightley redeemed herself in a black Nina Ricci Spring 2015 dress with striking emerald earrings and coordinating Jimmy Choo pumps. Her silky, pin-straight hair—normally styled in tousled waves—added an element of surprise and added a sleek touch to the textured look.

Getty Images
In yet another neoprene dress from the Chanel Fall 2014 Haute Couture collection, Knightley stole the show at an L.A. screening of "The Imitation Game"—and became our Best Dressed star of the day.

Getty Images
Knightley made the case for angelic-chic in an ankle-length dress by Giambattista Valli at the 2014 Hollywood Film Awards, where she took home the award for Best Supporting Actress for "The Imitation Game." Silver sandals added shine while Harry Winston pearl earrings took the place of a halo.

Getty Images
Continuing her covered-up run, the actress sported a long-sleeved, ankle-length dress from Dolce & Gabbana Spring 2015 to New York premiere of "The Imitation Game."

Getty Images
Knightley chose a dress by the British designer Holly Fulton for a BAFTA event in New York. A smoky eye and her signature waves added polish to the roomy shift.

Getty Images
Knightley's love of Chanel, the shift dress, and the black Mary Jane came together at a Chanel-hosted luncheon for "The Imitation Game." If it works, it works.

Getty Images
There's no better way to follow up a classic Chanel look than with a metallic, maribou-trimmed Simone Rocha dress. If you're Keira Knightley, that is.

Getty Images
Pregnant Knightley looks elegant in a blue, empire waist gown and soft make-up at the 20th Annual Critic's Choice Movie Awards. 2015.

Getty Images
Just weeks away from giving birth, Knightley attends the Chanel and Charles Finch Pre- Oscar Dinner in LA on a beautiful Chanel black and white, tiered dress. 2015.

Getty Images
Proving that she is one of the best dressed women in Hollywood, Knightley walks the red carpet at the SAG Awards in this purple number. 2015.

Getty Images
Knightley absolutely glows in this floral, tulle Valentino gown that elegantly shows off her baby bump at the 2015 Oscars. 2015.

Getty Images
Stealing the spotlight in this stunning red, Grecian-inspired dress, Knightley attends the La Traviata premiere in Rome, Italy. 2016.

Getty Images
Knightley wears a crisp white Chanel dress with tulle sleeves and collar at the Culture Chanel exhibition in Venice. 2016.

Getty Images