Your New Favorite Fall Basics Are Here, Thanks to Opening Ceremony and Everlane
The cult label and transparent e-retailer team up for a capsule collection of basics that are anything but basic.
---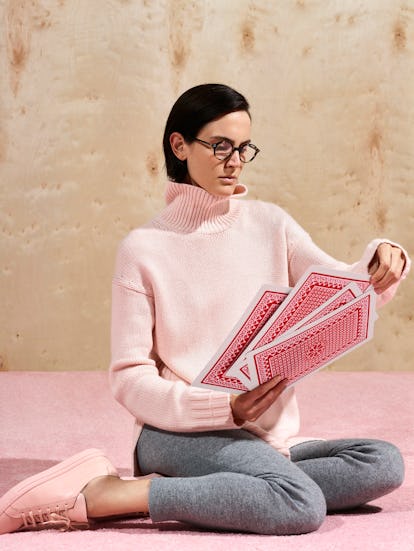 Courtesy Everlane and Opening Ceremony
The leaves hadn't yet started to turn, but there was a crisp edge to the air when Opening Ceremony debuted its first capsule collection in collaboration with Everlane at its Manhattan storefront Thursday evening — fittingly, an array of garments in various shades and silhouettes of cashmere. Designers Carol Lim and Humberto Leon and Everlane founder Michael Pressman convened inside a cylindrical installation space that showcased the collection as partygoers sipped cocktails around them and the DJ spun Kanye West's "Fade" in the background.
It was a collaboration borne of mutual admiration, they each explained in turn. "Their range of product is what's missing from what we showcase at Opening Ceremony," Leon said. "A lot of times when we talk to our staff, they're always like, 'We would love some great basics to go with these amazing pants or this amazing jacket.'"
Cue Everlane: The e-retailer that Preysman founded in 2011 works almost exclusively in basics, offering a series of seasonless staples including silk blouses, wool trousers, and lots of cashmere. In addition to the core categories, Everlane also sets itself apart with its commitment to transparency regarding all stages of the production process — on each piece's web page, customers can see the factory where the garment was produced and the cost of labor, materials, and delivery.
"Humberto and I are fans of storytelling and partnering with brands that we think have unique points of view," Lim said. Leon echoed this: "Their transparency story is so strong and so incredible and something that we really admire as both shop owners and consumers."
The collaboration, among Everlane's first forays into a brick-and-mortar space, is available at Opening Ceremony's Los Angeles and Manhattan locations. In addition to the Everlane classics on offer — cashmere crew-neck sweaters, cardigans, waffle-knit tops — Lim and Leon also came together with Everlane's creative director Rebekka Bay, an alum of Gap and Cos, to design two exclusive womenswear pieces: an oversized, tunic-length turtleneck sweater in ivory and blush pink, and a boxy cropped sweater in navy and camel. For menswear, the collaboration also debuts new colors of old classics, including a faint pink Leon modeled at the party.
"They're basics, but they're also not basic," he said.
Opening Ceremony displays the pieces in two installation spaces designed by the architecture firm Post-Office, open cylinders of maple wood with bulbous paper lanterns dangling down, designed by Isamu Noguchi Akari. Inside, the cozy tactile fabrics are reason enough to embrace fall dressing. (As for Leon and Lim, they're both ready for winter layers.)
The cashmere capsule collection is the first in a series of collaborations between Everlane and Opening Ceremony; the next, a holiday capsule, will debut November 15. But, on the eve of their first launch, the designers were tight-lipped when pressed for details.
"We can't talk about that now," Leon said. "There has to be some mystery for the future."