Surreal Comes to Heel
Opening Ceremony delves into the Rene Magritte archives for a Belgian-inspired pop-up.
---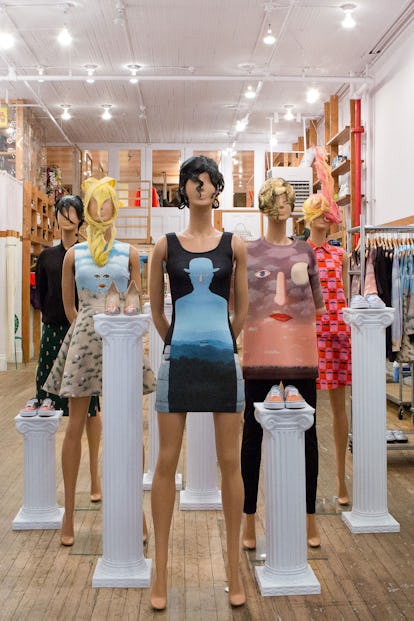 Opening Ceremony has long been an advocate of the eccentric—see the brand's chocolate-covered Fall 2014 show for an example. On Thursday, the brand's creative directors Carole Lim and Humberto Leon debuted the newest addition to the quirky Opening Ceremony family: a collection of Magritte-inspired pieces, including footwear made in collaboration with Manolo Blahnik (featuring The Blow to the Heart, 1952), Birkenstock (Double Reality, 1936), and Vans (The King's Museum, 1966). It is, in a word, surreal. Even for them. "The relationship between art and fashion has always been an important focus for us," explained Lim and Leon, "and this collection of 'wearable art,' which calls attention to both popular and lesser-known works, is the perfect opportunity to showcase that parallel." And, as the heel height ranging from flat sandals to pointy stilettos, there's something for everyone.
Opening Ceremony's Magritte collection is available at 33 Howard Street, New York, and openingcermony.us.
Photos: Surreal Comes to Heel
Opening Ceremony & Magritte.
Opening Ceremony & Magritte Manolo Blahnik pumps.
Opening Ceremony & Magritte Birkenstocks.