Opening the Doors of Gemini, a Family Home Brimming With Historic Art
For 50 years, the Grinstein family has produced editions for some of the greatest artists in the world — and they loved bringing their work home.
---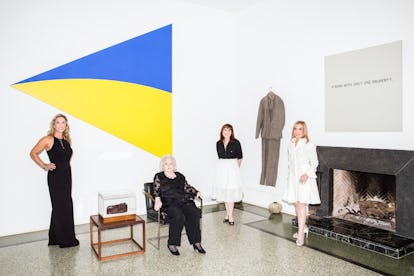 Photographs by Jeremy Liebman, Produced by Gillian Sagansky
In 1990, when the National Gallery of Art, in Washington, D.C., was preparing to celebrate its 50th anniversary, the museum's director, J. Carter Brown, contacted Elyse and Stanley Grinstein. Elyse, an architect, and Stanley, a cofounder of Gemini G.E.L., the landmark publisher of artist editions, were widely beloved for their unstinting support of art and artists; they were also hip to the fact that Brown was actively soliciting gifts to mark the milestone. Famed for his patrician manner and avid persuasiveness, Brown had been instrumental in establishing the museum's study center dedicated to Gemini G.E.L.'s ever-burgeoning archive, replete with dozens of works by ­Robert Rauschenberg, Jasper Johns, and Roy ­Lichtenstein. Brown flew to Los Angeles, where he frankly perused the Grinsteins' home, a 1920s Mediterranean-style villa brimming with their very personal collection of contemporary art, ranging from a charming portrait sketch by David Hockney to Dan Flavin's cool fluorescent tube Monument 2 for V. Tatlin. He zeroed in on two splendid prints by Vija Celmins. "We had to think about our children, our grandchildren, the Los Angeles County Museum of Art, history, our home, and a whole lot of other things," Elyse said at the time of their response to Brown. The Grinstein family eventually promised a unique 1972 graphite drawing by Celmins, a taut silvery rendering of the ocean's surface.
Elyse and Stanley Grinstein met while undergraduates at the University of Southern ­California and married in 1952. Although Elyse had set up a painting studio in the garage of her parents' Beverly Hills home and was eager to study architecture, that particular ambition would be deferred for more than 20 years, while she worked as a schoolteacher and a political activist, raised three daughters — Ayn, Ellen, and Nancy — took courses in art history, participated on cultural councils, and curated local exhibitions. At 48, encouraged by the architect Frank Gehry, a longtime friend, she entered architecture school at the University of California, Los Angeles, and would go on to establish her own firm. Stanley, who was both extremely affable and solidly practical, ran Mifran Boman Forklift, in South Los Angeles, an industrial-supply company started by his father in 1947. Throughout the '50s, the Grinsteins, along with Sidney B. Felsen, an accountant and Stanley's fraternity brother, pursued their shared interest in art, frequenting galleries and museums, attending lectures and classes, and even buying the occasional painting or print from an itinerant Swiss dealer who'd breeze through town with a portfolio of Mirós and Picassos. As Elyse later recalled, she'd begun to literally "trade forklifts for things I wanted."
In 1965, after inquiring if the custom framer Art Services might need a forklift, the company referred Elyse to Ken Tyler at Gemini Ltd., a struggling master printer in the market for a roller conveyor. In short order, Tyler was invited to the Grinsteins' annual holiday shindig, where the plan for Gemini Graphic Editions Limited was launched: Grinstein and Felsen as publishers, Tyler as printer, and the name Gemini maintained as a nod to NASA's latest program. "Sid and our dad were best friends, and they had the dream," Ellen Grinstein recalls. "But Rosamund Felsen, who was married to Sidney at the time, and our mom really had the vision. Our mom was such an inquisitive person, and Rosamund has one of the best eyes in the art world." Their first edition was Josef Albers's White Line Squares. Since Tyler had previously worked on a project with the artist at Tamarind Lithography Workshop and the Grinsteins owned an Albers painting (purchased from a gallery on an installment plan), the new workshop was able to finesse a high-profile debut. Soon after, Rauschenberg — who'd just performed the West Coast premiere of Pelican, his choreographed event featuring roller-skating dancers sporting open parachutes, in Culver City — accepted their invitation to collaborate on an edition. Fearlessly pushing the limits of printmaking, the artist went on to become a lifelong friend, perennial houseguest, and Gemini's most exuberant champion.
Inside Gemini, a Family Home Brimming With Historic Art
The artist Daniel Buren painted yellow stripes over the entrance to the lanai. On the table is Ken Price's ceramic sculpture Glad, 1998. An aluminum piece by Billy 
Al Bengston from 1969 hangs on the wall above George Herms's mixed-
media assemblage Scorpio (The Zodiac Behind Glass Series), 1965.

Photographs by Jeremy Liebman, Produced by Gillian Sagansky
Nancy, Elyse, Ellen, and Ayn Grinstein (from left), at home in Los Angeles, surrounded by works by Ellsworth Kelly, Claes Oldenburg, Joseph Beuys, and John Baldessari (from left).

Makeup by Kale Teter for Kate Somerville at The Wall Group.

Photographs by Jeremy Liebman, Produced by Gillian Sagansky
The Grinstein family, along with the artist Lloyd Hamrol, at his and Judy Chicago's installation Dry Ice Environment, 1967, in Century City.

Courtesy of Sidney B. Felsen
Stanley and Elyse Grinstein, William S. Burroughs, and Allen Ginsberg.

Courtesy of Sidney B. Felsen
Frank Gehry, Chuck Arnoldi, and Robert Rauschenberg were among the guests at a backyard kids' party for Gemini friends and family.

Courtesy of Ellen Grinstein
John Altoon and Patty Oldenburg, in the Grinsteins' yard.

Courtesy of Sidney B. Felsen
Courtesy of Sidney B. Felsen
Ed Ruscha, Jack Quinn, Stanley, and Doug Christmas.

Courtesy of Sidney B. Felsen
Tony Berlant's The House, 1966, sits next to the stairway, along with Robert Arneson's Fallen Bricks, 1973, and Yves Klein's Venus Bleue, 1962/1982.

Photographs by Jeremy Liebman, Produced by Gillian Sagansky
Elyse Grinstein used an edition of Andy Warhol's Campbell's Soup Cans to camouflage the panels hiding the washer and dryer.

Photographs by Jeremy Liebman, Produced by Gillian Sagansky
Dan Flavin's Monument 2 for V. Tatlin, 1964–1969, in the entryway.

Photographs by Jeremy Liebman, Produced by Gillian Sagansky
From the Kitchen to the Bedroom, a piece from the 1972 feminist art project Womanhouse, hangs in the bar.

Photographs by Jeremy Liebman, Produced by Gillian Sagansky
Richard Serra, during his proofing session in the Gemini Artist Studio, 2000.

Photographs by Jeremy Liebman, Produced by Gillian Sagansky
Rauschenberg, in the parking lot of Gemini G.E.L., 1969.

Courtesy of Sidney B. Felsen
Courtesy of Sidney B. Felsen
Courtesy of Sidney B. Felsen
Courtesy of Sidney B. Felsen
Courtesy of Sidney B. Felsen
Courtesy of Sidney B. Felsen
Courtesy of Sidney B. Felsen
Courtesy of Sidney B. Felsen
Photographs by Jeremy Liebman, Produced by Gillian Sagansky

Photographs by Jeremy Liebman, Produced by Gillian Sagansky
A 2007 sculpture by Elsa Rady sits on the piano the Grinsteins bought for Philip Glass, and on the wall is Rauschenberg's Pale Splore, 1979.

Photographs by Jeremy Liebman, Produced by Gillian Sagansky
Portaits of Stanley and Elyse by Hockney.

Photographs by Jeremy Liebman, Produced by Gillian Sagansky
Oldenburg's mechanical sculpture Ice Bag—Scale B, 1971, produced by Gemini in an edition of 25, is flanked by the Rauschenberg and a painting by Joe Goode.

Photographs by Jeremy Liebman, Produced by Gillian Sagansky
When the Grinsteins' plan to replace a Richard Serra sculpture in the front yard with one by Chris Burden didn't come about, Burden gave them this drawing as a consolation.

Photographs by Jeremy Liebman, Produced by Gillian Sagansky
In the entryway, Baldessari's Gemini edition God Nose, 2007, looks down from the ceiling over Wallace Berman's Topanga Seed, 1969–1970; on the walls (clockwise, from below, left) are works by Doug Edge, Tom Wudl; Robert Graham, and Flavin.

Photographs by Jeremy Liebman, Produced by Gillian Sagansky
The Grinstein daughters grew up surrounded by art, and within a household enlivened by far-reaching ideas, legendary parties, and a steady influx of artists. Gemini is celebrating its 50th birthday this year. A commemorative exhibition, "The Serial Impulse at Gemini G.E.L.," debuted at the National Gallery of Art last October and is currently on view at the Los Angeles County Museum of Art. The prolific, groundbreaking print house is now overseen by four women: Ayn and Ellen Grinstein, whose ­respective careers in business and television production inevitably circled backed to art; Sidney's daughter Suzanne Felsen, a jewelry designer; and Joni Moisant Weyl, who started out in sales at Gemini in 1977. Although Stanley died in 2014, and Elyse passed away this summer, just weeks after the family portrait for this story was taken, Felsen, at 92, remains central to the workshop's pursuits. In 1986, Sidney and Joni married in a spectacular version of a traditional family affair: 350 guests—an extraordinary roster of Gemini's nearest and dearest, including Hockney, Richard Diebenkorn, Richard Serra, and Ellsworth Kelly—gathered at the Grinstein house. The chuppah, which had been used in each of the Grinstein daughters' weddings, was made by Chuck Arnoldi; ­Rauschenberg scattered rose petals on the newlyweds' bed. For Nancy's wedding, Larry Bell decked out the dessert table. "Philip Glass wrote the music for all of our weddings, and Rauschenberg made us each a printout of our invitations. Ellsworth Kelly gave me a drawing because I got married in front of his painting," recalls Nancy, a board member at Gemini, who has worked in theater, television, and with the Isamu Noguchi Foundation. "Growing up in this house, the art was never precious. My parents' attitude was that art was something you lived with; it was about the experience and the artists. And our mother was the architect of the experience."
"Their house was always open to artists," says Judy Chicago, who has known the Grinsteins since 1965. "They were always open to artists. Of course, they had these incredible parties, but Stanley would also set up accounts all over town for artists—at the lumberyard, camera shop… There's a lot of art that never would have been made in Southern California if it hadn't been for the Grinsteins." Although the underwritten accounts were ubiquitous, they were generally regarded as a safety net and rarely abused. As Gehry has pointed out, the Grinsteins' support was given without any strings attached and encouraged artists to keep working. It was particularly heartfelt, an almost-stealthy form of patronage with no whiff of self-aggrandizement or marquee recognition. They regularly picked up the tab for restaurant meals, medical bills, printing costs, or unconventional art supplies (a selection of inert gases released in various locations by the conceptual artist Robert Barry, gold paint costing a dollar an ounce for Chicago's 1970s work The Dinner Party). The Grinsteins footed transportation costs—hiring a bus, paying for an airfare — to provide access to incomparable art and experiences in far-flung places; and, for $300 each, they became major characters in Allen ­Ruppersberg's "fictionalized autobiography," a decades-long project titled The Novel That Writes Itself. When Stanley telephoned Glass to ask his advice about some Steinway concert grands being deaccessioned by the Los Angeles Philharmonic, it never occurred to the composer that a piano was intended for him. "About three months later, I walked into the house, and he said, 'There's your piano,' " Glass recalls, still sounding astonished. "I was speechless."
For Glass, like many other artists — including Serra, Man Ray, Vija Celmins, William S. ­Burroughs, Allen Ginsberg, Alexis Smith, Frank Stella — the Grinsteins offered a home away from home. "It was a very hospitable environment; they liked having us around, and we liked being with them," Glass says appreciatively. "It was a flophouse," Ayn wisecracks. "It's funny, because my daughter lived there with her boyfriend for about a year. As a mother, I suppose I should have been appalled, but as a daughter, I was thrilled." The overall domestic atmosphere was, Ruscha once declared with illuminating succinctness, "unstructured merriment."
The Grinsteins found the place by chance: While driving along Sunset Boulevard with their young daughters, heading to the beach, Elyse spotted a realty sign for an open house on a verdant Westside street she'd always loved. After stopping to look and daydream, they decided to make a lowball offer on a lark. When the homeowner, a woman in the midst of a divorce, swiftly accepted, the family could not quite believe it. Their new house, nearly five times the size of their former one, featured spacious rooms, mature gardens, impressive canyon and ocean views, and even a vintage Hollywood pedigree: Among the previous residents were a classic-film comedian and the German-émigré novelist Thomas Mann. "We felt very self-conscious because it was so big," Elyse admitted. "We brought in a jukebox and invited everybody we knew to funk it down so it didn't seem so grand and pretentious. That was the start of the parties."
And it was not long before the house began to fill with art. When the Grinsteins acquired Inaccessible Island Rail, 5.5x, Stella's flamboyant 1976 painted-aluminum relief, no wall was tall enough to display it. While the piece, part of a traveling exhibition, was touring for five years, Elyse designed a great room, transforming the sunroom into a gallerylike space, with a high ceiling and uninterrupted running walls. She added a smaller adjoining room for Serra's 1969 One Ton Prop (House of Cards), four slabs of lead leaning precariously together for support. (After the arrival of the Grinstein grand­children, One Ton Prop was donated to New York's Museum of Modern Art.) Viewed as a collection, the Grinsteins' personal mix of art is as varied, unexpected, and fascinating as any guest list for their parties. Ask around and people might tell you about the night they met Andy ­Warhol, Wallace Berman, Joan Jonas, Mick ­Jagger, Elizabeth Murray, the Dalai Lama, John Cage, Peggy Moffitt, John Baldessari, Timothy Leary, or a group of sumo wrestlers. Walking through the rooms, you might notice a sand mandala created on-site by Tibetan monks and humbly preserved beneath a glass pie plate sealed with masking tape, or an imposing Joseph Beuys Felt Suit hanging next to the minimalist fireplace (the suit's presence seemed less somber after a piece of chewing gum was ­discovered in one pocket). Holding court in the entryway is Berman's punning, mystical sculpture Topanga Seed, a painted dolomite boulder covered in an exquisite, unreadable scattering of Hebrew script, which Stanley transported to the house from Topanga Canyon on a forklift, a distance of 11.9 miles, at three miles an hour.
Over the years, through Gemini's ongoing collaborations, homegrown celebrations, and worldwide excursions, the Grinsteins continually collected art, artists, and friendships. A George Herms sculpture, a postapocalyptic globe constructed from a metal ocean buoy, oversees a cactus garden; the analytical and intellectually mischievous conceptual artist Michael Asher moved a boundary wall by just one foot, altering space; kitchen-cabinet doors are faced with a fading set of Warhol's silk-screened Campbell's Soup Cans; and a Claes Oldenburg Ice Bag collapses on the floor. In 1969, when Gemini published Oldenburg's Profile Airflow, his homage to Chrysler's 1936 streamlined sedan, the workshop honored its first three-dimensional edition with a backyard picnic. In a home movie of that fete, featuring a cast of artist extras, the Grinstein and Felsen daughters blindfold Oldenburg and lead him to an actual Airflow, sourced by Stanley for the occasion and decorated with toilet paper by the gleeful girls. With the Grinsteins, Gehry observes, "it was always kind of, We're family; we share."
After one late-night conversation around 2006, recounting their time together, Stanley and Elyse told their daughters how genuinely lucky they felt—the people they knew, and the worlds they'd seen — to have lived a life beyond anything they could have imagined. For their six grandchildren, growing up within the embrace of such endless curiosity, possibility, and delight nurtured a new generation of creativity. Last year, when Ellen's son Will Perliter, who works with the composer-performer Tobias Jesso Jr., was asked to suggest some low-key studios in Los Angeles for a superstar recording artist, he came up with four good choices, and then added one more: "my grandma's house." When Adele, who was working on new songs with Jesso, chose the homey, indie-sounding option, Perliter had to explain that "grandma's house" wasn't a case of folksy branding but was, in fact, his grandmother's house. On the Philip Glass Steinway, Adele and Jesso composed their soulful ballad "When We Were Young"—an astonishing sound soaring in the Grinsteins' great room, pouring out into the garden and across the canyon: "…'Cause you feel like home, you're like a dream come true."