Oprah Has Signed A Multi-Year Deal With Apple TV, Because Having Her Own Channel Wasn't Enough
She's expanding her reign.
---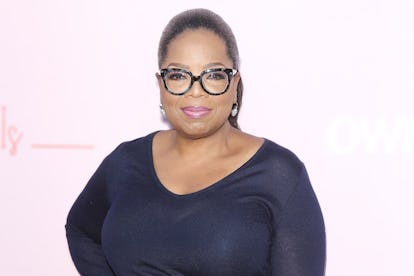 Michael Tran/Getty Images
It seems having her own channel just isn't good enough for Oprah anymore.
The high priestess of modern living has inked a new deal with Apple, where she will be contributing to its burgeoning streaming service in a number of roles. In a press release, Apple would only tease that they secured a "multi-year partnership" with Oprah, with her exact contributions encompassing all facets of the company's television sector. (So don't go to her with your frayed-charger problems.) "Together, Winfrey and Apple will create original programs that embrace her incomparable ability to connect with audiences around the world," the network's statement read. "Winfrey's projects will be released as part of a lineup of original content from Apple."
The news of Apple's deal with Oprah, while seemingly coming out of nowhere—especially when you think about her personal OWN network, which she's the CEO of—speaks to a blossoming trend with streaming services and their desire to acquire the most prolific minds in Hollywood for the sake of content creation. Earlier this year, Netflix swooped in with a massive $300 million deal to hire Ryan Murphy to exclusively write and produce content for them, which followed another massive deal Netflix brokered with Shonda Rhimes. (Apple hasn't revealed the monetary figures behind Oprah's deal.) They'll be permanently leaving behind FX and ABC, respectively, to make the big bucks at Netflix. And don't forget the Obamas who are Netflix's newest producers.
As to what Oprah will prioritize at Apple when she settles in, well, we'll just have to wait and see. (We wouldn't mind a miniseries revolving around her passion for bathtubs, honestly.) But if her recent Golden Globes backstage speech hints at anything, the stories she'll tell will come straight from her soul and nothing less. "The stories that you grew up with that bring you passion, that you not only yearn to tell [but] if you don't tell them, they won't be told," she explained at the time. "The key to fulfillment, success, and contentment in life is aligning your personality with what your soul came to do. When you can use your personality to serve what that thing is, you can be successful."
But still, that bathtub miniseries, anyone?