Oprah Reportedly Sold a Klimt Painting for $150 Million. What Other Blockbuster Art Is She Hiding in Her Private Collection?
Specifically, it was Gustav Klimt's 1912 Portrait of Adele Bloch-Bauer II.
---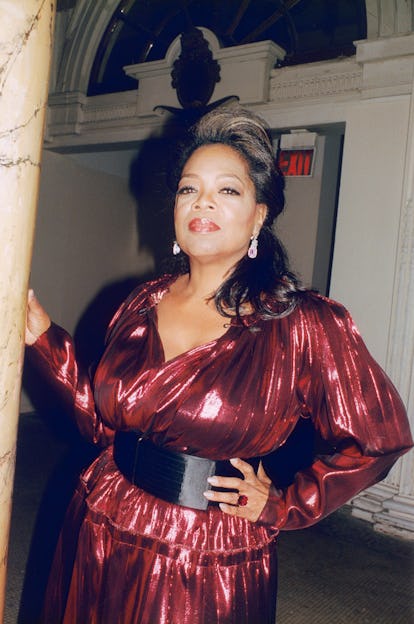 Photographer: Juergen Teller Stylist: Edward Enninful
Oprah is not giving this one away. This morning, it was reported by Bloomberg that the billionaire investor was behind one of the biggest private art deals of 2016: The $150 million sale of Gustav Klimt's Portrait of Adele Bloch-Bauer II. The 1912 painting is among Klimt's famed series of portraits of the Austrian socialite, the later legal battle over which inspired the 2015 film Woman in Gold, starring Helen Mirren.
Winfrey originally acquired the painting in 2006, for $87.9 million at Christie's in New York, which was and continues to be an auction record for a Klimt. If you're doing the math at home, that's over a two-thirds increase in value, and a tidy profit of a tick over $62 million—making for a very healthy 2016 in which her OWN network and large investment in Weight Watchers, both once floundering, brought steady returns. (Winfrey's net worth is estimated at $2.9 billion.)
She was approached about the work over the summer, while it was hanging on loan in MoMA's fifth floor galleries, by Larry Gagosian, who had a Chinese buyer lined up. The collector is still unidentified, but one's wandering mind does land on Liu Yiqian, the Chinese billionaire with a taste for expensive masterpieces who bought a $170 million Modigliani in 2015 and then tried to put it on his American Express. (You can read more about Yiqian and his multiple private museums here.)
Perhaps more surprising than the price is the reminder that Winfrey had such a painting in her collection in the first place. Two previous charity auctions of her personal items, in Santa Barbara in 2013 and in Chicago in 2015, were heavy on antique furniture and vernacular painting, and pretty much nonexistent when it comes to contemporary, modern, or otherwise high-end art. Very little else has been reported on Winfrey's art holdings, so it begs the question of what other blockbuster works she might have behind closed doors.
While you ponder that, you can see the Portrait of Adele Bloch-Bauer II right now, actually, while it is on view through July at New York's Neue Galerie with its sibling painting, the famous gold-flecked Portrait of Adele Bloch-Bauer I. (Highly recommended.) And while you're on the Upper East Side, stop by the well-reviewed retrospective of the Italian artist Marisa Merz at the Met Breuer for a little contrast. She's the only female member of the Arte Povera movement, which uses commonplace materials like earth and paper. It's a nice palate cleanser after the bling of the woman in gold.