Orange Crush: How to Master Orange Eyeshadow
Orange emerged as a surprisingly versatile powder during the couture shows. "Wear it alone, or with mascara. It would look great either way," says the makeup artist Karan Franjola.
---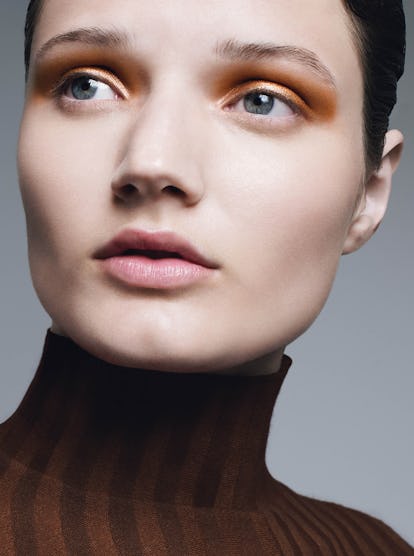 Photograph by Amy Troost, Styled by Samantha Traina; Hair by Tamara McNaughton for Wella Professionals at Management + Artists; Makeup by Karan Franjola for Chanel at Management + Artists; model: Olivia Jansing at Next Management; Digital Technician: Andrew Katzowitz; photography assistants: Henry Lopez, Javier Villegas; fashion assistant: Taryn Bensky
We're accustomed to seeing the color orange on cheeks or nails, but at the latest round of the couture shows, it popped up unexpectedly on the eyes. At Maison Margiela, a bright neon was deployed like war paint, while at Jean Paul Gaultier and Schiaparelli, the hues—and their application—were more subtle and sophisticated.
"Orange is a 'cool girl' shade, but I's also chic," said the makeup artist Karan Franjola, who used Mac Star Trek Trip the Light Fantastic Powder to create the look above in W's November issue. "Not every color can play both sides. "
Franjola applied the shadow with her fingers in an un-precise way, as if the model had done it herself. She also skipped liner and mascara to let the color live on its own.
"Wear it alone, or with mascara. It would look great either way," she said. "With this color, you can dress it up or dress it down. I don't think there are any rules with this kind of shade, because it's so beautiful, it really speaks for itself."
And can anyone wear this shade? Totally! But…"If you have a reddish complexion, correct it a bit with foundation," Franjola added.
Of course, orange can stretch in various directions—to a subtler peach or to a more intense copper, but the spectrum remains a surprise when seen on eyelids.
"It's not surprising that we're seeing it in couture, because it's refreshing," Franjola said. "It's unexpected, but still feels elegant and nice. It's just daring enough to be different, but safe enough so you won't end up clownish."
It Cosmetics Naturally Pretty Eyeshadow Trio in Pretty in Amber, $24, itcosmetics.com Even though this is a trio, refrain from using the two lighter shades for a gorgeous pale orange tone.
Chantecaille Shine Eye Shade in Carnelian $26, chantecaille.com Try sweeping this sunset-like shade up to your eyebrows. And then go over your eyebrows, like the models did at Gucci's Spring 2017 runway show did.
YSL Full Metal Shadow in Steamy Coral $30, yslbeauty.com Both the shade and the shimmer make this cream like a liquid copper penny. This shade begs to be paired with a clean bold coat of black mascara.
Maybelline New York EyeStudio Lasting Drama Waterproof Gel Pencil in Striking Copper, $8, Maybelline.com In lieu of black or brown pencil, smudge this into upper lashes, then spread it slightly into the eyelids with your fingers. Just like our makeup artist would.
Tarte Tarteist Metallic Shadow in Scandal, $14, ulta.com You have entered serious copper territory. A shade like this begs to be finger-painted on. But start with your pinkie.
Chanel Illusion d'Ombre in Rouge Brule, $36, chanel.com When Chanel's new (ish) global creative and makeup color designer Lucia Pica created this shade, it was nothing short of shocking and immediately intriguing.
Lancôme Color Design Sensational Effects Eye Shadow, $20, lancome-usa.com Try wetting this shade and draw along your eyelid for a unique eyeliner look.
Kendall Jenner and Gigi Hadid Dramatically Reading "Baby" By Justin Bieber Will Blow You Away