Truffletopia
A mushroom-mad scientist is on a quest to turn Oregon's Willamette Valley into truffle-town U.S.A.
---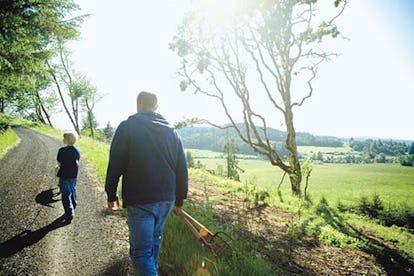 Charles Lefevre is traipsing through a thicket of Douglas firs in Oregon's Willamette Valley in search of buried treasure. Beneath these forests, he explains, lies his quarry: the wild Oregon truffle. Four species of the fungus, cousins to the celebrated black truffles of Périgord and white truffles of Alba, occur in the Oregon woods, and Lefevre reveres them all. Three years ago, he cofounded the Oregon Truffle Festival to proclaim the native truffle's place, as he puts it, "among the pantheon of culinary delicacies."
Because truffles thrive in habitats where some action, such as farming, has disturbed the ecology, Lefevre, who has a Ph.D. in mycology, or the study of fungi, has chosen for today's hunt a former pasture that is reverting to forest. Though expectations are low—signs of raking suggest others have beaten him to the punch—he soon spots a small burrow in the ground. "Mice and squirrels eat truffles, so you dig where you see them dig," he says. And indeed, when Lefevre pulls back a mat of needles, he reveals a handful of truffles (without the help of Stella, a friend's trained truffle-hunting Lab). The largest is walnut-size and the color of buried ivory. Giving it a sniff, he declares the truffle immature but adds that a week of ripening at home might release its full essence.
As pleased as he is with today's find, Lefevre, 42, is the first to admit that wild truffles are just his sideline. Not content to merely forage for nature's bounty, he's on a quest for the holy grail of horticulture—the propagation of truffle orchards. And he believes he's already mastered the alchemy of converting dirt into black diamonds, as Périgord truffles, costing as much as $2,600 a pound, are sometimes called.
The Oregon spring white truffle in situ
Truffles exist in a symbiotic relationship with certain species of trees, growing around the roots when the soil quality, temperature and moisture are just right. The first recorded attempt to domesticate the fungus dates back 200 years, when Frenchman Joseph Talon discovered that if he planted an acorn beneath a truffle-producing tree, the sapling could be transplanted with a fair chance that it, too, would eventually produce truffles. In the 19th century vast areas of France were sown using Talon's not entirely reliable technique. The next great leap forward occurred in the Sixties, when another Frenchman, Gérard Chevalier, inoculated saplings with microscopic truffles in a lab. The technique yielded viable orchards in Europe, and in 2000, when Lefevre met Chevalier at a mycology conference, Chevalier revealed the secret behind his breakthrough.
"He let it slip," says Lefevre, who returned home and promptly set up a business, New World Truffieres. Since 2003 he has sold some 100,000 saplings inoculated with Périgord black truffles or Italian white bianchetto truffles. None has yet reached bearing age—five to 10 years, depending on tree species—but Lefevre is convinced that when they do, they'll produce up to 50 pounds of truffles per acre annually. If that happens, American truffle growers can lay claim to a market once monopolized by Europeans, just as earlier pioneers did with wine, cheese and caviar.
The gastro-economic potential is tantalizing, and it may already be at hand. Last February Tom Michaels, a plant pathologist who graduated from the same Ph.D. program as Lefevre, harvested a crop of Périgord black truffles from his Tennessee orchard. Michaels's crop, from trees he had inoculated himself, did much to prove that American truffles could match the glorious fragrance of the French. No less an authority than star chef Daniel Boulud told The New York Times, "This Tennessee truffle is the real thing."
If Lefevre is disappointed that Michaels got there first, he doesn't betray it. "Oh, they were phenomenal," he says of Michaels's specimens. "They had a sweetness that the imported truffles just don't have." And it certainly hasn't hurt business: As of May he had sold out of his entire stock for the year, with the average order running as high as 1,000 plants. (Current prices are $22 a plant, and while Lefevre guarantees that truffle fungus exists on the tree roots, he makes no promises that they will yield truffles.)
Truffle dog Stella on the hunt
Lefevre is by turns showy and secretive, not unlike the truffle itself. He loves to recite truffle lore—some believe that the biblical manna may have been truffles—but is outright bashful about the truffle's reputation as an aphrodisiac. "A chef in town once said people who don't like truffles don't like sex," he says uncomfortably, sounding like a teenager admitting he knows the facts of life.
After the foraging expedition, Lefevre drives into nearby Eugene for dinner at the acclaimed Marché restaurant, where forager Jim Wells, owner of Oregon Wild Edibles, waits in the kitchen, guarding a box of white truffles. Wells, who wears suspenders and has a Walt Whitman beard, began delivering Oregon truffles to San Francisco–area restaurants 25 years ago. It irks him that Alice Waters and other big names haven't yet embraced the ingredient. He suspects that some were scarred by bad experiences with immature specimens; while most Europeans employ pigs or dogs to uncover only the ripe fungi, many Americans use rakes, which unearth truffles at all stages of development. But snobbery, no doubt, also comes into play. Wells relates the sniping of one top European chef: "She said the truffles were very good, but of course they weren't French."
A more measured assessment comes from Marché's executive chef, Rocky Maselli. "For me, it's all about terroir," he says, using the vintner's term for that confluence of soil and climate that gives a wine its character. "If you're in Alba or Périgord, you're tasting the local wines and eating the local food. What we have here is equivalent."
And so it seems as Maselli sends out course after course: asparagus, fava bean and truffle salad; truffle-topped nettle ravioli; roasted halibut with truffle butter; even truffled butterscotch pudding. Lefevre dines with truffle festival cofounders Steven Remington and Leslie Scott, who is Lefevre's wife. As the wine flows, the trio share their plans for the festival. Ultimately there will be seminars on cooking with and cultivating truffles and training truffle dogs. Their aim is nothing less than marketing Eugene as the center of the North American truffle industry.
The next day, Remington, a longtime professional festival organizer, leads a foraging trip to ShireWood Farm, which is rather too grand a name for a 12-acre property on a gravel road outside of Cottage Grove. (There's a handsome wooden barn on the property but also views of mobile homes.) Owner Mike Hoppe and his wife, Deanne, bought the "runaway Christmas tree farm" in 2004. After attending the first Oregon Truffle Festival, they realized their backyard was a prime truffle habitat. "We've found them on every corner of the property," Hoppe says.
Last year he welcomed some 80 festival participants, and throughout the December-to-May harvest season he charges visitors for a tour and a rake. His dream is to build on the pick-your-own concept by collaborating with Marché to stage on-site dinners, where gourmands can quaff Willamette Valley Pinot Noir and feast on local produce garnished with the truffles they've gathered.
"There's a huge allure to being able to eat what you get," interjects Remington, capturing the hippie-meets-foodie ethos inspiring a new agricultural industry. But although Eugene's truffle culture may have originated among free-spirited foragers, its future clearly lies with the kind of upscale tourists who flock to Napa Valley.
Hoppe is already planning for that future. Beyond the rows of Douglas firs, he's planted an orchard of Lefevre's inoculated hazelnut trees. "That would be pretty unique if we had European truffles next to Doug firs," Hoppe says. "And if it doesn't work, what the heck. We'll still have hazelnuts."