Original Xin
Former basketball star–turned–model Xin Li is the art world's latest MVP.
---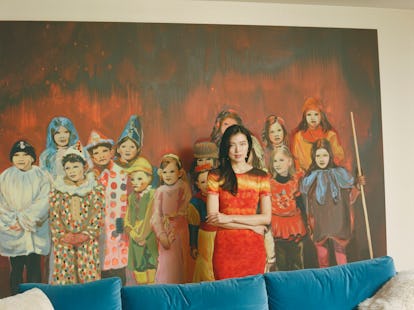 When Xin Li was 12, she left her family home in Northeastern China to live in a nearby sports facility and train with the country's most promising basketball players. She was in uniform every day by 5 a.m. and spent eight hours a day on the court. Her mother, a biochemistry professor, and her father, the regional minister of sports in the Manchurian province of Jilin, expected excellence: "Be the best of the best," her father counseled. By 15, she was. Standing just under six feet, Li was chosen to play professionally for the national junior basketball team and traveled across China and, once, to Vladivostok, the Russian port city near the Chinese border. But she longed to see the wider world. After completing her studies in sports management at Beijing Sport University, she took off for Paris in 1996 to become a model. For the next four years, she says, she was the lone Chinese runway model working outside China.
Now the deputy chairman of Christie's Asia, Li, 40, is still a quick study. She had never laid eyes on a work of art until she was 20. She began in the auction business just eight years ago, at Sotheby's, in New York, rotating through its departments and cramming information from the Internet, specialists, and trips to the Museum of Modern Art. These days, this child of communism is a symbol of capitalist success: She manages Christie's relationships with its most important private collectors from Asia, whose booming clout on the global art stage has helped fuel her ascent. In May 2014, during Christie's postwar–and–contemporary art sale in New York, Li won five of the top 10 works for her clients, accounting for $236 million of the evening's $745 million haul, then the highest total ever for a single auction. And last November, when Amedeo Modigliani's Nu Couché hit the block with a minimum bid of $75 million, Li had a phone pressed to her ear, bidding on behalf of a client until the price surpassed $130 million. (The painting sold to Liu Yiqian, another Asian buyer, for more than $170 million.) The very next night, Li snapped up a painting by Lucio Fontana ($29 million), an Alexander Calder mobile ($9 million), and an early work by Cy Twombly ($17 million).
"I've always played better during the real game than in practice," Li told me a few days after the sale, when I remarked on her composure amid the high bidding. "It's something I learned from being an athlete and model. I feel the lights and the camera, and I know how to stay focused. But when you are working as a model, it's all about you. Working in an auction house, nothing is about you. I learned how to switch off my past and become a different person."
We were sitting on blue velvet sofas in the Manhattan townhouse she shares with her fiancé, the music mogul Lyor Cohen. The two met on the beach on St. Barths in late 2014 and plan to marry this year. Alexander McQueen's Sarah Burton is designing her dress, and Li is studying Judaism with a rabbi, though she has yet to decide whether she's converting to Cohen's faith. He has already expanded her playlist—from traditional Chinese music and Italian opera to the likes of Fetty Wap and Young Thug—just two of the hip-hop stars whose careers Cohen has orchestrated. (Li, whose parents love to sing, created an instant bond between them and Cohen the night she took them all out to a Hong Kong karaoke bar and got her fiancé to join her parents in their favorite song about Chairman Mao.) In a few hours, they were due to head to the Z100 Jingle Ball at Madison Square Garden with Cohen's teenage daughter, Bea, and Li's best friend, Wendi Murdoch, a pal since Li's modeling days and her first art client.
Li was nursing a bad cold and had a strained voice. During the London–New York–Hong Kong auction season, she sleeps barely four hours a night and makes monthly trips to Asia. Still, her manner was warm and upbeat. Hanging on the wall behind us was a 2002 portrait of a wide-eyed, frowning girl by Yoshitomo Nara, which was about to be replaced by a painting of enigmatic costumed children that Li had bought from the artist Claire Tabouret. Li had first seen Tabouret's work in 2014, on a visit to the Palazzo Grassi, in Venice, with Christie's owner, François Pinault. (She also advises him on his private collection of contemporary Chinese art.) Last fall, Li surprised Cohen for his birthday with a Tabouret portrait of Elvis Presley, which now leans against a bookcase stuffed with LPs, family pictures, and art catalogs. I asked if she's having an impact on his art preferences. "I don't want to change Lyor's taste, just like I don't try to change my clients' tastes," she replied. "I get to know them really well, and I listen and learn with them."
Li's job is to find the most coveted works of art—and the Asian collectors willing to drop $100 million for them. Her core group of 10 clients is primarily female, self-made, and entrepreneurial. Their trajectory is not unlike her own. When she moved to Paris to become a model, she spoke only Mandarin and spent months by herself, listening intently to people talking in cafés, trying to figure out "what their story was," she said. "Everything was culture shock." To fill her time, she started going to museums.
Not surprisingly, she sees herself as a bridge between China and the Western art world. "She understands the Chinese and Western way of thinking," Murdoch says. "It's unique to know how to work in both cultures and make things happen. Plus, she's very smart, hardworking, passionate, and just super trustworthy—that combination is really hard to find." Another of Li's strengths is her ability to lead her clients to artists they haven't heard of by pointing out shared sensibilities. She introduced one collector focused on Chinese calligraphy to the brushwork of the Abstract Expressionist Franz Kline; another, who relished Marc Chagall's use of color, developed a hankering for the slashed monochrome masterpieces of the Italian modernist Lucio Fontana.
One of Li's tools is WeChat, the messaging app that serves a half-billion users in China and to which she regularly posts grids of images grouped thematically to highlight items from Christie's sales. She also sends art books to her clients and offers them private tours, such as the one of the Picasso sculpture exhibition at the Museum of Modern Art with her close friend Diana Widmaier-Picasso, an art historian who is writing the first complete scholarly inventory of her grandfather's sculptures. Widmaier-Picasso, in fact, brokered Li's entrée to the art world. Introduced at a dinner party on St. Barths in early 2008, Li confided that she loved art and was eager to move on from modeling; Widmaier-Picasso suggested Sotheby's, where she had once worked, and set up an interview. During Li's first week there as a trainee, Murdoch bought a painting by Fang Lijun—and has been a client ever since. (Murdoch herself got into the game in 2009, cofounding Artsy, an online site linking buyers with artists and artworks.) Li and Murdoch have collaborated on numerous events, including the 2013 Artsy/Christie's schmoozefest and preview they organized at the Silicon Valley home of Google cofounder Larry Page and his wife, Lucy. "There's absolutely no hauteur about Li," says Marc Porter, the former chairman of Christie's Americas, who is decamping to Sotheby's. "She is happy to use a shared computer and hang out. So when her colleagues have great projects or clients, instead of going around her, they want to work with her."
Li increasingly sees her role as that of ambassador for a burgeoning Chinese art scene. Her older sister, Xi, who lives in Beijing, is the chief art director of Gagosian Gallery China. Together, they are building a cutting-edge collection of art from their homeland. Last spring, Li and Murdoch hosted the art star Dan Colen in Beijing, giving him "amazing access," Colen recalled, to collectors, artists, and private collections. The trio toured the Forbidden City on a day it was closed to the public and stayed in Murdoch's nearby house. "I can't imagine going there without this person bridging all these cultural differences," he said of Li, who was no doubt eager to put Colen, a Gagosian artist, on her clients' radar. "What's rare about Xin is that she connects deeply to both artists and people with money who want to collect in a very ambitious way but are just starting to have a connection to art."
For all the travel Li's job demands, her wanderlust has never left her. She makes it a priority to travel every year to a place she's never been. In 2015, it was the North Pole. She took three planes and a helicopter, and then ended up in a place so remote she couldn't recall its name. She went with Cohen and a girlfriend she dubbed "an adventurer," and over four days they marveled at the Northern Lights. "We spent the whole time watching the sky turn pink, orange, green," she recalled with awe of standing on top of the world. It was a spectacle that likely no work of art could match.
Xin Li, at her home in New York, in front of Claire Tabouret's The Red Carnival, 2015.
Li wears Altuzarra dress; Fallon Earrings.
Hair by Braydon Nelson for Oribe Hair Care at Julian Watson Agency; Makeup by Jen Myles; photography assistants: Gregory Wikstrom, Romek Rasenas; fashion assistant: Lucas Dawson.
Li, at Christie's, 2015.

Li wears Valentino jacket; Max Mara top and jumpsuit; Fallon earrings; her own ring.

Photographer: Jeff Henrikson Stylist: Clare Byrne
Li with Lyor Cohen, at the Metropolitan Museum of Art Costume Institute Gala for the opening of "China: Through the Looking Glass" in 2015. Courtesy of Patrick McMullan.
Li on the runway at Etro, spring 2000. Courtesy of First View.
Li and Wendi Murdoch, in Hong Kong, 2013.
BFA/SIPA USA/Newscom.
Li, Gagosian's Sam Orlofsky, the artist Dan Colen, and Murdoch (from left), at the Forbidden City, Beijing, 2015. Courtesy of Li.
Hair by Braydon Nelson for Oribe Hair Care at Julian Watson Agency; Makeup by Jen Myles; photography assistants: Gregory Wikstrom, Romek Rasenas; fashion assistant: Lucas Dawson.