Orlando Bloom on Naked Paddleboarding: "I Had a Moment of Feeling Free"
Orlando Bloom explains why he was paddleboarding naked in the NSFW pictures that leaked last summer.
---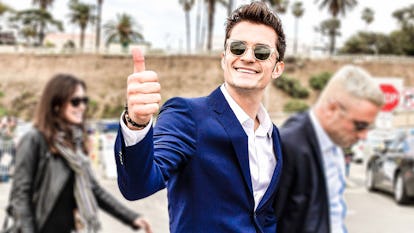 Composite. George Pimentel/Getty Images
Orlando Bloom is finally ready to talk about those pictures of his nether regions having a good time on a paddleboard.
In a recent interview with Elle U.K., the Lord of the Rings star started the conversation by cutting to the point and asking, "Are we going to talk about my penis?"
Probably the only time an actor has started an interview with a female journalist that way and not having it lead to sexual harassment charges.
Bloom is, of course, referring to the paparazzi pictures that almost broke the Internet back in August 2016. He was caught naked paddleboarding with then-girlfriend Katy Perry off of the coast of Sardinia, giving a whole new meaning to the phrase "sun's out, guns out." Obviously the photo went viral—even The Paris Review joined the chorus of approval—but Bloom stayed surprisingly silent about what brought on the naked paddleboarding adventure in the first place and his thoughts on the hysteria that ensued. Until now.
"I've been photographed a million times in a million ways. I have a good radar," he said. "We'd been completely alone for five days. Nothing around us. There was no way anyone could get anything. So I had a moment of feeling free."
For Bloom, the madness (or, more appropriately, thirst) surrounding the photos came as a bit of a shock. "Yes, it was extremely surprising," he said. "I wouldn't have put myself in that position if I'd thought it would happen."
Despite the major invasion of privacy and questionable double standard (what would happen if the same type of photos were leaked of a woman, the interviewer wonders?), Bloom seems to be a pretty good sport about the whole thing. "I didn't take it that deep, darlin'," he says. "What can I tell you? Note to self: you're never free. Ha!"
Bloom and Perry's relationship may have ended in March (though, he notes in the interview, they still remain friendly), but the Internet will forever commemorate them with the photo permanently ingrained in their hearts, minds, and browser histories.
Related: Hillary Clinton Models Sensible Lucite Heels on Katy Perry's Instagram
Watch: Katy Perry: America's Biggest Export Goes Glam: