Oscar De La Renta Names Laura Kim and Fernando Garcia of Monse as New Creative Directors
Kim, 34, and Garcia, 29, worked closely with de la Renta until his death in 2014, before launching their own critically-acclaimed label Monse. Now, they're returning home.
---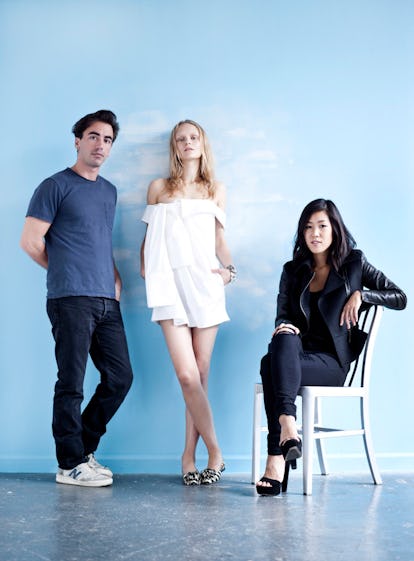 Photo by Van Sarki, styled by Vanessa Chow. Hair by Thomas Dunkin for Voce Haircare at BRIDGE; Makeup by Justine Purdue for Dior at Tim Howard Management; fashion assistant: Alban Roger.
After a cumulative 18 years of working under Oscar de la Renta, Laura Kim and Fernando Garcia were considered the obvious choice as the legendary designer's successors. Former Nina Ricci creative director Peter Copping was selected for the role instead. Kim and Garcia branched out on their own, launching Monse almost exactly a year ago at New York Fashion Week to rave reviews; celebrities such as Sarah Jessica Parker and Brie Larson prominently wore the label on the red carpet. In fact, Larson took her victory lap after the Academy Awards earlier this year in an off-the-shoulder velvet pink dress by the de la Renta alumni.
Today, after twelve months of success with their new venture, the New York Times broke the news that Kim and Garcia are returning to the venerable New York fashion house of Oscar de la Renta as creative directors. The pair will divide their time between the two labels, and their first collection for de la Renta will arrive in February 2017 (an in-house design team will present the label's spring collection during New York Fashion Week.)
This appointment follows the ousting in July of Peter Copping, who had been at the helm of de la Renta since 2014. That Kim, 34, and Garcia, 29, have been handed the reins of one of the most iconic of American labels is a triumph for young, New York-based designers after some tumult elsewhere – Alexander Wang parted ways with Balenciaga after three years and the marriage between Public School's Maxwell Osborne and Dao-Yi Chow and DKNY was just a little over a year old when parent company LVMH decided to sell the brand.
Unlike them, though, Kim and Garcia's arrival at de la Renta is a homecoming, not a new beginning. Now, we'll just have to wait and see what they do with it.
Related: Peter Copping's best moments at Oscar de la Renta.
A Look Back at Peter Copping's Best Moments at Oscar de la Renta
The final look from Oscar de la Renta fall/winter 2015 – Peter Copping's debut.

Getty Images
Nothing says resort like canary yellow, seen here with resort 2016.

Getty Images
Spring/summer 2016 was a favorite collection among fashion editors. This look was revered for its Spanish flair.

Getty Images
This fairy-tale blue taffeta dress, also from the spring/summer 2016 collection, was very classic Oscar.

Getty Images
Peter Copping also designed bridal for Oscar de la Renta, and this lace bib neck with a bow at the back was a dreamy option for the bride who loves lace.

Getty Images
Copping's take on an embellished Oscar de la Renta jacket.

Getty Images
The Oscar client loves a bow, and the sweet straps on this number transform a minimal column dress into a romantic look.

Getty Images
A tea-length bridal gown with all the old Oscar de la Renta charm felt modern and youthful in Copping's spring 2017 bridal outing.

Getty Images
Oscar de la Renta loved his polka dots, and this free-flowing dress from what we now know was Copping's last collection for the house was a favorite.

Getty Images
Another charming dress from Copping's last collection. The pink floral print and yellow sash is sure to show up on some bright young thing her next red carpet or event.

Getty Images