Oscar Isaac Will Finally Get to Play Hamlet in New York This Summer
Oscar Isaac was originally supposed to play the role of Hamlet last year, but theater world controversy delayed the production until now.
---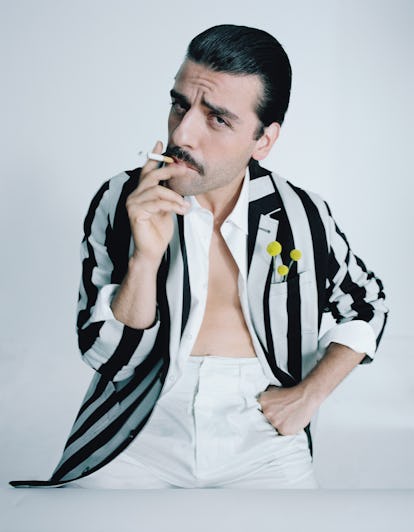 Photo by Tim Walker
To be or not to be? All apologies for the cliché, but that literally was the question when it came to whether or not Oscar Isaac would ever get to play Hamlet on stage.
The Star Wars actor and imaginary boyfriend of roughly half of the internet was originally slated to take to the stage as the Shakespearian hero in New York City, but embroiled in a theater world controversy, the production never went through as planned. But Isaac will get his chance this year during a summer-long run at New York's Public Theater. He'll be joined in the production by another famous face: comedian Keegan-Michael Key.
The production will be helmed by Tony Award-winning theater director Sam Gold, who originally planned to stage the tragedy last year at Brooklyn's Theater for a New Audience. The project had been in the works since 2014; a team was assembled, and some tickets had already been sold. However, Gold had a falling out with the theater's artistic director Jeffrey Horowitz over the always dependable catchall "artistic differences." Gold then brought the project to the Public Theater, a Manhattan-based venue.
It was an almost unheard of situation, apparently, and Horowitz publicly aired his grievances in The New York Times, stating, "Creative artists should not take a production away. It hurts the field if that kind of thing can happen."
However, the logistics of moving the production ultimately got in the way, and that plan was canceled.
Now, Isaac and Gold will finally get their chance. The production will run from June 20 to September 3 at the Public.
Isaac may be best known for his space cowboy role in the latest Star Wars films, or perhaps his dance sequence in Ex Machina, but he also has a solid resume in theater. In fact, this won't be his first collaboration with the Public Theater's Artistic Director Oskar Eustis.
"Oscar Isaac starred in the first show I produced at the Delacorte, Two Gents in the summer of 2005. His Romeo two years later was more proof of his brilliance," said Eustis in a statement.
This role will be the actor's first return to the New York stage since his Star Wars turn. Isaac will, of course, play the titular Danish prince. Key, in his New York theater debut, will play Horatio.
Gayle Rankin will play female lead Ophilia. Rankin is a theater vet, but she could very well be much more famous by the time the production debuts. She has a role in Netflix's upcoming G.L.O.W., the female wrestling-themed show from Orange Is The New Black creator Jenji Kohan that will debut in March.
The rest of the cast will be notably diverse, and will include some gender flipping. Actress Roberta Colindrez will play the traditional male role of Rosencrantz. Matthew Saldívar will play her Gildenstern. Theater vets Peter Friedman and Anatol Yusef will play Polonius and Laertes, respectively. Further castings will be announced at a later date.
However, tickets go on sale to supporters and members in early March. Single tickets, starting at $95, will be available on March 30th.
Oscar Isaac Has a Soft Spot for Jessica Lange: