Oscar Nominees 2018: The Biggest Snubs and Surprises
The Oscars really like "Phantom Thread" and "The Darkest Hour," but were flat on "Wonder Woman" and "The Disaster Artist."
---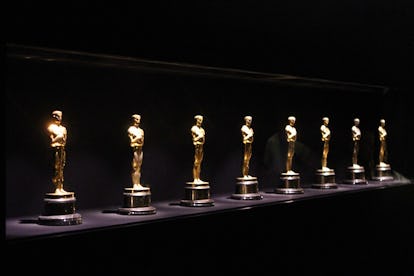 While there's an entire cottage industry of Oscar prediction sites parsing and prognosticating what the Academy itself may recognize, the body always has a way of subtlety making its own statements. That means contenders who were racking up all the prerequisites suddenly found themselves on the outside looking in, and former dark horses competitors will have to prepare for the red carpet. This year was no different. The Academy of Motion Picture Arts and Sciences announced their 90th annual Oscar nominees this morning, and, as always there were some snubs and surprises. From the strong performance of films like Phantom Thread and The Darkest Hour, to the absence of Wonder Woman and The Big Sick, here's the biggest snubs and surprises of 2018.
Snubs
Everything: Wonder Woman
You would think that the Academy would find some way to recognize a film that was not only the biggest hit of the year, but was also widely critically adored. At least in a technical category (comic book movies are frequently nominated for things like Best Visual Affects, Costume Design, Sound Editing, etc.). Yet, the Academy doesn't look at the results of nomination voting and think, "Whoops, forgot to recognize this film. Let's sneak it in."
Best Supporting Actor: Michael Stuhlbarg and Armie Hammer (Call Me By Your Name)
What happened here? Both delivered performances worthy of discussion, and both had strong narratives: Stuhlbarg is the veteran character actor who had one hell of a year (he also has turns in Best Film nominees The Post and The Shape of Water), while Hammer is the leading man type who has finally straightened out his career (and is basically the nominated Chalamet's co-lead). Perhaps they split the vote? Whatever the case, Woody Harrelson managed to earn a spot in this category for Three Billboards Outside Ebbing, Missouri, his third nomination.
__Best Supporting Actress: Hong Chau (Downsizing), Holly Hunter (The Big Sick), and, you know what? Tiffany Haddish (Girls Trip)
Chau might have suffered for delivering a breakout performance in a film that otherwise fell flat. Hunter's snub seems particularly perplexing considering she was cruising through the award circuit with ease before this. Haddish's snub might not have been a total surprise, but, a snub it is.
Best Actor: James Franco (The Disaster Artist)
News of Franco's alleged sexual improprieties broke just two days before voting ended. They may have affected his chances, but then again there's always the chance he would not have been nominated either way. Whatever the case, The Disaster Artist's sole nomination is for Best Adapted Screenplay, which Franco did not write.
Best Song: "Evermore" (Beauty and the Beast)
As is the case whenever an original song is written for a musical that previously exists in another format, "Evermore" was likely written to garner a nomination in this category. Considering Beast was such a huge box office hit and came out of the Disney factory, the song seemed like a shoo in. Instead, the Academy decided to honor Mary J. Blige's song from Mudbound instead, and we're not complaining.
Best Animated Short: *In A Heartbeat*
This is a hard category to prognosticate, but In A Heartbeat, a film by two Florida art school kids, went viral for it's groundbreaking subject matter: a young boy with a crush on another boy. Some felt it was on the inside track to win.
Best Visual Affect: Valerian and the City of a Thousand Planets and Okja
Sure, pretty much all Valerian is is visual affects, but what visual affects they are! Director Luc Besson created an entire visual world complete with ethereal alien races and Rihanna as a shapeshifting stripper. You'd also think he'd get extra points for being the first to adopt the relatively obscure (at least on our shores) comic book from flat 2D to breathtaking 3D, especially because every film that was nominated in this category was a sequel or a reboot where, in some sense, there was at least a visual game plan already in place to look back on. You could also say the same, though perhaps not to the same degree, for Okja.
Best Foreign Language Film: In The Fade
This film won the equivalent category at the Golden Globes, but went unrecognized by the Academy. While the film has some issues, the critical bottom line is that it's to be treasured for Diane Kruger's powerful performance.
__Best Director: Martin McDonagh (Three Billboards) and Steven Spielberg (The Post)
With Spielberg you never know. The Academy certainly recognized The Post in other categories. The bigger snub is McDonagh, whose Three Billboards is suddenly dominating award season. Though, this may be a signal that while the Academy liked the film, they're not loving it quite as much as other awards bodies did. Or it may just mean they think McDonagh's true achievement was the script and not necessarily the directing. Before breaking into film, the man made his name as a playwright, after all.
Surprises
Best Film: Phantom Thread and *The Darkest Hour*
Total shocks? No, but these were both considered films that people thought perhaps would be left on the outside looking in. Thread, for example, wasn't nominated in the Best Film category at the Globes, Baftas, SAG Awards, or Critics Choice Awards. Hour was thought of more as a showpiece for Oldman, and likewise hadn't been recognized in the best film category at prior award ceremonies. Turns out, the Academy really, really liked both of them, and both over performed in the total nomination count , receiving six a piece.
Best Actor: Denzel Washington (Roman J. Israel, Esq.)
Washington was great in this. He's always great, of course. But because the film wasn't a big commercial or critical hit, he had been left out of talk as a serious contender, and yet, here he is.
Best Supporting Actress: Lesley Manville (Phantom Thread)
There was certainly a passionate core of critics hoping for this nomination, thought she was viewed as an underdog. Turns out, Phantom Thread's general over performance helped her snag her spot here. Could this be one of those weird cases where someone suddenly shifts from surprise nominee to come-from-behind front runner? We'll see.
Best Score: John Williams for The Last Jedi over John Williams for *The Post*
With 51 nominations, Williams is the second most nominated individual ever. So it's not a surprise he was nominated here. Though, the common line of thought here is that he'd receive it for his work on The Post, and not his umpteenth Star Wars film.
Best Animated Film: *The Boss Baby*
This film was critically divisive in a weird way. Critics that hated it really hated it. Critics who thought it was a cute, well done family film certainly didn't want to die on the hill of defending it. Yet, here we are, with The Boss Baby is an Oscar nominee.
Related: Oscar Nominations 2018: See The Complete List
Oscar Nominations 2018: See Photos of Mary J. Blige, Meryl Streep, Timothée Chalamet, and More Actors
Frances McDormand, Best Actress, Three Billboards Outside Ebbing, Missouri

The Neal Peters Collection
Octavia Spencer, Best Supporting Actress, The Shape of Water

Sorrenti Mario
Gary Oldman, Best Actor, Darkest Hour

Sorrenti Mario
Christopher Plummer, Best Supporting Actor, All the Money in the World

Sorrenti Mario
Denzel Washington, Best Actor, Roman J. Israel, Esq.

Teller Juergen
Meryl Streep, Best Actress, The Post

Thompson Michael
Richard Jenkins, Best Supporting Actor, The Shape of Water

Ari Marcopoulos
Sally Hawkins, Best Actress, The Shape of Water

Anna Bauer
Mary J. Blige, Best Supporting Actress, Mudbound

VAN LAMSWEERDE INEZ & MATADIN VINOODH
Margot Robbie, Best Actress, I, Tonya

CRAIG MCDEAN
Saoirse Ronan, Best Actress, Lady Bird

SORRENTI MARIO
Daniel Day-Lewis, Best Actor, Phantom Thread

TIM WALKER
Timothée Chalamet, Best Actor, Call Me By Your Name

Luca Khouri
Willem Dafoe, Best Supporting Actor, The Florida Project
Jordan Peele, Best Director, Best Original Screenplay and Best Picture, Get Out

©Universal/Courtesy Everett Collection
Allison Janney, Best Supporting Actress, I, Tonya

Courtesy Everett Collection
Daniel Kaluuya, Best Actor, Get Out

©Universal/Courtesy Everett Collection
Greta Gerwig, Best Director, Best Picture and Best Original Screenplay, Lady Bird

Everett Collection / Everett Collection