Oscars 2016: The Best, Worst, and Most Memorable Moments
Leonardo DiCaprio, Chris Rock and Jacob Tremblay had the best night at the Oscars. Lynn Hirschberg wishes she could say the same about Sylvester Stallone, Lady Gaga or Sam Smith.
---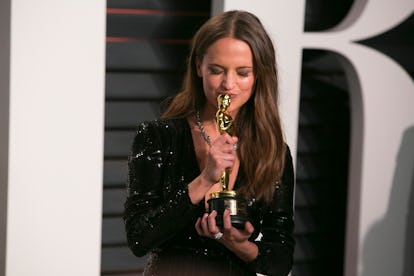 Editor at large and resident Oscars expert Lynn Hirschberg recaps the 88th Academy Awards, from Chris Rock's hosting duties to Lady Gaga's overwrought performance. Read on for her highs, lows, most frustrating moments, and tune in to the podcast for her chat with digital features director Erik Maza.
On Chris Rock: I thought Chris Rock was great. I thought that was the high point of the show. He did something very deft, which I was very impressed by, which was he talked about how we shouldn't assume there is one kind of racism. He was very subtle in the way he approached what racism means, and that's an incredibly difficult thing to do.
On whether Hollywood will change after the diversity controversy: I think what will make a bigger difference, if you want to know the truth, is Star Wars having two leads: one a woman and one a person of color and that being a global, massive success. I think the more movies you have where there is international success, because that's the biggest ticket right now, with people who are diverse in the leads and involved with the production, that's what's going to make the biggest difference.
On the surprises: I was kind of gratified that Sylvester Stallone did not win the sympathy vote for Best Supporting Actor. I thought there was something really great about Mark Rylance winning – a person who has literally not done one Q&A or any sort of campaigning. There was something about the purity of his victory. I think there are a lot of people who are Mark Rylance fans. He's an actor's actor.
On Lady Gaga's performance: I couldn't stand it, personally, but I think people found it very stirring. There was crying and a lot of righteous indignation. I thought the songs, as songs, were pretty terrible. I mean, I thought Sam Smith was off-key, I'm sorry. I liked his speech. It was a nice comment. I thought the songs had no melody. I love the Weeknd, but I thought that aerial thing was ridiculous. And doesn't Dave Grohl seem like an utterly random idea?
On the red carpet: I was also disappointed by the gowns. It was so boring. I even enjoy a bad dress, like I thought Heidi Klum looked terrible.
On who had the best night: I would say Jacob Tremblay had a good night! For not being nominated, he was one of the high points of the evening. He really was adorable. There was something very pure about the way he was looking at C3PO and droids from Star Wars. I think that captured in one expression the purity of what movies can do for people, which is he was looking at those creations with wonder and interest.
On Spotlight's best picture win: I wasn't rooting for it, but I was very happy Spotlight won as opposed to The Revenant. I think happy endings are very important to Hollywood. Everybody wants to show that individuality and being an individual is about conquering expectations and working towards a goal that surprises people and yet somehow, a little bit, changes the world. I do think that's a message that is very comforting to people at this moment in time. I think [the Academy] rewards a straightforward story that's well told, and they also reward a pretty version of events. I have long believed that the ends of movies end up making the biggest difference in terms of how people perceive them. Happy is what you want when you're voting.
On next year: I think everyone's hope for next year is already Nate Parker. Even though most people haven't even seen The Birth of a Nation yet, they're all convinced that it's going to be a major contender out of Sundance.