Oscars 2016 Predictions: Who Will Win This Year?
Editor at large and Oscars clairvoyant Lynn Hirschberg forecasts Sunday's 88th Academy Awards.
---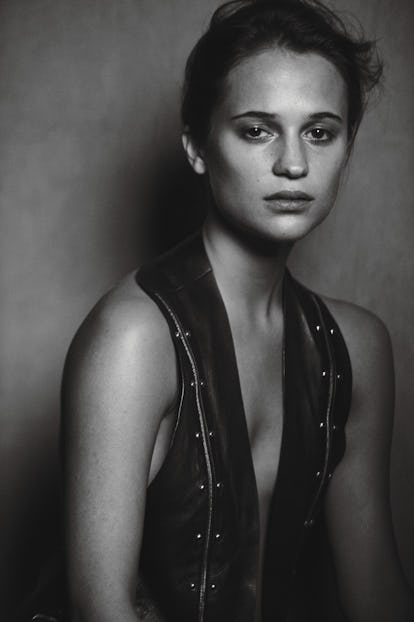 Editor at large and Oscars clairvoyant Lynn Hirschberg returns to the task of predicting Sunday's 88th Academy Awards – the night bets are on for Leonardo DiCaprio to finally nab Best Actor for roughing it in Alejandro Iñárritu's The Revenant. Read on for Hirschberg's picks and critiques of the night to come, and tune in to the podcast for her chat with digital features director Erik Maza.
Best Actor and Actress: Partly thanks to his behind-the-scenes campaigning, "Leo's going to win, and I think that's fine. He's a great actor, very popular, and he'll bring his mom to the Oscars." As for Best Actress, "Brie Larson is going to win that category [for Room]. She has all the momentum, and she feels genuinely thankful to be there, which is a big thing during awards season."
Best Director: Even though it'd be his second year in a row, Hirschberg's bets are on Alejandro Iñárritu. "I think it's a testament to his achievement and a testament to a degree of difficulty. They've very wisely made it clear that The Revenant was an incredibly difficult movie to make." Also: "I think he makes movies that appeal to men, and I think that's appealing to people. They're very masculine films."
Best Picture: "I would say the movie with the most momentum is The Revenant. It pains me to say this because of course I'm partial to The Big Short, and history tells us that the Producers Guild [which picked The Big Short] tends to prevail, but momentum is momentum and I think The Revenant has momentum." Plus: "Leonardo DiCaprio keeps stressing over and over and over again the Native American aspect of the film, which does have resonance in this year where there's no people of color." That – along with Iñárritu being a Mexican director – gives the Academy some coverage, Hirschberg says.
On this year's whitewashed list of nominees: "I think people are genuinely annoyed by the fact that there's no diversity, and rightly so. If there's any reason to tune in to the Oscars, it's to hear what [host] Chris Rock has to say. But I don't sense a lot of boycotting – I'm thinking people will speak their mind, speeches will have more political undertones than in other years, which I do think has an impact."
On the lethargy surrounding the Awards: All that contributes to the lack of excitement about this year: "I think people are thirsting for something they feel is more diverse," Hirschberg says, pointing to the reception of The Birth of a Nation, a Nat Turner biopic that found huge success at Sundance. At the same time: "I think the problem with the Oscars has to do with something more than the films – it just comes so late. By the time you get to the Oscars, you've seen about 25 awards ceremonies, and I do think people get tired of watching that many shows with the same people winning the same awards. The Grammys barely give out awards, it's just performance, performance, performance, and the show traditionally does very well on the ratings. I just wish the Oscars could figure out some way to have some of their performers do something performance-oriented. It gets to be a long night."
Best Supporting Actress and Actor: "I think and I hope it will be Alicia Vikander. She's the real deal. She's not nominated for Ex Machina, but I feel like she's nominated for Ex Machina, not The Danish Girl. But it's very possible that Kate Winslet wins – it's a very tight category and with the exception of Rachel McAdams, who I think is a great actress but wasn't that great in Spotlight, I thought Alicia, Rooney [Mara], and Jennifer Jason Leigh were amazing." Still: "I don't think Rooney has any momentum at all, for whatever reasons she has not prevailed during awards season. And Alicia has really, really stepped it up during awards season. The Academy loves a newcomer, especially in that category, whether it's Lupita Nyong'o or even Penelope Cruz." As for the Actor, Hirschberg's says Sylvester Stallone, who she once went to a Lakers game with, is the frontrunner for his role in Creed. "I don't think Tom Hardy stands a chance in hell of winning, but he had an amazing year, and Leo keeps talking about him with great enthusiasm in every speech."
Best Adapted and Original Screenplays: "Quentin Tarantino has a theory, which has been borne out many times, that whatever the cool movie that should win Best Picture wins Screenplay. The Big Short and Spotlight are nominated in two different categories, so I think there's a good chance for both of those to win, because I don't think they'll win Best Picture. I would love to be wrong about this because you know I want The Big Short to win. And I think Spotlight will win Best Original, because I think they have to give something to Spotlight and I'm not sure what else Spotlight will win."
The missing player: Producer Harvey Weinstein's mark is usually all over the list of nominees, and "this has been a very bad patch for him – he usually has a dog in the race," Hirschberg says. This time, though, he'll only be "slinging the mud" for Rooney Mara, who's up for Best Supporting Actress in Carol.
The underdog: "Mad Max is going to win a lot of technical categories, but if any of the movies had a chance to win Best Picture that's not Spotlight, The Revenant, or The Big Short, I think it's Mad Max."
Watch the Awards on Sunday night, and subscribe to W's podcast to hear our recap of the Oscars on Tuesday.