Oscars 2017: Emma Roberts Revealed that She Was Responsible for Julia Roberts' Iconic 2001 Valentino Gown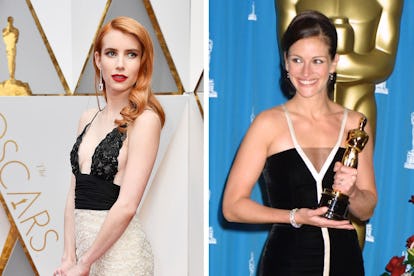 Composite. Getty Images
At the 2017 Oscars, actress Emma Roberts revealed to E! red carpet host Ryan Seacrest that she was one who helped her aunt Julia Roberts pick out her black-and-white Valentino gown in 2001— the year she won the Academy Award for Best Actress for her role in Erin Brockovich. At the time, Emma Roberts was just 10 years old, so, true to her years, she referred to the couture gown as a "skunk dress."
"I remember when my aunt was trying on dresses for the year she was nominated and won, and the dress she wore, I said lovingly, 'You should wear the skunk dress!'" Roberts told Seacrest. "It was the black and white dress, and it was the best one. She ended up winning in it."
Sixteen years later, the Scream Queens star channeled Julia Roberts' winning look on the red carpet, wearing a stunning Armani Privé gown in the same monochromatic color palette as her aunt's vintage black-and-ivory gown. Emma Roberts' gown, which featured a plunging delicate-lace neckline, was also eco-friendly, as a part of Red Carpet Green Dress (RCGD) campaign. She paired her sustainable, ethically-made gown, with red lips, newly-dyed strawberry blonde hair, and Atelier Swarovski drop earrings.
The History of Emma Roberts Ever-Evolving Hair Color
The young actress attended the Teen Vogue Young Hollywood Party in 2006 with her golden blonde locks in relaxed curls.

Photo by Getty.
Roberts went brunette at the Teen Vogue Young Hollywood Party in 2007 with her locks side parted in loose waves and sun-kissed skin.

Photo by Getty.
Simply chic, Roberts kept her dark brunette hair in a sleek bun wit rosy cheeks at The Curious Case of Benjamin Buttons film premiere in 2008.

Photo by Getty.
Roberts attended a screening of Brothers in 2009 with tousled curls and a soft pink lip.

Photo by Getty.
Roberts wore her auburn red locks in a simple up do with a golden eye at the 8th Annual Teen Vogue Young Hollywood Party in 2010.

Photo by Getty.
At the CNN Heroes: An All-Star Tribute in 2011, Roberts wore her shoulder length, blonde locks in tousled waves with a sleek cat eye.

Photo by Getty.
Roberts arrived at the Victoria's Secret 7th Annual What Is Sexy? party in 2012 with her highlighted locks in a chic French twist with side bangs.

Photo by Getty.
Roberts rocked a metallic smoky eye with her long, platinum locks at the American Music Awards in 2013.

Photo by Getty.
Roberts looked elegant with a sleek side-parted pony and a grey smoky eye at the 71st Annual Golden Globe Awards in 2014.

Photo by Getty.
At the 2014 Vanity Fair Oscar Party, Roberts showed off her newly chopped locks with a satin red lip.

Photo by Getty.
Looking regal at the 67th Annual Primetime Emmy Awards in 2015, Roberts wore her platinum locks swept over in loose curls with a matte pink lip.

Photo by Getty.
Roberts was boho chic with her red locks in a tousled, French braid up do with a purple smoky eye at the Costume Institute Gala in 2016.

Photo by Getty.
Actor Emma Roberts attends the 89th Annual Academy Awards at Hollywood & Highland Center on February 26, 2017 in Hollywood, California.

Photo by Getty Images.
Oscars Red Carpet: The 21 Most Memorable Dresses of All Time 

Speaking of Galliano: At the 69th Annual Academy Awards in 1997, Nicole Kidman would forever change red carpet dressing by sporting one of his designs for Dior, a flawless, devastating silk gown in iridescent chartreuse that immediately appalled Joan Rivers and upstaged Tom Cruise.
Cher at the 45th Annual Academy Awards in 1973 wearing a bedazzled crop top.
Anjelica Huston at the 58th Annual Academy Awards in 1986 wearing a one-sleeve emerald green dress.
Madonna at the 63rd Annual Academy Awards in 1991 wearing Bob Mackie and $20 million worth of Harry Winston diamonds.
Sharon Stone at the 70th Annual Academy Awards in 1998 wearing a Gap shirt paired with a Vera Wang skirt.
Cate Blanchett at the 71st Annual Academy Awards in 1999 wearing a sheer John Galliano dress with an open back.
Celine Dion at the 71st Annual Academy Awards in 1999 wearing a Dior tuxedo backwards.
Halle Berry at the 74th Annual Academy Awards in 2002 wearing a sheer Elie Saab gown.
Marion Cotillard at the 80th Annual Academy Awards in 2008 wearing Jean Paul Gaultier couture.
Charlize Theron at the 82nd Annual Academy Awards in 2010 wearing Dior.
Angelina Jolie at the 84th Annual Academy Awards in 2012 wearing Atelier Versace.
Gwyneth Paltrow at the 84th Annual Academy Awards in 2012 wearing a Tom Ford cape.
Lupita Nyong'o at the 86th Annual Academy Awards in 2014 wearing Prada.
Barbra Streisand at 41st Annual Academy Awards wearing sequin see-through bell bottom pants with a matching top.

ABC Photo Archives
Diane Keaton at the 76th Annual Academy Awards wearing three-piece menswear-inspired suit with bowler hat.
Hilary Swank at the 77th Annual Academy Awards wearing backless Guy Laroche gown.
Penelope Cruz at the 79th Annual Academy Awards wearing an Atelier Versace gown.
Jennifer Lawrence at the 83rd Annual Academy Awards wearing a red Calvin Klein Collection dress.

Jeffrey Mayer
Lady Gaga at the 88th Annual Academy Awards wearing new designer Brandon Maxwell.
Jennifer Lopez during The 75th Annual Academy Awards, donning an unexpected mint hue.

J. Vespa/Getty Images
In 2018, Rita Moreno walked the Oscars red carpet in the same black and gold gown she wore to the Oscars in 1962.

Dan MacMedan
Watch Jake Gyllenhaal sing for a good cause:
Related: Our Oscars 2017 Picks: Who Should Win—and Who Definitely Should Not