Oscars 2017: Guess What? Speeches Have Always Been Political
Here, 10 times Oscar speeches got political, starting in 1973.
---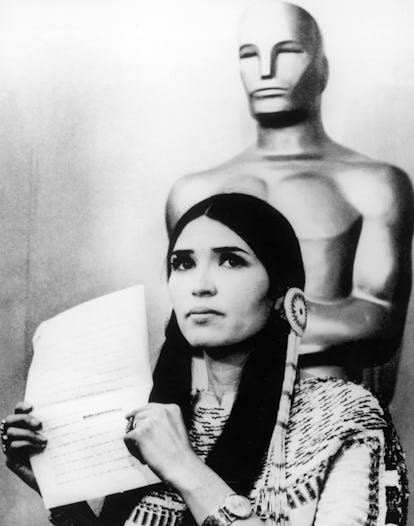 Hulton Archive
It is both enlightening and disheartening to be reminded that Oscar speeches have always been political, because the issues are still the same today. One of the first real political moments took place back in 1973, when Marlon Brando boycotted the ceremony and asked Native American activist Sacheen Littlefeather to accept the Best Actor award for The Godfather in his place. She asked for better treatment of Native Americans—something that is still being asked 44 years later at Standing Rock. These speeches are not only a sign of history repeating itself, but also how long it takes history to right its wrongs. It wasn't until 2002 that a woman of color won Best Actress, but then in 2015, there were no women of color nominated, leading to the social media campaign #OscarsSoWhite. Plus, Michael Moore's speech about the Bush era being "fictitious times" sounds a lot like the fake news we're dealing with now.
There's a lot to learn from political Oscar speeches of the past—also the fact that people used to boo, which is perhaps something we should bring back. Below, watch 10 Oscar speeches of the past that got political.
1. Marlon Brando on Native American rights, Best Actor, The Godfather, 1973
Marlon Brando was one of the first to defy Oscar conventions when he boycotted the 1973 ceremony, where he won Best Actor for his performance in The Godfather. To accept the award of his behalf, he sent Native American activist Sacheen Littlefeather, who took the stage and read one part of his very long speech, which she read in full for the press following the ceremony. "He very regretfully cannot accept this very generous award," Littlefeather read, "and the reasons for this being the treatment of American Indians today by the film industry and on television in movie re-runs, and also with recent happenings at Wounded Knee." Reportedly, Jada Pinkett Smith wrote to Littlefeather last year to tell her that watching the below clip of her speech inspired her boycott of the 2016 Oscars, the year of #OscarsSoWhite.
2. Vanessa Redgrave on the Israeli–Palestinian conflict, Best Supporting Actress, Julia, 1978
English actress Vanessa Redgrave was outspoken about her pro-Palestine stance in the '70s, and many boycotted Julia, a film about two female friends combatting Nazis in the years leading up to World War II, as a result. There was even a campaign by the The Jewish Defense League to keep her from winning at the Oscars. But when she did, regardless, she addressed the controversy directly in her speech, receiving both boos and cheers. "We believed in what were expressing," she declared, referring to her co-star, Jane Fonda. "Two out of millions gave their lives and were prepared to sacrifice everything in the fight against fascist and racist Nazi Germany. I salute you and pay tribute to you and think that you should be very proud that in the last few weeks, we have stood firm and refused to be intimidated by the threats of a small bunch of zionist hoodlums, whose behavior is an insult to the statute of Jews all over the world and to their great and heroic record of struggle against fascism and oppression."
3. John Irving on Planned Parenthood, Best Adapted Screenplay, The Cider House Rules, 2000
John Irving's novel, The Cider House Rules, which he later adapted for the film, is story about a young man named Homer, who is under the tutelage of an obstetrician/abortionist and eventually comes around to learn and accept his practices. "I'd like to thank the Academy for this honor to a film on the abortion subject and Miramax for having the courage to make this movie in the first place," said Irving in his speech. He then ended with a shout-out to "everyone at Planned Parenthood and the National Abortion Rights League," something no one had ever done before him.
4. Halle Berry on race, Best Actress, Monster's Ball, 2002
In perhaps one of the most memorable Oscar speeches of all time, actress Halle Berry became the first black woman to win Best Actress in 2002. (Yes, that's right, 2002!) And there was not a dry eye in the room (or for viewers at home) when she took the stage. "This moment is so much bigger than me," she said through gasps of air. "This is for Dorothy Dandridge, Lena Horne, and Diahann Carroll. It's for the women who stand beside me, Jada Pinkett and Angela Bassett and Vivica A. Fox. It's for every nameless, faceless woman of color that now has a chance because a door tonight has been opened." Then, flash-forward to 2016, the year of #OscarsSoWhite, when Pinkett Smith boycotted the ceremony because not a single woman of color was nominated in the category.
5. Michael Moore on George W. Bush, Best Documentary Feautre, Bowling for Columbine, 2003
Never one to shy away from speaking his mind, documentarian Michael Moore took to the stage to shame President George W. Bush, literally. "We like nonfiction and we live in fictitious times," he said of why he won. "We live in a time when we have fictitious election results that elect a fictitious president. We live in a time when we have man sending us to war for fictitious reasons…We are against this war, Mr. Bush! Shame on you, Mr. Bush!" Needless to say, this sounds a lot like the "fake news" we're dealing with today under president Donald J. Trump.
6. Dustin Lance Black on LGBT rights, Best Original Screenplay, Milk, 2009
It's no surprise that political speeches were made about Milk, the story of Harvey Milk, who was the first openly gay politician to be elected to public office in California. When Sean Penn won Best Actor for his performance, he took a stand for LGBT rights. But the most moving speech came from writer Dustin Lance Black, who had a personal connection to Milk. "When I was 13-years-old, my beautiful mother and my father moved me from a conservative Mormon home in San Antonio, Texas to California and I heard the story of Harvey Milk," he said. "And it gave me hope. It gave me the hope that one day I could live my life openly as who I am and that maybe I could even one day fall in love and get married…If Harvey had not been taken from us 30 years ago, I think he'd want me to say to all the gay and lesbian kids out there tonight who have been told that they are less than by their churches or by the government or by their families, that you are beautiful, wonderful creatures of value and that no matter what anyone tells you, God does love you and that very soon, I promise you, you will have equal rights federally across this great nation of ours."
7. Laura Poitras on the NSA, Best Documentary Feature, Citizenfour, 2015
Documentarian Laura Poitras thanked Edward Snowden and all the "courageous" whistleblowers out there when she accepted her award. "The disclosures that Edward Snowden revealed don't only expose a threat to our privacy, but to our democracy itself," she said. "When the most important decisions being made effecting all of us are made in secret, we lose our ability to check the powers that control."
8. Patricia Arquette on equal pay and women's rights, Best Supporting Actress, Boyhood, 2015
You know you've given a good speech when Meryl Streep stands up and cheers you on. Patricia Arquette really said it all in her speech, starting with a shoutout to Givelove.org and "every woman who gave birth" that year. She then ended on a rousing note: "It's our time to have wage equality once and for all and equal rights for women in the United States of America."
9. Common and John Legend on civil rights, Best Original Song, Selma, 2015
This being the only award that Selma took home at the 2015 Oscars, which unsurprisingly was the year of #OscarsSoWhite, Common and John Legend had a lot to say. Common began by using the historic bridge in Selma as a metaphor to connect all the fights for civil rights happening around the world. "The spirit of this bridge transcends race, gender, religion, sexual orientation, and social status," he said. Then Legend addressed specific issues in the United States that still remain. "Nina Simone said it's an artist's duty to reflect the times in which we live," he said. "We wrote this song for a film that was based on events over 50 years ago, but we say that Selma is now because the struggle for justice is right now." He then went on to talk about voting rights as well as mass incarceration, citing that there are more black men incarcerated today than were under slavery in 1850. His parting note: "March on."
10. Leonardo DiCaprio on global warming, Best Actor, The Revenant, 2016
It's no secret in Hollywood that Leonardo DiCaprio is passionate about the environment, and his win for The Revenant was the perfect vehicle through which he could address global warming, as it is a film that takes place almost entirely in America's scenic Western landscape. "Climate change is real, it is happening right now," he said matter-of-factly. "It is the most urgent threat facing our entire species, and we need to work collectively together and stop procrastinating."
Oscars Red Carpet: The 21 Most Memorable Dresses of All Time 

Speaking of Galliano: At the 69th Annual Academy Awards in 1997, Nicole Kidman would forever change red carpet dressing by sporting one of his designs for Dior, a flawless, devastating silk gown in iridescent chartreuse that immediately appalled Joan Rivers and upstaged Tom Cruise.
Cher at the 45th Annual Academy Awards in 1973 wearing a bedazzled crop top.
Anjelica Huston at the 58th Annual Academy Awards in 1986 wearing a one-sleeve emerald green dress.
Madonna at the 63rd Annual Academy Awards in 1991 wearing Bob Mackie and $20 million worth of Harry Winston diamonds.
Sharon Stone at the 70th Annual Academy Awards in 1998 wearing a Gap shirt paired with a Vera Wang skirt.
Cate Blanchett at the 71st Annual Academy Awards in 1999 wearing a sheer John Galliano dress with an open back.
Celine Dion at the 71st Annual Academy Awards in 1999 wearing a Dior tuxedo backwards.
Halle Berry at the 74th Annual Academy Awards in 2002 wearing a sheer Elie Saab gown.
Marion Cotillard at the 80th Annual Academy Awards in 2008 wearing Jean Paul Gaultier couture.
Charlize Theron at the 82nd Annual Academy Awards in 2010 wearing Dior.
Angelina Jolie at the 84th Annual Academy Awards in 2012 wearing Atelier Versace.
Gwyneth Paltrow at the 84th Annual Academy Awards in 2012 wearing a Tom Ford cape.
Lupita Nyong'o at the 86th Annual Academy Awards in 2014 wearing Prada.
Barbra Streisand at 41st Annual Academy Awards wearing sequin see-through bell bottom pants with a matching top.

ABC Photo Archives
Diane Keaton at the 76th Annual Academy Awards wearing three-piece menswear-inspired suit with bowler hat.
Hilary Swank at the 77th Annual Academy Awards wearing backless Guy Laroche gown.
Penelope Cruz at the 79th Annual Academy Awards wearing an Atelier Versace gown.
Jennifer Lawrence at the 83rd Annual Academy Awards wearing a red Calvin Klein Collection dress.

Jeffrey Mayer
Lady Gaga at the 88th Annual Academy Awards wearing new designer Brandon Maxwell.
Jennifer Lopez during The 75th Annual Academy Awards, donning an unexpected mint hue.

J. Vespa/Getty Images
In 2018, Rita Moreno walked the Oscars red carpet in the same black and gold gown she wore to the Oscars in 1962.

Dan MacMedan
I Am an Immigrant: 81 Fashion Celebrities Issue a United Political Statement
I Am an Immigrant: 81 Fashion Celebrities Issue a United Political Statement