Yes, There's Already Some Oscars Drama Brewing
A Glenn vs. Olivia rematch?
---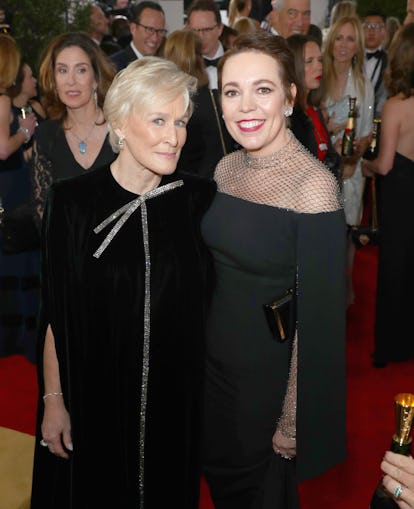 Here's the bad news about this year's Oscars situation: There will likely be no box office breaking blockbusters in contention; it's far too early yet to guarantee that there will be anything like a normal red carpet; and, sadly, there will be nothing for Timothée Chalamet (both his films originally slated this year have been pushed back).
Here's the good news: Thanks to relaxed qualification rules, it will be easier than ever to see all the nominated films from the comfort of your own home; some major history may be made; and there's a possibility of a rematch harkening back to recent Oscars history's biggest upsets.
In other words, what the 2021 ceremony may lack in appeal for casual viewers, it certainly makes up for with the potential to send awards show and film nerds into overdrive.
In case you're wondering, yes, the ceremony plans to go on. Though, it's been pushed back to April 25, 2021 and in an unprecedented move, the eligibility period now includes films released in January and February of next year. Many films first released to streaming or video on demand will still be eligible as long as they do end up making a qualifying run in theaters, but even those rules have been relaxed (for example, a film could play for a week in a drive-through theaters in the suburbs of Miami to meet the requirements).
While there's still some questions as to which films will ultimately be released or temporarily shelved, some particularly intriguing narrative are already taking shape.
An Olivia vs. Glenn Rematch?
Glenn Close, the most nominated living actor to never actually win, was considered the safe favorite to win Best Actress back in 2019 for her work in The Wife. Then, in the shock of all shocks, Olivia Colman walked away with the award for The Favorite, even though many considered Emma Stone and Rachel Weisz the true leads of that film.
Well, Oscar prognosticators are now predicting a rematch, this time in the supporting category. Colman is tipped for her work in The Father. The film, which stars Anthony Hopkins as a man dealing with the onset of dementia, premiered to rave reviews at Sundance earlier this year, and has already won awards for both Colman and Hopkins on the festival circuit (or at least what remains of it).
Close, meanwhile, will co-star in Netflix's Hillbilly Elegy. But the buzz around her possible nomination could be chocked up to reputation alone: No one in the press or public has seen the film yet. The project has quite the pedigree, though. It's based on J.D. Vance's best-selling memoir, is directed by Oscar winner Ron Howard, and also stars Amy Adams, Frieda Pinto, and Haley Bennett. Netflix is also positioning it as one of its major awards contenders with a release set for fall.
Female Directors of Color Could Have a Major Year
It feels painful to point out once again that only five women in history have ever been nominated for Best Director, and none of them have been women of color. Well, that could change in a major way this year. Regina King (yes, that Regina King) is making her directorial debut with One Night in Miami, which is essentially a Muhammad Ali origin story, and it's already been received warmly at film festivals.
The same can be said for Chloé Zhao and her film Nomadland. Starring Frances McDormand (who's likely to score a Best Actress nomination), it's currently the best reviewed film of the year based on festival reactions, according to Metacritic.
That's two women of color who are already deep into the conversation of the Best Director race.
Chadwick Boseman Could Receive A Posthumous Nomination (If Not Two)
It felt like only a matter of time until Chadwick Boseman got his first Oscar nomination, and there's a possibility that he could end up with two posthumously. Boseman is in contention for Supporting Actor for his role in Spike Lee's Da 5 Bloods, but could also be recognized for his role in Ma Rainey's Black Bottom (though Netflix has yet to confirm its release strategy for the film).
The Best Actress Race is Already Stacked
Two-time winner Frances McDormand is already considered a nomination lock for Nomadland, but she could be joined by Viola Davis for Ma Rainey, Kate Winslet for Ammonite, and Adams for Hillbilly Elegy. Talk about leading ladies. Though, performances by the likes of Vanessa Kirby, Jennifer Hudson, Michelle Pfeiffer, Elisabeth Moss, and even the legendary Sophia Loren are in play. It's also possible that Meryl Streep may be able to sneak in for her lighthearted role in Ryan Murphy's The Prom as well.
Maybe We'll Finally Acknowledge Diane Warren?
You think Glenn Close is overdue? Honey, songwriter Diane Warren has been nominated 11 times for Best Original Song and never won. This year, she has two songs eligible ("Free" from Disney's The One and Only Ivan and "lo Si" from Netflix's The Life Ahead). With Billie Eilish's James Bond theme now out of contention until next year, the category is currently wide open.
Related: Hollywood's Blockbuster Pandemic Push Isn't All Bad