Outdoor Voices Founder Tyler Haney On How to Stay Glowing
In honor of the her new flagship store in Manhattan's Nolita neighborhood, the 28-year-old entrepreneur shares what she eats, drinks, and wears to feel her best.
---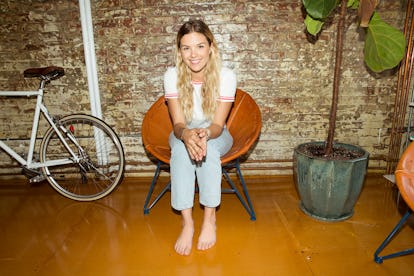 Photo courtesy of Into the Gloss
Upon graduating from the Parsons School of Design in 2011, Tyler Haney was determined to rethink athleisurewear. In 2013, she did just that, with the launch of her line Outdoor Voices, a collection of muted-colored leggings, sports bras, hoodies, and shorts, which reflected her playful, no-stress approach to fitness. Haney's designs offered a reprieve from an oversaturated market of neon leggings and skin-tight racerback tops. "I try to do everything in moderation and not worry about being perfect – nobody is, anyway," says the 28-year-old Colorado-native, who's workout philosophy is simply about "doing things," rather than that 7:15 a.m. back-breaking TRX class.
This week, the OV team opened their flagship store in New York's Nolita neighborhood, where their dedicated fan base (from Lena Dunham and Gwyneth Paltrow to Chloe Grace Moretz) can shop for workout wear in addition to Frisbees, dog leashes, yoga blocks and jump ropes.
In honor of the occasion, Haney gives us her inside tricks and tips to how she stays active, calm, and glowing in the big city, from her daily walk through Chinatown with her dog to jumping jacks.
Favorite workout in New York It's a tie! Sky Ting Yoga is the dreamiest with yoga angels Krissy and Chloe. Also, I love love love dog walking. Every morning starts with a walk around Chinatown with my pup pal, Tony. Getting up and moving helps me feel energized and centered for the rest of the day.
Go-to Outdoor Voices workout outfit The ¾ Two-Tone Warmup Leggings in Charcoal and Navy and the Navy Athena Crop has always been my go-to outfit. It's my uniform for activity, good for whatever I end up doing. I also like to pair natural fibers like merino wool with technical synthetics.
Pre-workout meal Two Hands—it's a little cafe on Mott Street in the same neighborhood as the OV office. I order the My Way smoothie and inevitably end up leaving with blueberries stuck in my teeth.
Post-workout meal I split my time between New York and Austin, so if I'm in Austin, a trip to Las Trancas for tacos is my favorite way to wrap up a jog. In New York — that beautiful carrot sandwich from The Smile To Go.
Favorite energy boost Jumping jacks. Seriously, for a midday pick-me-up get your booty up for 100 jacks. Helps to change the chemistry and get your blood pumping.
Favorite music to work out to Krissy and Chloe from Sky Ting have the best playlists. They're [public] (https://open.spotify.com/user/1238086012%29) on Spotify.
Favorite juice bar Lately, I've been obsessed with the Tocos Vitamin Latte, which is great for keeping your skin healthy.
Beauty from the inside out Biotin! I used to ride horses when I was younger, and we'd feed them Biotin for shiny manes and tails. Turns out it works for people too. I also love the natural glow I get from being active. There's color in my cheeks and I feel better overall, which I think shows.
Makeup for a night out I'm really into natural products that enhance my skin instead of covering it up, and use everything from Dr. Pratima Raichur's line, Pratima. My night out routine is really minimal. A glass of water and eye drops make a big difference. Whiter, bright eyes make your whole face look fresher. I like the Bébisol Sérum Physiologique individual drops, and they're great to throw in my bag.
Favorite New York restaurant for a healthy meal I love Sweetgreen for a quick, everyday lunch (the Hummus Tahina salad is my favorite) and we're lucky there's one less than a block away from the office.
Favorite outdoor extreme sport Right now, it's road biking. I recently bought a bike in Austin and have been dipping my toes into real riding. I've got to say the outfit is half of the fun. I've also been taking this dance class in New York called Moves taught by my friend Marisa Competello. It's extreme only in that I'm very much a beginner, so it's new! And also hard! And shaking my booty to the beat often isn't at all to the beat. It's fun and extreme.
Best health or beauty advice A little round is sound! I try to do everything in moderation and not worry about being perfect (nobody is, anyway).
Favorite way to unwind Legs up against the wall for 15 minutes each night. It's an old cross-country trick and super calming for the nervous system. Also, much better with a friend next to you.
Visit Outdoor Voices, at 251 Centre Street, New York, NY 10013