Overheard at Art Basel Miami Beach
We eavesdropped on art shoppers, art handlers, drunk people, and everyone waiting to take pictures with the famous banana.
---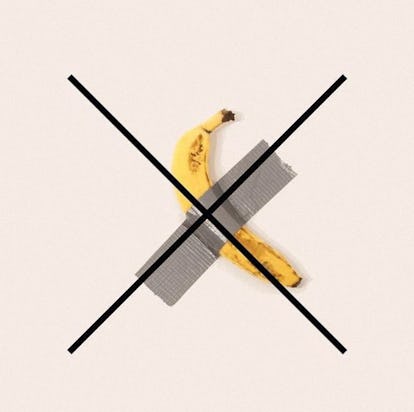 Instagram/@galerieperrotin
Each year in early December, hordes of winter-pale New Yorkers descend upon Miami Beach for the Art Basel art fair and its associated events (namely a lot of parties sponsored by fashion brands and alcohol companies). Miami, perhaps the only sexy city in America, becomes choked with traffic and filled to the brim with depressed gallery workers, Botox-tightened art collectors, supermodels with glowing clavicles, celebrities in baseball hats, and writers clutching press passes with carpal tunnel-ridden hands. Heels clack everywhere, plantains are plentiful, and the art world's baser capitalistic impulses are unveiled beneath eighties neon and a creamy blue sky.
A trip to Art Basel is ostensibly for the art–and the copious free cocktails. But people watching is one of the very best aspects of the fair. The clothes are way more fun than the clothes in New York, and the people are generally beautiful, and it's fun to see how out-of-towners style their hair in the humidity. And then there's the eavesdropping. Art Basel, while riddled with DJs who seem to have very little understanding of the limits of the human eardrum, is full of events with very long lines. There are a lot of opportunities to listen to people talk about their yachts (one parked close to this writer's hotel was called the "Seas the Day") and purchases and frustrations with their art world jobs. Here's what we heard. There was a lot of talk about The Banana.
"There are so many rich people here! The motherfucking founder of fucking Scope is here! Yes, motherfucker, the mouthwash!" – an enthusiastic man with minty breath shouting into a cell phone at Diesel's party at La Otra.
"You won't get in with a baseball hat, darling." – a gentleman in pinstripes delivering patently false information to a Timothée Chalamet-type in a Supreme hat and a Noah zip-up waiting in line for Diplo and Idris Elba's show at the basement club of the Miami Beach EDITION.
"You can always tell who works at a gallery when you're in Miami, because all the art world guys look sickly compared to the other guys. Sickly in like, a hot way." – a wise woman lying in a hammock in the yard outside the NADA fair at Ice Palace Studios.
"I love pissing out champagne." – a confident white teenager in sagging jeans, swigging a half-full bottle of Ruinart while strutting through the Art Basel fair.
"Every middle-aged man in Miami has Mohamed Hadid's exact blowout." – a reporter on her third mysteriously Dr. Manhattan-esque glowing blue cocktail at a party for a sculptor by the pool at the Standard Spa.
"I want it to taste like it's for an Earth sign, you know?" – a woman in full Pleats Please by Issey Miyake at a make-your-own-whiskey station at a reception at the Pérez Museum honoring museum director Franklin Sirmans, hosted by Dapper Dan.
"Oh my god, baby, no! No! Stop!" – a mother screaming at her toddler, who was grabbing at the Raymond Pettibon drawings outside the David Zwirner booth while having what could have been a very expensive temper tantrum.
"This is a troll with no merit whatsoever. What an absolute sham. I wouldn't wait for this, but I could really use the engagement. You understand, don't you?" – a British guy speaking to his completely silent girlfriend while waiting in line to take a photo with Maurizio Cattelan's $120,000 banana, duct taped to a wall at Galerie Perrotin's Art Basel booth.
"The banana is ruining my life! Ha!" – a tortured Perrotin assistant who said "ha" without laughing, a perky ponytail belying her acute emotional pain.
"Everyone is making a big deal about the guy who ate the banana, but it really doesn't matter. There have been five bananas! The original one is sitting in the mini fridge at the art handler's Air BnB. Maybe they'll eat it." – a characteristically hot and stylish art handler (everybody loves an art handler) for a different blue chip gallery, holding court in a bathroom line.
Miami Parties: Gucci Mane, Michèle Lamy, Rosario Dawson, Diplo & Many More Celebrate at Art Basel
Iggy Pop attends the Gucci and Snap private party featuring the debut of Harmony's Korine's New Film, Duck Duck, on December 4, 2019 in Miami.

Benjamin Rosser,Vikram Valluri
Alessandro Michele and Jared Leto attend the Gucci and Snap private party featuring the debut of Harmony's Korine's New Film, Duck Duck, on December 4, 2019 in Miami.

Benjamin Rosser,Vikram Valluri
Gucci Mane, Keyshia Ka'Oir and Jared Leto attend the Gucci and Snap private party featuring the debut of Harmony's Korine's New Film, Duck Duck, on December 4, 2019 in Miami.

Mike Vitelli/bfa.com
Luka Sabbat and Chloe Sevigny attend the Gucci and Snap private party featuring the debut of Harmony's Korine's New Film, Duck Duck, on December 4, 2019 in Miami.

Benjamin Rosser,Vikram Valluri
John Yuyi attends the Gucci and Snap private party featuring the debut of Harmony's Korine's New Film, Duck Duck, on December 4, 2019 in Miami.

Benjamin Rosser,Vikram Valluri
Keenyah Hill attends the Gucci and Snap private party featuring the debut of Harmony's Korine's New Film, Duck Duck, on December 4, 2019 in Miami.

Benjamin Rosser,Vikram Valluri
Tyler Billinger and Harry Nuriev attend the Gucci and Snap private party featuring the debut of Harmony's Korine's New Film, Duck Duck, on December 4, 2019 in Miami.

Benjamin Rosser,Vikram Valluri
Diana Morrison and Alex Gartenfeld attend the ICA Miami x Edition Hotel party in celebration of the Sculpture Prize Winner Damien Ortega on December 4, 2019 in Miami.

Darian DiCianno/BFA.com
Damien Ortega, Diana Morrison and Jonathan Kendall attend the ICA Miami x Edition Hotel party in celebration of the Sculpture Prize Winner Damien Ortega on December 4, 2019 in Miami.

Darian DiCianno/BFA.com
Jonathan Anderson attends the Loewe Chance Encounters V Opening Cocktail party at Art Basel Miami on December 3, 2019.

Matteo Prandoni/BFA.com
Paris Hilton attends as DIESEL celebrates the exclusive launch of DIESEL Wynwood 28, their first residential building, with a DJ set by Amrit at Barter on December 04, 2019 in Miami, Florida.

Craig Barritt/Getty Images for Diesel
Christian Combs and Nasir Dean attend the Soul of FENDIFrenesia celebrations with FENDI on December 4, 2019 in Miami.

Marc Patrick/BFA.com
Craig Robins attends the Soul of FENDIFrenesia celebrations with FENDI on December 4, 2019 in Miami.

Marc Patrick/BFA.com
Alexa Geovanos, Madelynn Furlong attend the celebration for the Chloe x Bass Museum: ABMB 2019 on December 3, 2019 in Miami.

Darian DiCianno/BFA.com
Larsen Thompson attends the celebration for the Chloe x Bass Museum: ABMB 2019 on December 3, 2019 in Miami.

Darian DiCianno/BFA.com
Sebastien Leon attends Gemfields's Design Miami 2019 celebration on December 3, 2019 in Miami.

Ryan Kobane/BFA.com
Yola Jimenez and Lykke Li attend the Yola Mezcal Miami launch with Beats by Dre on December 3, 2019.

Sansho Scott/BFA.com
Daniel Lismore attends the Dean Collection party in celebration of the King of Arms Art Ball by Rashaad Newsome on December 4, 2019 in Miami.

Jocko Graves/BFA.com
Michèle Lamy attends the Dean Collection party in celebration of the King of Arms Art Ball by Rashaad Newsome on December 4, 2019 in Miami.

Jocko Graves/BFA.com
Rashaad Newsome, Father Cash and Derrick attend the Dean Collection party in celebration of the King of Arms Art Ball by Rashaad Newsome on December 4, 2019 in Miami.

Jocko Graves/BFA.com
Sasha Bikoff attends the VERSACE x Sasha Bikoff South Beach Stories event in Miami.

Courtesy of WRE
Francois Laffanour and Kris Van Assche attend the Berluti + Laffanour Galerie cocktail party on December 5, 2019 in Miami.

Ben Rosser/BFA.com
Kris Van Assche and Ricky Martin attend the Berluti + Laffanour Galerie cocktail party on December 5, 2019 in Miami.

Ben Rosser/BFA.com
Diplo attends Dom Perignon's Last Supper party hosted by Lenny Kravitz & Alan Faena on December 5, 2019 in Miami.

Benjamin Lozovsky/BFA.com
Jordan Barrett attends Dom Perignon's Last Supper party hosted by Lenny Kravitz & Alan Faena on December 5, 2019 in Miami.

Benjamin Lozovsky/BFA.com
Lenny Kravitz and Alan Faena host Dom Perignon's Last Supper party on December 5, 2019 in Miami.

David X Prutting/BFA.com
Rosario Dawson attends Dom Perignon's Last Supper party hosted by Lenny Kravitz & Alan Faena on December 5, 2019 in Miami.

Benjamin Lozovsky/BFA.com
Sean Penn and Alan Faena attend Dom Perignon's Last Supper party hosted by Lenny Kravitz & Alan Faena on December 5, 2019 in Miami.

David X Prutting/BFA.com