Allow Paapa Essiedu's Call Me By Your Name Homage to Give You Chills
The I May Destroy You actor performed a haunting rendition of a flirty, facetious scene from Luca Guadagnino's Call Me By Your Name for Persol.
---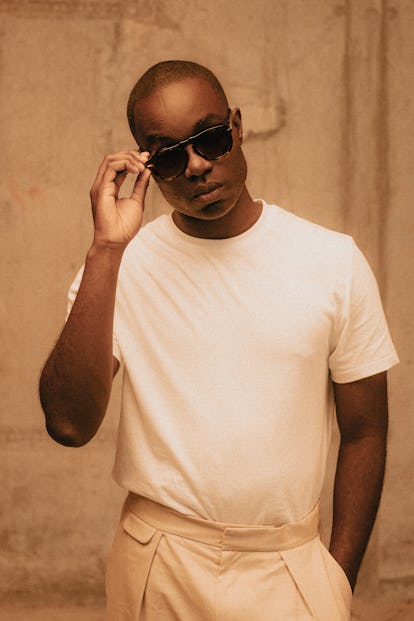 Paapa Essiedu. Image courtesy of Persol.
For those who watched I May Destroy You this summer and have been waiting with bated breath for its star Paapa Essiedu—who plays Arabella's kind-hearted, soft-spoken best friend Kwame on the British television series—to appear on screen again, you won't have to wait much longer.
The Shakespearean actor brings his theater background to the forefront of a new short film by Persol, the Italian luxury sunglasses brand. In the short, Essiedu performs a haunting rendition of an iconic dialog between Call Me By Your Name's fateful young lovers Elio and Oliver (played in the film by Timothée Chalamet and Armie Hammer, respectively). The actor impressively portrays both roles in his version of the scene.
The scene takes place at a point in the film when Elio tries to impress Oliver with his knowledge about "one of the most lethal battles of World War I" and is met with flirty, facetious inquisitions by the secret object of his affection.
It's quite an appropriate nod to the Oscar-nominated film, in which both Elio and Oliver wear Persol frames at various points throughout, and bicycles are driven from here to there around the Italian countryside. When Essiedu is performing in Persol's short film as Elio, he wears a titanium pilot shape frame and when he's performing as Oliver, he dons the same Persol 649 pair that Hammer wears in Luca Gaudagnino's critically acclaimed film.
These renditions of new classics are part of a big moment for the actors who broke out on I May Destroy You. Earlier this month, a similar spot aired with Essiedu's I May Destroy You costar, Weruche Opia, who paid homage to Martin Scorsese's The Irishman by impersonating Robert De Niro (and keeping up her best East Coast Italian-American accent throughout).
Related: Timothée Chalamet Will Officially Return For Call Me By Your Name's Sequel