Please Don't Slide Into Paige Hurd's DMs With the Eyes Emoji
The actress, who stars in the new show "Ghost" alongside Mary J. Blige and Method Man, shares her tips for social media etiquette.
---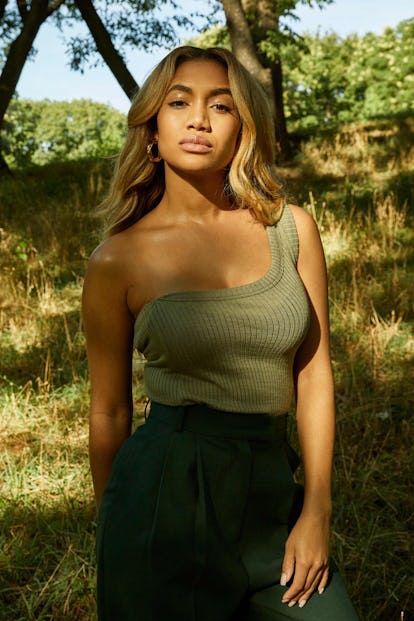 Paige Hurd photographed by Victoria Stevens.
The actress Paige Hurd's first stages were restaurant foyers. When she and her family went out to eat in her hometown of Dallas, Hurd would perform while they waited to be seated. She'd dance and sing and tell stories—and other diners started to take notice. They'd send free desserts and Shirley Temples to her table. "My mom was like, 'Hmm, well, okay,'" Hurd said on a recent afternoon from her place in Brooklyn. She was in New York filming the new show Ghost, a spinoff of the hit Starz show Power, in which she plays Lauren, a classmate of Tariq St. Patrick's (Michael Rainey Jr.) at the prestigious, fictional Ivy League university Stansfield. "By the time I was five years old, I was in J.C. Penney print catalogues and mall runway shows."
Hurd, whose IMDb page is already fairly lengthy, had small roles in Barbershop, ER, and even as Justin Bieber's love interest in his "Never Let You Go," music video. But if you find that the 28-year-old actress looks familiar, it's probably because you watched her on the seminal sitcom Everybody Hates Chris. Although that show filmed over 10 years ago, Hurd still remembers her "last-minute audition."
"It was my birthday week and I remember being like, 'Do I have to go?'" she said. "I'm young, I'm probably 14 going on 15, just trying to enjoy my teenage years. But I got it, and that was a whole new world. That was my first time ever working with peers, kids my age. Prior to that, I had been working on sets with adults, where I was the only kid. That was such a pivotal moment, and turning point for me."
Ghost could very well be the next major breakout moment for Hurd; the Power universe is home to a rabid fanbase. If her social media presence is any indication—Hurd is closing in on 800,000 followers on Instagram, and 85,000 on Twitter—Lauren could emerge as a central and beloved character on the show, which premiered this week. Below, Hurd discusses her presence online: keeping haters at bay, fielding Emoji DM slides, and why putting her phone out of sight is so important.
How did you decide what your Instagram handle would be?
Everybody asks me that. When I finally got to Instagram, I was late—I had no idea what it was. Every Paige Hurd was taken, but they were fake pages of me. Not knowing how big of a platform Instagram would be, I jokingly was like, "Okay, @thugginn." I thought I would surely change it to Paige Hurd one day, but it just stuck. People come up to me and ask me, "Why is that your name?" And they'd be really offended. I'd be like, "I just liked it. So I'm going to keep it."
Do you remember your first Instagram post?
My first Instagram post was actually a picture of a purse. This was back when Instagram had their first filters out—and they were dark, dark. That was actually on a different page that I got locked out of.
Reels or TikTok?
I'm going to have to say TikTok, they're the originator. I don't watch them, but I would go with them.
So you're not a TikTok head.
No, I've never even downloaded the app. My niece and nephews tell me what it is, and then I see it on Instagram. But they're the same, right? Reels and TikTok? I mean I know it's different, but—
They are pretty much the same.
Right. I figured. Let's go with the originator, TikTok, because that's their thing.
What's your favorite social media platform?
I like Twitter because you can find all the funny stuff there. I think that's where most of the gifs are, the memes, the things that go viral.
Filter or no filter?
I like a very light one. I know that's not an option, but a light filter.
What is your favorite thing to post?
Bible verses on my story every morning.
Describe yourself using three Emojis.
The little sad one—the cute, new one. Its eyes are black.
The one whose eyes look like they're welling up?
Yes, him. The little loving one with the hearts on it, and a giraffe.
Why a giraffe?
Giraffes are my favorite animal.
What are your social media pet peeves?
I hate too many hashtags. That is a huge pet peeve. I cannot stand when people take FaceTune to the max, to their point where their faces become blobs of blur. And I hate when people blow up your comments section.
How do you block out the haters online?
Honestly, I post and go. I don't even have time. I don't read the hate because I just don't want to argue. I don't want to go back and forth. I try my best to post, respond to the people who send me love, and ignore the rest.
Not engaging with the trolls is probably the best approach.
I've learned the hard way.
What's the best way to slide into someone's DMS, especially if you're into that person?
I'm going to tell you the way you should not slide in my DMs: do not send me the eyeballs Emoji—because what am I supposed to say to that? What am I supposed to do, look back at you?
But if you are going to slide into somebody's DMs, I would have something nice to say. A nice compliment—whatever you do say, you want to leave the conversation open for the person to answer, because there's no point in opening a DM just to say thank you or to send an Emoji back. Say something cute, but also have your intentions set and clear, because once I respond, the conversation needs to keep flowing.
I feel like I thought about that too much. That answer was a little too well thought-out.
Clearly people are just sliding in your DMS way too much.
There are some times when there'll be somebody cute, but they don't say anything! I hate when guys do that.
Do you ever respond to DMs?
Sometimes I do, if they're nice.
Do you follow exes or block them?
Normally, I don't block. You have to be really toxic to get blocked.
Is there anything that you would never post?
There are just a couple things that I just don't think are necessary. I think when giving back—if it's not an event or a specific organization—I'm never going to post myself giving to the needy or less fortunate. Things like that, where I wouldn't want anybody's camera in my face if I needed something. And anything that puts people down, or anything that's negative.
How do you unplug?
It's so hard right now, especially with quarantine, because you just keep scrolling and scrolling and scrolling. But how I unplug is by really having to make myself put the phone down. I find a book to read. I catch up with family, go through some pictures, try and get some work done. But that definitely requires trying to just throw [my phone] to the side, away from me.
Related: A Black Lady Sketch Show's Quinta Brunson Considers Her DMs to Be a "Graveyard"