Just Give Pam Grier a Biopic Already
The '70s icon wants a biopic, and she certainly deserves one.
---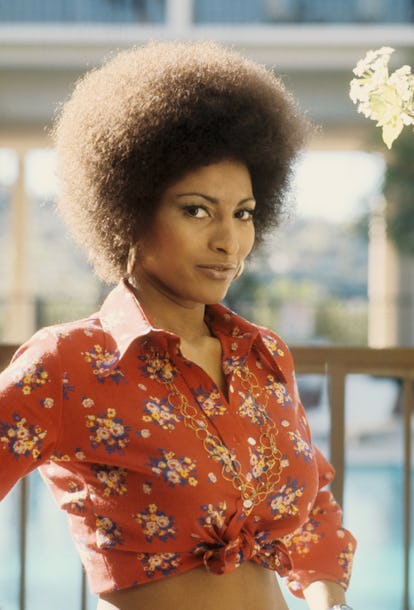 Image courtesy of Getty Images.
It's hard to believe that a '70s icon and sex symbol like Pam Grier has yet to receive the biopic treatment, but the actress herself is crowdsourcing a few ideas for the surely inevitable film based on her life.
First, the Foxy Brown star has put out into the ether the name of a director she'd want attached to the project—and it's not Jackie Brown helmer Quentin Tarantino. Instead, Grier would like to see Ava DuVernay direct her biopic.
The treatment, according to Grier's Twitter fantasy, could go a little something like this: a '70s woman puts herself before "a man's fame & fortune" and focuses on finding her own agency and self-empowerment in a patriarchal society. The soundtrack would be anachronistic, but there would ideally be music from Missy Elliott (of whom Grier has expressed she is a big fan), Alicia Keys, and of course, Cardi B. Of course, there would also have to be a scene in which real-life friends Grier and Cleopatra Jones star Tamara Dobson would strut down Rodeo to "Skin Tight" by the Ohio Players.
Grier's career is far from over—after her Blaxploitation debut she went on to star in Miami Vice, Jackie Brown, Bill & Ted's Bogus Journey, Mars Attacks!, The L Word, and most recently the ABC sitcom Bless This Mess—so any film about her life would have five decades of material to work with for the story.
A film about Grier—who was in the spotlight in the '70s and '80s as much for her performance in Blaxploitation films as she was for her high profile relationships with Freddie Prinze, Richard Pryor, and Kareem Abdul-Jabbar—would have to dip into romance territory.
She has already said she wants former Saturday Night Live cast member Jay Pharaoh to play Pryor, whom she began dating after both were cast in the 1977 film Greased Lightning and helped achieve sobriety. "I watched him and heard his voice and closed my eyes and said, 'It's Richard,'" she said about the first time she met Pharaoh while they recorded character voices for a video game.
The relationship was an integral part of Grier's life, however, if brought to the silver screen, there's one anecdote that the director of this film absolutely cannot forget to incorporate into a scene: Pryor's infamous drug fueled sex that (allegedly, according to her memoir) left Grier with a cocaine buildup inside of her.
Then, of course, there is the question of casting the icon herself. Right now, there are no leads, and she has not dropped any hints regarding who she would want to play her in the film, but knowing Grier, she'll probably Tweet some more ideas when they come to her.
Related: Quentin Tarantino's Favorite Movies From 1979 Should Be Next on Your Quarantine Watchlist