Pamela Adlon Has the Recipe for Staying Sane During a Pandemic
The Better Things creator and star recommends making comfort food, being resourceful in the kitchen, and of course, drinking water.
---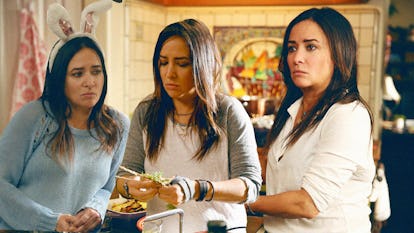 Photos courtesy of FX Network
When I first called up Pamela Adlon, it was my ninth day of quarantine. The anxiety of adjusting to the "new normal" of remaining socially distant from friends and family while the coronavirus rapidly spreads throughout New York City had already settled in pretty deeply. I figured, if anyone would have some wise tips about keeping one's sanity when stuck inside the house for an indeterminate amount of time surrounded by a handful of people, it would be Adlon, who has mined her personal life for some of television's sharpest content.
Better Things is Adlon's television series based on her real life as a child actor turned adult actor-director. As the character Sam Fox, Adlon lives with three daughters (based on her real daughters, Gideon, Odessa, and Rocky, the elder two of which are also actors now) in Southern California. Frequent interruptions into Sam's day-to-day come from her British mum, Phil, who lives next door.
The series is in the middle of its fourth season on FX, and after all these years, the controled chaos inside of the Fox household never ceases to entertain. You have to imagine that Adlon's real house must be a similar cacophonous symphony of teenagers, dogs, clanging pots and pans. And honestly, when Adlon answered the phone, it kind of was.
The very first thing Adlon told me was that she had almost broken her hand trying to release some brown sugar in the pantry. "It's a brick," she shouted in her signature rasp, which has given life to a bevy of animated characters over the years that you may recognize, like Bobby from King of the Hill or Spinelli from Recess. "It wasn't properly stored, which is the title of my lecture today: 'Proper food storage in the pantry.'"
It makes sense that Adlon is in the kitchen, which is exactly where I figured she would be during a time like this. On Better Things, the kitchen is a site for having emotional epiphanies, teasing out essential conversations, and cooking really, really good food. On the day of our call, Adlon was making a banana oat snack cake. "I have three mushy bananas. And I'm like, what do I do with these little hoes? So, that's what I'm making," she said.
Holed up in her home with her daughters, one of their boyfriends, and her mom, Adlon assured that everyone in the house was now calm. "Everybody went through their own phases of panic and distress and then resolution, and everybody's being very respectful. One of my daughters completely painted a room top to bottom and re-did her room, like changed rooms in the house," she said before adding, "Listen, I've always been crazy with the hand washing and taking off your shoes and things, so it's just like everyone caught up to me."
And while they're all stuck in the house with not much else to do, Adlon has been cooking nonstop. She's whipped up some egg salads and chicken soup, both hits with her family. "My favorite thing to make is a chicken and pasta," she said. "I have a few different sauces that I make. It's actually the most satisfying because it's something everybody eats. I make chicken in a million different ways and I love making rack of lamb and chili and I like making homemade burgers. I just started making Impossible burgers. Everybody seems to love that a lot."
"The tool that people have is the internet," Adlon said when asked what her favorite recipes are to make. "I mean, this is why I'm making this recipe, because I have three mushy bananas and I used to make this banana bread with this mix that all you needed was the mushy bananas, but they stopped making that mix. So now I had to look for alternatives. Whatever you have, look it up and make it," she said. "I don't have cuts of meat in the freezer but now, I have racks of lamb in the freezer, so I'm going to make those tonight. I had to look up how to defrost them."
But back to her character, Sam Fox. Better Things is autofiction, and much of Sam's backstory is borrowed from Adlon's life, but the decision to make the kitchen the epicenter of drama on the show happened by accident. "I was doing a scene where I wanted to make a lasagna, so I had my props department get all the ingredients," Adlon said. "We shot the scene and then I said, 'Just shoot me cooking the meal.' It had to look real, which it was. When my editor cut that together with the orchestra that was in that episode, I realized that was a beautiful way to tell stories in the show. Food is something that's very important in my life because that's always been the way that my family comes together. And we don't eat junk food. We like our meals to count."
Now, the cooking scenes have become a motif woven through each season of the show (Sam Fox often makes her signature chili, her daughter Frankie Fox makes a delicious carbonara), which is now in its fourth season. "I just felt like I knew what I was doing this season," Adlon said. "It felt a little bit like less of a pushing a boulder up a hill kind of thing. I knew what I was doing. I knew how I was going to tell the stories. I saw it in my head. I had certain themes that I was a resolute that I started out with that I wanted to be a part of the show and I saw it all in my head."
Throughout the rest of our conversation, Adlon was interrupted by her mother, paused to tell her daughter and her daughter's boyfriend to pick up dog poop in the backyard, and reminded me to drink water. It felt like I was on the phone with one of my own parents.
Speaking of parents—it was Adlon's dad who got her in the business in the first place. "When we first moved to California, my dad had a friend who had a recording studio and he needed a kid to do a voice," she told me. "I didn't know anything about it, but when I look back, I can't believe that my first real job was actually a voiceover job. And it's one of those things that when you get a taste for it and you start doing it, for me, myself, I realized it was the greatest thing you could do. And I started doing a lot of radio stuff."
"Then I saw all this animation was going on and I really wanted to do animation," she went on. "And one of the first shows I ever did was Rugrats, and that was with Cree Summers and E.G. Daily and Christine Cavanaugh, rest in peace. I remember just sitting there going, 'Oh my God, this is amazing. This is their job,' and I really, really wanted to do that. I started getting work in animation and then I stopped getting work in radio. For some reason I couldn't do one or the other. It was either/or."
Some of those relationships Adlon made in her early years as a television actor in the '80s, and voiceover artist in the '90s and '00s. One of those is Cree Summers, who had appeared in a season three episode of Better Things, but takes up a slightly larger role this season. "The most enjoyable thing is that I was able to put my friend on camera who hadn't been on camera in 25 years," Adlon revealed. "That was for me, a pleasure. I always kept a list in my head and I thought to myself one day, if I'm ever a boss and I have the ability, these are the people that I want to hire."
Diedrich Bader, who plays one of her closest friends on the series, an uncle figure to her daughters, was at the top of that list. "Diedrich and I have worked for years together in animation studios doing voiceover. So for me, it was just the greatest thing ever that I could hire him, and the same for Cree," Adlon said.
Better Things isn't always easy to watch—it can be tough watching a mother and daughter at their wits end with each other because it all feels too real—but without this series, there would be a dearth of layered dramas helmed by a woman on TV. And at the end of the day, the series always manages to be as comforting as what I assume Adlon's quarantine chicken soup must have been for her family. "Just recently, somebody pointed out to me that I'm helping other women forge their own path and do their own thing and that my show has helped in that way," Adlon said. "I'm fine with being a role model just as long as everybody knows that role models are human and every human being has flaws."
"This is the one piece of advice that I give to new parents, newlyweds, kids who are going to school or being in the world—or myself: just don't take it personally," she said. "It's the one piece of advice that I was never able to take for myself as a parent, and I'm still trying to learn it. Don't take it personally."
Then, as Adlon looked out her window and saw one of her kids hanging from a tree, she told me she needed "to go film this shit," then reminded me to drink water one more time. Up until that point, I had sort of forgotten we were in the midst of a global pandemic.
Related: Pamela Adlon of Better Things on Taking Selfies with RuPaul at the Emmys and Directing Season Two