Are Pandemic Movie Premieres Working For Anyone?
There's an unsettling weirdness to seeing celebrities spaced six feet apart on the red carpet—especially when it's in a parking lot.
---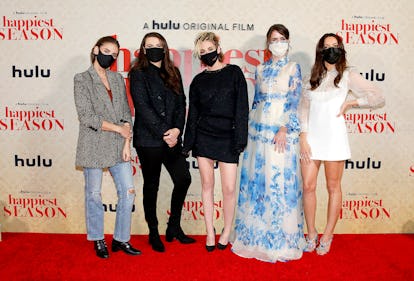 Photo by Rachel Murray/Getty Images for Hulu
On Tuesday night in Los Angeles, Kristen Stewart attended the premiere of her film Happiest Season wearing stilettos and a black minidress. The moment she stepped off the red carpet, they vanished; the next time Stewart appeared, she was dressed for comfort in a bomber jacket, crop top, ripped jeans, and sneakers. The outfit change was classic K-Stew, and the type of celebrity moment that feels all too rare these days. But maybe it shouldn't have happened in the first place: The coronavirus death toll in the U.S. surpassed 250,000 less than 24 hours later.
The desire to carry on with film and TV premieres is perfectly understandable. They generate publicity, which is essential to celebrities and the designers who dress them. The red carpets give the media something to cover, generating content that many enjoy taking in. (Hence why celebrities have started posing against branded backdrops in their living rooms.) Overall, they're remarkably efficient—not to mention relatively posh and easy.
Pandemic premieres, on the other hand, don't seem to accomplish much at all. There's an unsettling weirdness to seeing celebrities spaced six feet apart on the red carpet; the photos mainly just make one long for the past. The same goes for the photos sans distancing or even masks, presumably because attendees have gotten negative (and perhaps unreliable) rapid test. Those are particularly anxiety-inducing; it's hard not to worry about the health of, say, 71-year-old Pedro Almodóvar, whose age puts him at increased risk. And it's hard not to wonder why those risks are being taken in the first place, when the most successful event so far, for The Crown season 4, was an at-home premiere.
To dull the depressing nature of spending a night at a parking lot, some event organizers have tried to obscure the asphalt—or gravel in the case of this summer's Munich FilmFest—with elaborate sets. HBO has only staged one drive-in, but the makeshift gas station at the September premiere of Unpregnant suggests that they're on the right track. Hulu has had some hits and misses. Happiest Season falls into the latter category, thanks to a set of sad Christmas trees with what were likely empty present boxes.
So far, the Toronto Film Festival has come closest to pulling it off, though perhaps not for viewers. At one screening, the words "best seats in the house" were emblazoned on a random shrub. It was certainly less of an eye sore than a drive-in, though drive-ins have the benefit of allowing attendees to isolate.
Drive-in attendees do seem to have a good time, snacking on popcorn stamped with whatever the movie or TV title is. They appear to be the only ones really benefiting here, but since only so many cars a parking lot can fit. So, at least until the glorious arrival of a vaccine (or more accurate rapid tests), perhaps it's time to give it a rest. The perfect memento is already good to go: the below image of Frances McDormand atop a lime green tractor, wearing Birkenstocks at a grassy outpost of the Telluride Film Festival.
Related: Celebs Are Now Posing on Red Carpets in Their Living Rooms