Panorama Vs. Governors Ball: Who Festivals Better?
Suddenly, New York has two premier summer music festivals. Find out who did it better — this year.
---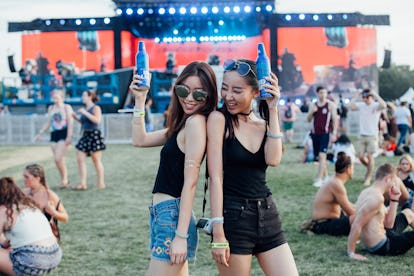 Emily Malan
It might seen unfair to compare the inaugural Panorama music festival with this year's Governors Ball, considering that the third night of Governors (and arguably most important one, with Kanye West on the lineup) was cancelled due to weather. But competition between the two festivals is fierce, in part due to the fact that Panorama is organized by AEG Live (which also runs Coachella), the biggest rival of Governors promoter Live Nation. So, despite their differences, these festivals are begging for comparison.
Governors Ball began five years ago in 2011 as a one-day event, and right out of the gate it outsold competing events on Randall's Island, including the Dave Matthews Band concert and Bassnectar's Bass Island. New Yorkers needed a music festival to rival Coachella, Pitchfork, Lollapalooza, Bonnarro, etc., and Governors Ball was the answer. This year, the festival was acquired by Live Nation Entertainment, but since Kanye West first performed in 2013, Governors Ball has been plagued with terrible weather. Between rain or very intense heat, steep ticket prices, and the fact that Randall's Island is not easily accessible, the novelty of it all began to wear off by this year, and without Kanye West, many fans threw in the towel after Governors Ball this year.
It was the pitfalls of this year's Governors Ball that may have kept many fans from taking a leap of faith on Panorama tickets, which were still being sold day-of. The two New York festivals are also scheduled relatively close to one another, Governors Ball running June 3-5 and Panorama July 22-25. In a statement to Billboard, a rep for Governors Ball complained, "Scheduling two same-genre festivals on top of each other like this makes it difficult for either to provide the maximum benefit to its fans, its neighbors and taxpayers."
Panorama founder Paul Tollett didn't seem as worried. He told The New York Times, "In my opinion, if you go to Panorama, you're going to have a good time, and you're going to want to come back. That doesn't take away from any other festival in New York, because they're fun, too. I just think hundreds of thousands of people should be going to festivals in New York."
And although it's up for debate whether the two can and should co-exist, it's safe to say that they can learn from one another's successes and failures. But, to dispel any further suspense, the vibe was simply different at Panorama this past weekend, and in a good way. Thanks to a stacked lineup, trendy attendees, elevated amenities, stimulating technology, and an overall well-organized experience, it seems obvious to us that Panorama is "in," and Governors Ball is "out."
Below, we break down why Panorama hit the higher notes…this year.
1. Lineup While Governors Ball drew mega-stars like Kanye, Panorama focused more on emerging talent, with a wider range of really solid acts. Aurora, Kaytranada, and Anderson Paak brought out the music nerds, while SZA, Blood Orange, Sufjan Stevens, and FKA Twigs kept things weird and wonderful. Governors Ball had more mainstream young talent like Haim, Jamie XX, and Vic Mensa. For their part, Panorama boasted A$AP Rocky, but he brought with him the entire A$AP Mob from Harlem, which felt much more authentic. Panorama also had Sia, while Governors Ball had Sia from three years ago: Robyn. The best "old school" revival Governors Ball could do was The Strokes, which is admittedly pretty good, but Panorama hit it out of the park with LCD Soundsystem — an all-ages crowd pleaser. Plus, Kendrick Lamar really tipped the scale with his impactful performance at Panorama, enriching our summery frivolity.
2. Attendees Because Panorama was organized by the same people behind Coachella, they had plenty of models and A-list celebrities on call. Kendall Jenner and Gigi Hadid joined the crowd on Saturday for Kendrick Lamar and throughout the weekend models like Constance Jablonski and Molly Bair were spotted amongst fashion designers like Dao-Yi Chow of Public School, the Baja East boys, and Aurora James. Put simply: less frat boys, more cinema studies majors.
3. Amenities As usual, Governors Ball brought out some of New York's finest food vendors like Pok Pok NY, Luke's Lobster, Cafe Habana, Khe- Yo, Momofuku Milk Bar, and more. But Panorama had a distinct California health-conscious lean, with Poke from Raw MKT, avocado toast from Maman, matcha, sushi, and plenty of coconut water to go around.
4. Technology The sound quality and visuals of the three different stages at Panorama was really what set it apart. No matter where you were standing or sitting on the expansive fields — VIP or not — you could hear and see the sets as though you were front row. In addition to the two main stages, there was also a smaller air-conditioned tent where DJs like Kaytranada and Tourist played, which created an EDM oasis with a disco ball instead of the sun. Finally, the festival offered numerous interactive spaces, including "Despacio," which was a 360-degree audio tent and The Lab, which was an immersive artistic experience and yet another mind and body escape.
5. Organization This wasn't AEG Live's first rodeo. Lines moved quickly, there was no running around from stage-to-stage, water and bathrooms aplenty, and most importantly, sets started and ended exactly on time, which is a damn near miracle when you're dealing with rappers and rock stars.
Panorama Festival Isn't Just Another Coachella
Panorama Festival Street Style, Day 1

Emily Malan
Panorama Festival Street Style, Day 1

Emily Malan
Panorama Festival Street Style, Day 1

Emily Malan
Panorama Festival Street Style, Day 1

Emily Malan
Panorama Festival Street Style, Day 1

Emily Malan
Panorama Festival Street Style, Day 1

Emily Malan
Panorama Festival Street Style, Day 1

Emily Malan
Panorama Festival Street Style, Day 1

Emily Malan
Panorama Festival Street Style, Day 1

Emily Malan
Panorama Festival Street Style, Day 1

Emily Malan
Panorama Festival Street Style, Day 1

Emily Malan
Panorama Festival Street Style, Day 1

Emily Malan
Panorama Festival Street Style, Day 1

Emily Malan
Panorama Festival Street Style, Day 1

Emily Malan
Panorama Festival Street Style, Day 1

Emily Malan
Panorama Festival Street Style, Day 1

Emily Malan
Panorama Festival Street Style, Day 1

Emily Malan
Panorama Festival Street Style, Day 1

Emily Malan
Panorama Festival Street Style, Day 1

Emily Malan
Panorama Festival Street Style, Day 1

Emily Malan
Panorama Festival Street Style, Day 1

Emily Malan
Panorama Festival Street Style, Day 1

Emily Malan
Panorama Festival Street Style, Day 1

Emily Malan
Panorama Festival Street Style, Day 1

Emily Malan
Panorama Festival Street Style, Day 1

Emily Malan
Panorama Festival Street Style, Day 1

Emily Malan
Panorama Festival Street Style, Day 1

Emily Malan
Panorama Festival Street Style, Day 1

Emily Malan
Panorama Festival Street Style, Day 1

Emily Malan
Panorama Festival Street Style, Day 1

Emily Malan