Everything You Missed At Paris Fashion Week
From front row appearances by Kanye West to stunning beauty looks backstage, here's every last detail from Fall 2016.
---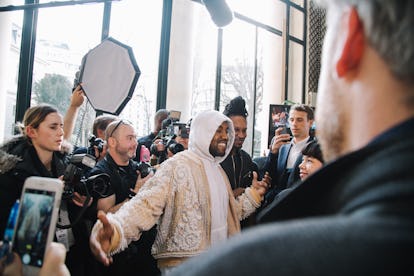 Designers:
3 Paris Provocateurs: Vetements, Jacquemus, and Courrèges Flaunting a healthy defiance of the past, three French labels are upending fashion.
Demna Gvasalia Is Making Clothes That Are Meant To Be Worn The fashion designer explains his creative process – and reflects on his new role at Balenciaga.
Courrèges's New Artistic Directors Are Transforming an Iconic Brand's Legacy Meet Sébastien Meyer and Arnaud Vaillant.
Simon Porte Jacquemus Gets Personal The up-and-coming designer talks about his burgeoning brand.
Y/Project's Glenn Martens Doesn't Care Much for Acclaim On hearing he was short-listed for the coveted LVMH Prize while making his fall collection: "We didn't change a thing."
Virgil Abloh Is Everywhere An interview with fashion's über-connector.
In Paris, Christelle Kocher Capitalizes on Streetwear The Koché designer is the toast of Paris, and shortlisted for the LVMH Prize, thanks to her mix of couture and streetwear.
Designers Off-Duty What Karl Largerfeld, Alessandro Michele, and Raf Simons wore at Paris Fashion Week.
On the Runway and Backstage:
The Best Runway Looks W editors pick their favorites.
The Hat Fits at Chanel Almost every model wore a coordinating bowler hat with their outfit, which fit the 1920s theme running through the Grand Palais.
Off-White Fall 2016 Was Inspired by Julia Roberts "You're obviously in the wrong place."
Louis Vuitton's Fall 2016 Warrior Punks Nicolas Ghesquière's pretty punks were of a more digital variety last season, but for Fall 2016 they were no less fierce.
Valentino Does Black Swan Designers Maria Grazia Chiuri and Pierpaolo Piccioli are taking us to the ballet.
A Cinematic Experience At Iris Van Herpen The designer played with yet another dimension — technology.
Serenity Now at Hermès A lineup that was severe in its self-control and focused palette of neutral colors like creams, camels and off-whites.
Sheer Skirts and Slinky Dresses at John Galliano Get a closer look at the collection, featuring boxing shoes and roomy, military-inspired outerwear, here.
Inside Givenchy's Maze Models like Bella Hadid winded through a wooden maze in metallic leather, cheetah prints, and eyes of Horus.
Junya Watanabe's 3D Creations Designer Junya Watanabe continued to show his signature origami-like 3-dimensional creations.
Vivienne Westwood Keeps It in the Family With her usual mix of playful letters, artful embroidery, and face-painted models.
Mugler's Sultry Safari David Koma showed plenty of croc, leopard print, and leather fringe.
A Touch of Sex Appeal at Nina Ricci Using the actress Romy Schneider as inspiration, Guillaume Henry sent out a lineup that nicely underlined Ricci's subtle sensuality.
A Look at Christian Dior After Raf Simons "The designer may change at Dior, but one thing that never changes: the atelier."
Chalayan's Larger Than Life Fall Models Thanks mostly to a host of shadow-casting, multicolor spotlights, the models were larger than life.
Cats and Poise at Loewe Jonathan Anderson carried over the juxtapositions from his namesake label to Loewe, a sophisticated showing that paired graphic tees with leather bustiers and bulked up form-fitting dresses with clunky cat talismans.
Kanye West Crashes Balmain In typical Balmain fashion though, West's presence didn't upstage the show, which featured both Kendall Jenner and Gigi Hadid, who swapped hair colors for the occasion.
Hairs and Graces at Rick Owens Hanging straight, pulled into a top knot or teased into a 'fro, these locks balanced a sculptural, feminine collection.
Elegance – and Raccoon Eyes – at Dries Van Noten Even with cheetah prints and raccoon eyes, models parading down the catwalk at Dries Van Noten's fall show on Wednesday were as elegant as ever.
Velvet Revolution at Alessandro Dell'Acqua's Rochas Ever since New York Fashion Week, velvet has been enjoying what fashion folk like to describe as "a moment."
Mixing and Matching at Maison Margiela Oversized belts and gloves made for statement accessories on the Maison Margiela runway this season, but they didn't overshadow designer John Galliano's ability to mix-and-match fabric.
Courrèges Is All About the Details Designers Sébastien Meyer and Arnaud Vaillant have mastered clean and wearable separates that upon closer inspection are anything but ordinary.
Barely-There French Girl Beauty at Jacquemus French darling Simon Porte Jacquemus kept the beauty look almost imperceptible backstage.
Front Row:
The Best Dressed 21-and-Under Front-Rowers at Chanel Karl Lagerfeld has a way of tapping the Next Big Thing before the rest of us.
Who Was Best Dressed in the Dior Fall 2016 Front Row? From Rosamund Pike and Emmy Rossum in bright orange coats to Naomie Harris and Iris Apfel in bold black-and-white prints.
94-Year-Old Iris Apfel Takes Paris Fashion Week Here, the 94-year-old icon provides a play-by-play.
Beauty:
Seeing Pink at Maison Rabih Kayrouz Models flaunted over-the-top pink eyeshadow backstage.
Surreal Beauties at Yohji Yamamoto Dark lips and sleek ponytails swarmed backstage.
Eighties Ladies at Isabel Marant The '80s are back with coiffed up-dos, big curls, and punk bangs.
Who's That? The Most Surprising Front Row Appearances During Fashion Month
Chris Rock at FENTY PUMA by Rihanna Fall 2016. Photo by Getty Images.
Tony Hawk at VFiles Fall 2016. Photo by Getty Images.
Matt Bellamy (Kate Hudson's ex) and Elle Evans at Balmain Fall 2016. Photo by Getty Images.
Kylie Jenner at Hugo Boss Fall 2016. Photo by Getty Images.
Bradley Cooper at Givenchy Fall 2016. Photo by Getty Images.
Jennifer Jason Leigh at Rodarte Fall 2016. Photo by Getty Images.
Whoopi Goldberg at Gypsy Sport Fall 2016. Photo by Getty Images.
Lucy Liu and her son at Zac Posen Fall 2016.
Willow Smith at Chanel Fall 2016. Photo by Getty Images.
Justin Bieber. Photo courtesy Saint Laurent.