Paris Hilton DJ'ed a Yoga Class For Charity
The event was dubbed "Om This Way."
---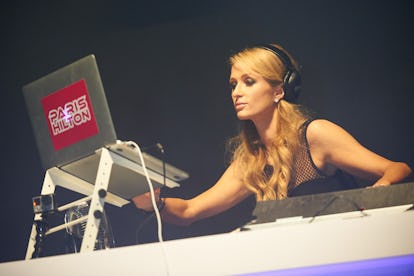 Gallo Images/Getty Images
Paris Hilton has always known how to make her lifestyle a lucrative one, from modeling, acting, and singing, to promoting products—her own and otherwise. Starting on Wednesday, though, she made a move to give back in a way that was equally fun-loving: by DJ'ing a yoga class pro bono for a good cause.
The class, which was dubbed "Om This Way," took place at Equinox in West Los Angeles and was hosted by none other than Run D.M.C's Darryl McDaniels, who hyped up participants while Hilton played energetic hits. It's unclear what exactly her playlist included, but she's had previous DJ gigs all over the world, from Brazil to Ibiza, and even, once, in Poland.
Hilton's new boyfriend, the actor and model Chris Zylka, also attended the class in support of his new girl and the cause. As she's said herself on Instagram, they're hashtag couple goals.
All proceeds from the class went to the Felix Organization, a nonprofit that aims to help children in the foster-care system. Philanthropy: now that's hot.
Related: A Brief History of Paris Hilton's Front-Row Style at Fashion Week
A Brief History of Paris Hilton's Front-Row Style at Fashion Week
Nicky and Paris Hilton at the Sean John Fall 2001 show at Bryant Park in New York, February 2001.

Getty Images
Paris Hilton at the Sean John Fall 2002 show during Mercedes-Benz Fashion Week at Bryant Park in New York City, February 2002.

Getty Images
Paris Hilton at theTommy Hilfiger Men's Fall 2002 show during Mercedes-Benz Fashion Week at Bryant Park in New York City, February 2002.

Getty Images
Nicky Hilton and Paris Hilton at the Pierrot Spring 2003 show during Mercedes-Benz Fashion Week in New York, September 2002.

Getty Images
Paris Hilton at the Jill Stuart Spring 2003 show during Mercedes-Benz Fashion Week in New York, September 2002.

Getty Images
Nicky Hilton, Paris Hilton, and Tinkerbell at the Diane von Furstenberg Fall/Winter 2003 show at her West Village Studio during Mercedes-Benz Fashion Week in New York, February 2003.

Getty Images
Paris Hilton at the Marc Jacobs Spring/Summer 2004 show at the Manhattan Armory during Mercedes-Benz Fashion Week in New York, September 2003.

Getty Images
Nicky Hilton and Paris Hilton at the Jeremy Scott show during Los Angeles Fashion Week in Culver City, California, October 2003.

Getty Images
Paris Hilton at the Zac Posen Spring 2005 show during Olympus Fashion Week in Bryant Park in New York, September 2004.

Getty Images
Paris Hilton and Nicky Hilton at the Betsey Johnson Spring 2006 show during Olympus Fashion Week at Bryant Park in New York, September 2005.

Getty Images
Paris Hilton and Tinkerbell at the Narciso Rodriguez Fall 2005 show during Olympus Fashion Week in New York, February 2005.

Getty Images
Nicky Hilton and Paris Hilton at the Tommy Hilfiger Spring 2004 show after-party during Mercedes-Benz Fashion Week in New York, September 2003.

Getty Images
Nicky Hilton, Paris Hilton, and Serena Williams at the Tommy Hilfiger Spring 2005 show during Olympus Fashion Week at Bryant Park in New York, September 2004.

Getty Images
Nicky Hilton and Paris Hilton at the Lacoste Spring 2005 show during Olympus Fashion Week at the Waterfront in New York, September 2004.

Getty Images
Paris Hilton at the Diane Von Furstenberg Spring 2006 show during Olympus Fashion Week at Bryant Park in New York, September 2005.

Getty Images
Paris Hilton and Nicky Hilton during Olympus Fashion Week Spring 2007 at Bryant Park in New York, September 2006.

Getty Images
Paris Hilton and Benji Madden at the Nicholai by Nicky Hilton Fall 2008 show during Mercedes-Benz Fashion Week in Culver City, California, March 2008.

Getty Images
Paris Hilton and Nicky Hilton at the Jeremy Scott show during Spring 2014 MADE Fashion Week at Milk Studios in New York, September 2013.

Getty Images
Paris Hilton and Nicky Hilton at the Valentino Spring 2015 show during Paris Fashion Week, September 2014.

Getty Images
Paris Hilton at the Alon Livne Fall 2014 presentation during Mercedes-Benz Fashion Week at the Hudson Hotel in New York, February 2014.

Getty Images
Paris Hilton at the Dsquared2 Fall 2015 show during the Milan Fashion Week, January 2015.

Getty Images
Paris Hilton at the Gabriela Cadena Fall 2015 show during Mercedes-Benz Fashion Week in New York, February 2015.

Getty Images
Paris Hilton at the Pamella Roland Fall 2016 show during New York Fashion Week at Pier 59 Studios, February 2016.

Getty Images
Paris Hilton at the Jeremy Scott Spring 2017 show during New York Fashion Week, September 2016.

Getty Images
Paris Hilton at the Plein Sport Fall 2017 show during Milan Men's Fashion Week, January 2017.

Getty Images
Paris Hilton and Sofia Richie at the Fall 2017 Moschino show during Milan Men's Fashion Week, January 2017.

Getty Images
Paris Hilton at the Chiara Boni La Petite Robe Fall 2017 show during New York Fashion Week, February 2017.

Getty Images
Paris Hilton at The Blonds Fall 2017 show during New York Fashion Week, February 2017.

Getty Images
Paris Hilton at the Vivienne Tam Fall 2017 show during New York Fashion Week, February 2017.

Getty Images
Paris Hilton at the Jasmine fashion show during New York Fashion Week: The Shows at Industria Studios, September 2018.

Getty Images
Nicky and Paris Hilton Grew Up as "the Eloises of the Waldorf'"